iPHONE XS LAUNCH CONSUMER INTEREST
iPHONE XS LAUNCH SPARKS LOWER PRE-ORDER AND TRADE-IN INTEREST THAN THE iPHONE X OR 8

KEY STUDY FINDINGS
iPhone XS triggered a lower 586.71% spike in pre-order queries, compared with the iPhone X (871.42%) and iPhone 8 (614.28%) when they became available.
Likewise, a 104.87% climb in iPhone trade-in queries, 12.52% lower than last year's 8 and 1.77% lower than the iPhone X
This year, the iPhone X is surprisingly in the top five handsets being valued, alongside the iPhone 7, 6S, 6 Plus, and the Galaxy S6
Price crashes tipped by trade-in websites have not hit yet, iPhone value is still strong
iOS 12: Visualize the trends of 'Slow iPhone' searches over time
iOS 12: Visualize the growing 'phone addiction' epidemic
iPHONE XS PRE ORDER DATA
THE IMPACT OF THE iPHONE XS PRE ORDER RELEASE COMPARED WITH LAST YEARS MODELS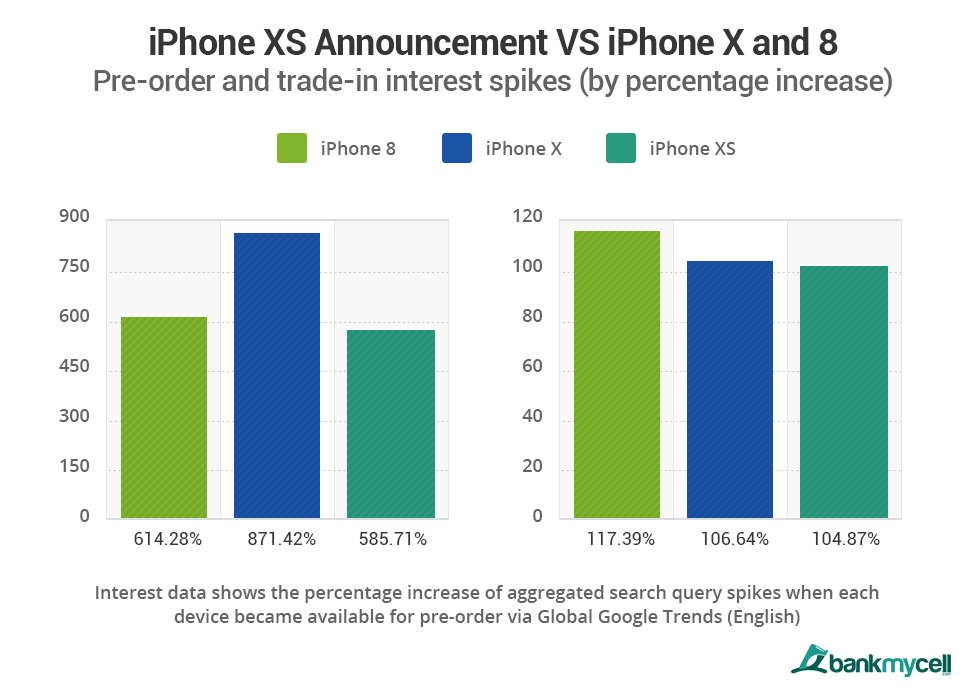 iPHONE XS PRE-ORDER INTEREST
BankMyCell conducted some follow up research relating to a widely featured previous trend study surrounding Apple product launches. Apple's analyst Ming-Chi Kuo who issued a research note outlining his opinions on a lower interest prediction in the first-week preorders of the iPhone XS.
In the last study, we analyzed monthly buyer interest queries from 2007-2018 global Google Trends data. This time we extracted data focused on the pre-order weeks only, analyzing the iPhone XS Pre-Order and Trade-in spikes, compared with last year's iPhone X and iPhone 8 models. Kuo suggested the iPhone XS pre-orders would now account for 10-15 percent of shipments for the new phones, down from 15-20 percent.
BankMyCell aggregating related queries for iPhone pre-order from retailers like the Apple store as well as generic iPhone XS pre-order terms. We can visualize and benchmark how consumers reacted to the iPhone XS in comparison to last year's flagship and budget phone. There was a 585.71 percent spike for the iPhone XS, compared with the 871.42 percent increase during the X pre-order launch. Furthermore, this was lower than last year's budget option, the iPhone 8, which caused a 614.28 percent spark in pre-order queries.
Even though the data suggests the XS has not made as bigger splash as they wanted, the iPhone XR is still expected to do good numbers, with Kuo tipping it to account for upwards of 60% of Apple's sales.
LOWER TRADE-IN QUERIES THAN PREVIOUS AND THE IPHONE X IN THE TOP 5
Looking at the trade-in spikes, the XS has had a 12.52 percent lower impact than last year's most influential resale query model, the iPhone 8, and 1.77% lower than the iPhone X.
The top phones being valued since the iPhone XS announcement are:
iPhone 6S
iPhone 7
iPhone 6 Plus
Galaxy S6
iPhone X
iPhone 6
iPhone 7 Plus
Galaxy S7 Edge
Galaxy S6 Edge
iPhone 6S Plus
Every year historically iPhone prices can crash by up to 20% during the first two weeks of the announced. The price comparison feeds BankMyCell collect have shown the top prices are almost identical compared with announcement day one week ago. This is great news for consumers as they can hold onto their old phones longer for the XS Max and XR without getting stung by 'announcement day depreciation'.
iOS 12 LAUNCH
TREND INSIGHTS INTO SPEED AND PHONE ADDICTION
IOS 12 LAUNCH: VISUALIZE THE TWO PROBLEMS APPLE IS TRYING TO SOLVE
Historically, following most Apple announcements there was an influx of people investigating online as to why their iPhone was being slow. Apple admitted December last year it was deliberately slowing down old iPhones. The new iOS 12 is deemed to be much faster, will it continue to decline the 'slow iPhone' trend below?
CONSUMERS WITH SLOW iPHONES OVER TIME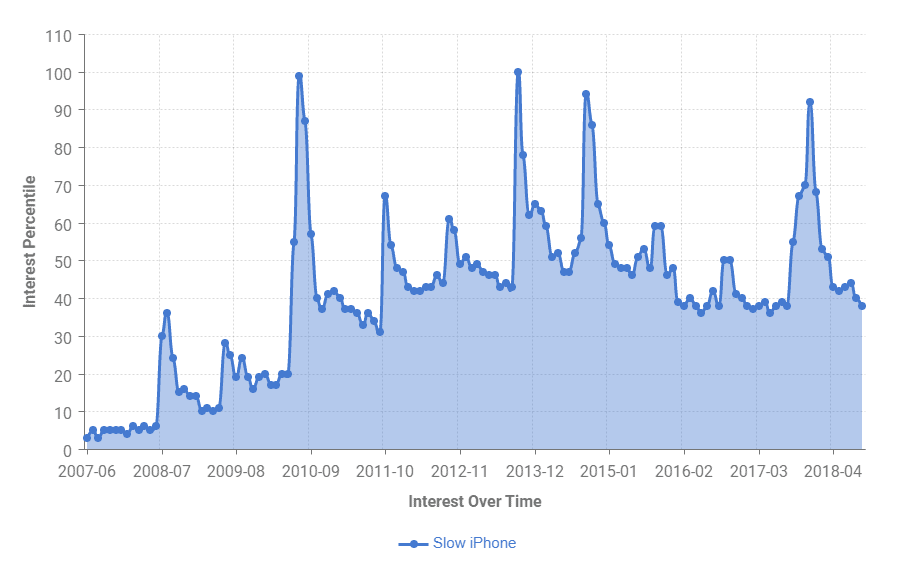 THE GROWING PHONE ADDICTION EPIDEMIC
Additionally, with the release of iOS 12's Screen Time, targeted to empower users to manage the time spent on their own iPhones, we will see if Apple can help combat smartphone addiction. Smartphone addiction is at an all-time high trend-wise, with a 58.49% increase from September 2015. Generation Z / Y suffer from this the most, with their higher usage statistics.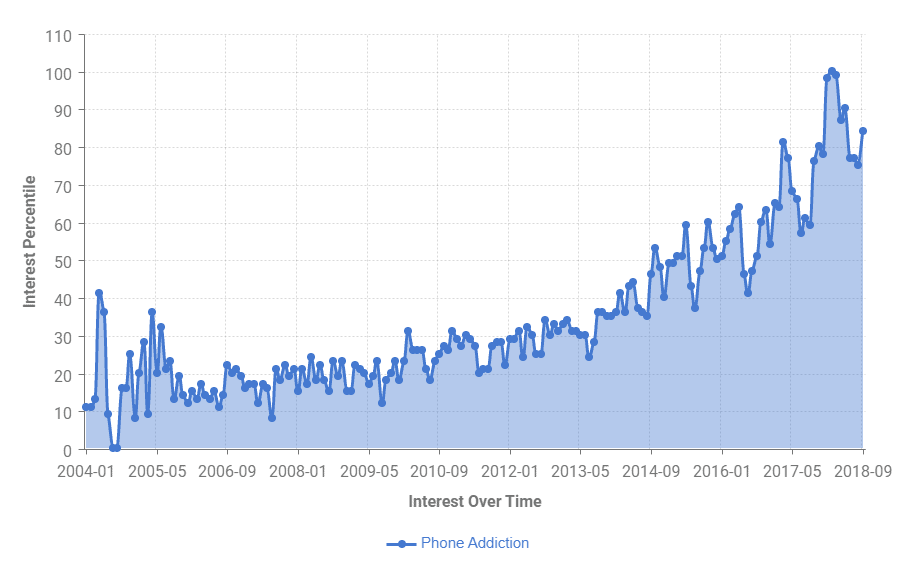 PR Pack & Data Request:
We can supply all the data for free upon request, please visit our press room for contact details
TODAYS iPHONE TRADE-IN PRICES
To get an idea of the values you can get when selling your old iPhone in the US, check out our latest iPhone trade-in pricing below: