Is it time to sell your old iPhone? Before you start looking for the best deal, learn how to clean an iPhone before selling.
Our team at BankMyCell will show you how to wipe an iPhone before selling, remove any personal data, and sign out of all the accounts.
Finally, we'll cover preparing iPhones for trade-in and how you can get the best possible deal through our site at BankMyCell.
Make Sure You Get the Best iPhone Trade-in Deal
Do you know what to do before selling your old iPhone? Your first step is to look on BankMyCell for the buy-back company that will give you the best offer.
To give you an idea:
Top Tier Buy-Back comparison sites: You'll receive up to $1,000 by dealing with reputable buy-back or trade-in sites. BankMyCell will get you an amount as close to market value as possible.
Carriers: Carriers will pay a maximum of $550, meaning you will lose $450.
Apple Trade-In: Only pays a maximum of $500, meaning you will lose $500.
Amazon Trade-In: It goes to a maximum of $425, meaning you will lose $575.
EcoATM/ Gazelle: Provides the worst trade-in value of only $385.
Find The Best Price in Seconds Here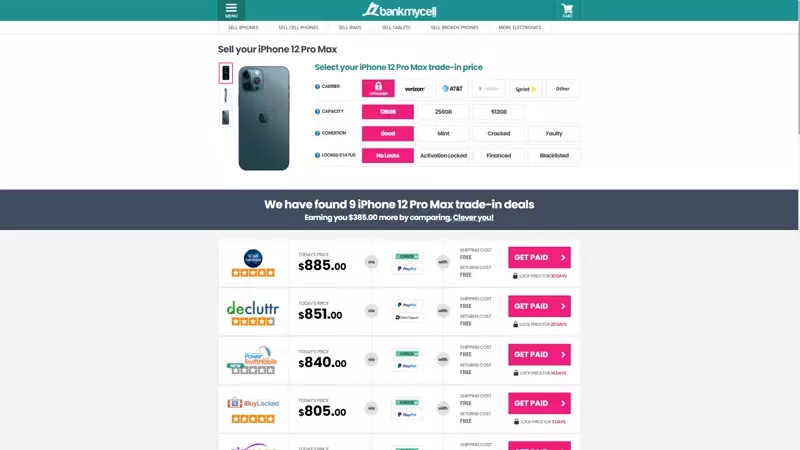 As an alternative, you might try to auction your old iPhone through a site like Swappa. This effectively cuts out the middleman and lets you sell your device to someone directly. The site takes a cut of the earnings, but it's still an excellent way to get as close to market value as possible.
The downside of using an auction site is that there's no guaranteed money. You place the item and hope that someone will bid on it. If there's a lot of interest, you stand to earn more. If there's no interest, you'll have to wait for another auction to sell.
By contrast, BankMyCell's buyback stores will guarantee you a certain amount. You send in the device, and they'll pay you within a few days.
Step 1: Unpair Your Apple Watch From Your Phone
When learning how to clean an old iPhone before selling, it's essential to remove paired devices like your Apple Watch if you have one. Follow these steps to unpair your Apple Watch or skip it if you don't have one.
Wearing the watch, bring it within range of your iPhone.
Find the Apple Watch app on the phone and select "My Watch" at the bottom of the screen (or get it from the App store)
Now, look at the top of the screen for the "All Watches" button and select it.
Choose your watch from the list that appears and select the "I" button adjacent to it.
Select the Unpair Apple Watch function and follow these steps:
The device will prompt you to click remove and unpair Apple Watch carrier plans associated, if applicable.
Do so, even if you're simply switching to a new phone on the same contract.
You'll need to enter your Apple ID to sign out of iCloud and neutralize the Activation Lock.
Finally, you must confirm that you wish to unpair the device.
The Apple Watch will perform a final transfer backup and then decouple itself from your phone.
Step 2: Back Up Your Data and Copy Your Old iPhone Data to Your New iPhone
Don't erase your iPhone before selling until you've backed up the data. You may back it up to iCloud or a PC as follows:
Select the backup method most convenient for you. We recommend keeping two backups, one on iCloud and one on your PC.
Start by opening iCloud and connecting to the Wi-Fi network.
Open the "Settings" tab and select the iCloud button next to your name.
Select "iCloud backup" and set it to run immediately.
Don't disconnect the device until the system confirms that the backup is complete.
You may also activate automatic daily backups by activating the auto feature. Your phone will then copy data to iCloud once a day when it's plugged into a power supply and can access Wi-Fi.
Creating a copy on your computer may be helpful if you're not able to access the cloud.
Connect your phone and look for it under "Finder" or "My PC." Your computer may ask if it's safe to trust this device. If it does, answer in the affirmative.
Click on the device and opt to back up the data. If the information is sensitive, like health statistics, encrypt the backup. Hit "Back-up Now."
Step 3: Reset Your Device to Factory Settings
Remove Your iCloud Accounts
When learning how to clean an iPhone before selling, many people focus on the data and forget about the linked iCloud accounts. Unlink your iCloud account this way:
Go to Settings on your phone and click on your name.
Scroll down until you see the option to "Sign Out," and click on it to sign out of iCloud.
Confirm with the system and enter your Apple ID passcode.
Select "Turn Off."
How to Delete Personal Information
Go to settings and select, "General."
Scroll down until you see the "Reset" button.
Click on it and select, "Erase All Content and Settings."
You may need to enter your Apple ID and passcode before proceeding to the final "Erase all content" screen.
What to Do If You've Already Given the iOS Device Away
Go onto the iCloud.com site and enter your password.
Choose the relevant device, and select "Erase iPhone."
While the system processes this, select "Remove from Account."
Also, head over to the Apple Pay section and remove your device there.
Step 4: Remove Accessories and SIM Cards
Use the ejector tool or a paper clip to open the internal SIM Card storage ports.
Remove the SIM card.
Also, consider removing the protective cover and other accessories you wish to keep.
Step 5: Turn Off Your Old iPhone and Prepare Your Phone for Safe Shipping
You'll often receive a prepaid label to ship your device to the merchant. Get your phone there in one piece by:
Turning it off.
Wrapping the phone carefully in a few layers of bubble wrap.
Wrapping any chargers or accessories, like earbuds, separately.
Securing the bubble wrap neatly so that it doesn't shift.
Enclosing it in an envelope to keep the wrap in place.
Marking the package as "Fragile: Handle with Care."
Bonus Tip: Take Pictures of Your Device
Take photographs of your phone, highlighting its condition when you sent it. Why? You have proof of the iPhones condition.
Show the phone turned both on and off.
Cover every angle you can think of to prevent any misunderstandings later.
Bonus Tip: Clean Your Device
It's not essential, but if your phone's condition is borderline then you need the exterior to at least be clean to make the best impression possible. In this section, we'll examine how to clean an iPhone before selling.
Remove the case and wipe away any marks on the sides or face of the device.
Use a lightweight LCD cleaning solution to get rid of grease and grime.
Wipe the phone down gently with a microfiber cloth to ensure that there are no streaks or scratches.
Wipe the outside, and the case, without spilling any liquid into the open areas.
Bonus Tip: Make Sure It's Clean for Activation
The last step in how to clean an iPhone before selling is to check that you have no further contractual obligations to your carrier. The carrier might, for example, insist that you only use its network for the first two years that you own the device. During this period, you're not technically allowed to sell the phone.
Contact your carrier and find out what its policy is. Ask them to check whether or not you still have a contractual obligation toward them. While some carriers such as AT&T allow anyone to use their phones, others, like Sprint, are a lot stricter.
If you don't confirm that the phone is clean, the buyer will have trouble activating it later.
Now that you know how to clean an iPhone before selling, be sure to find the best possible deal at BankMyCell. We link through to the top players in the industry to get you the most competitive offers available.