Preparing Your Samsung Galaxy for Trade-in: What to do Before Selling Your Samsung Galaxy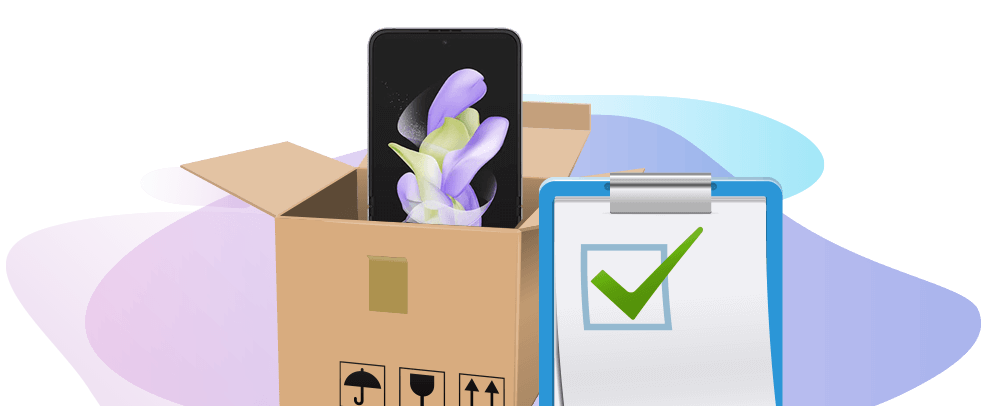 Learn where you can find the best deals for your device and how you can prepare your Samsung Galaxy before trading it in.
Discover how you can successfully wipe away all your data on an Android phone before selling it to its new owner.
Learn how to safely ship your device once you find a buyer for it.
Make Sure You Got The Best Samsung Galaxy Trade-in Deal
The most important part of selling your phone is knowing where you can find the best and most secure deals for Android phones. BankMyCell does the job for you as we go through the most trusted buy-back and trade-in websites to let you compare the top prices on the market (real-time!).
Top Tier Buy-Back comparison sites: The best prices on buy-back sites can earn you 40-100% more for your Android device than you would on carrier buy-back programs. You can even find the best rates for different levels of condition or whether or not your device has activation lock issues.
For example, your one-year-old Samsung Galaxy phone can fetch you up to $300 on trade-in sites. To compare:
Carriers: Pay a maximum trade-in rate of $150, which means you would lose up to around $150
Amazon Trade-In: Pays a maximum trade-in rate of $165, losing you around $135
Best Buy: Pays a maximum trade-in rate of $155, losing you around $145
Once you have found the best deal for you, you can start preparing your device for selling.
Find The Best Price in Seconds Here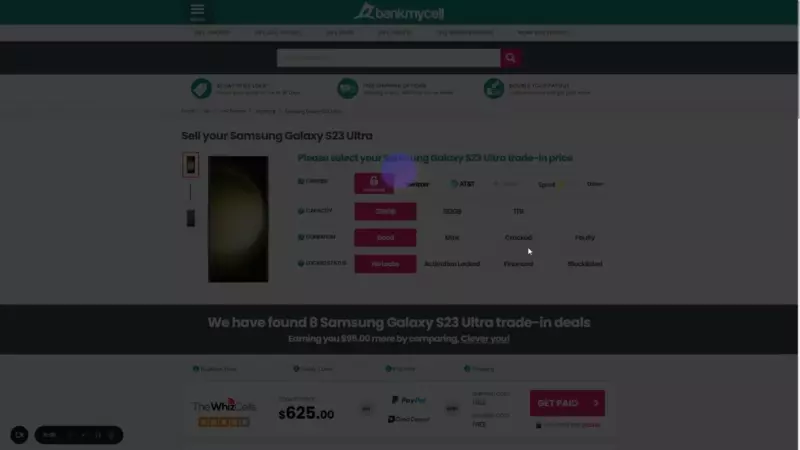 Step 1: Unpair Your Samsung Watch from Your Phone
You might be using your Samsung Galaxy along with other Android devices. For example, Android phones are commonly used along with a Samsung Galaxy watch. Before selling your phone, make sure it has been unpaired from your Samsung watch. If you do not have a Samsung watch, you can skip this step and go to the next one.
Unpairing will involve a reset of your watch. To do this, follow the steps below:
Boot up your watch to the Home screen.
Scroll through the screen until you reach your Settings app and tap the icon to open.The Settings app is a gear icon.
On the Settings page, find the General option and tap to open.
On the General page, scroll until you find the Reset option and tap to open.Tapping Reset provides you the options to either Back up data to the Samsung Cloud or move on to a complete Reset.
Click Reset again to continue with the reset without a backup.This unpairs your watch from your phone.
To double-check if the unpairing was successful:
After the watch is completely done with the unpairing process, open your phone to the Home screen.
Locate your Galaxy Wearable app and tap to open it.The app should indicate that "the watch isn't connected to your phone."
Step 2: Back Up Your Data - Copy Your Old Samsung to Your New Galaxy
Step 3: Reset Your Device to Factory Settings & Remove Google Drive Accounts
(Bonus tips!) Preparing Your Phone for the New Owner
Make Sure it's Clean for Activation
You must ensure that your device is free from contractual obligations so that the new owner doesn't meet any problems with carrier activation.
It's best to check what your carrier's policy is by contacting them directly. Request that they check to see if you still have any remaining contractual obligations for the device.
While some carriers, such as AT&T, allow anyone to use their phones, others, such as Sprint, are much more restrictive.
Remove Accessories, Memory and SIM Cards
YSellers usually wonder "Do I need to remove ,SIM card before selling Samsung Galaxy?" Yes, It is important to remove your phone accessories before a trade-in. Your buyer should receive the device in good condition, with no case, memory card, or SIM card still attached.
You may use the list below to remember what to remove from your old device.
Remove your SIM card from your phone. To do this:
Take a SIM ejector tool or a paper clip.
Gently insert and push the pin's end into the SIM tray's pinhole until the SIM tray pops out.
Pull the tray and take out your SIM card and SD card.
Gently push back to restore the SIM tray to its slot.
Remove any other accessories you used to customize your device, such as:
phone case
screen protector
car mount
stickers/skins
Clean Your Device
Are you wondering about how to clean your Samsung Galaxy before selling it? Be sure that your Android device is clean before trading it in. It includes sanitizing it and removing the accessories you used to customize the phone.
Follow these steps:
Prepare a non-ammoniated cleaning solution and a soft microfibre cloth.
Remove the screen protector.
Properly wipe the screen to get rid of protector marks.
Wipe your Android phone's edges and back cover to remove the grime.
(Bonus tips!) How to Prepare Your Phone for Shipping
Take Pictures of Your Device
It's important to set the buyer's expectations of the old phone. Therefore, it might be good to document and take pictures of the phone's condition. Your photos can help serve as evidence should damage happen during delivery. Here are some tips on how to do it:
Take photos of your phone while it's turned on and also while it's turned off.
Take pictures of your phone to capture all angles of your older phone, including the front, back, top, bottom, and sides.
Turn off Your Old Samsung Galaxy and Prepare Your Phone for Safe Shipping
It is important to safely ship your phone to avoid any inconvenience to the buyer. From preparing the phone to sorting the packaging, the phone should be shipped in the best condition possible and only with the appropriate courier.
Here are some tips to ensure that your old Samsung Galaxy is safely shipped:
Disconnect your phone from the Wi-Fi and switch it off.
Send your Samsung phone in a sturdy box.
Fill the box with filler materials to absorb impact and prevent jostling during transit. You can use packing peanuts or crumpled newspapers.
Pack the parcel and seal it securely with packing tape and bubble wrap.
Now that you've fully prepared your phone for trade-in and selling, remember to visit BankMyCell's website. BankMyCell connects you with the top trade-in stores to get you the most competitive offers available for your used phone.