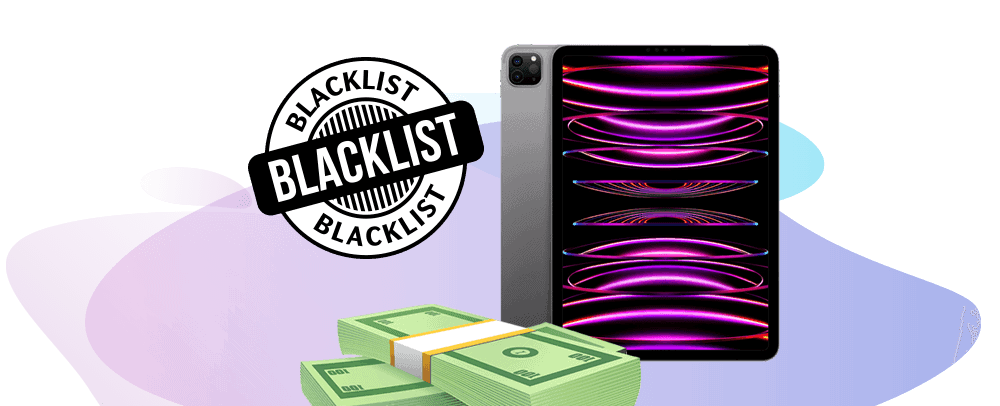 Sell a Blacklisted iPad with Bad ESN or IMEI – (Any Carrier)
Do you think you have a blacklisted iPad? In this article, you'll learn what it means to have a blacklisted iPad.
Discover what causes a blacklisted iPad and how to remove it on the blacklist.
Learn your options for selling a blacklisted iPad, from selling it on marketplaces and buyback companies. Compare Quotes Now
Today's Top Price for Blacklisted iPad:
$690.00
BankMyCell compares over 100,000+ quotes and customer reviews from 20+ trusted buyback stores every 15 minutes via our data feeds, making us America's #1 time-saving trade-in supermarket.


You Can Sell Your Blacklisted iPad Today!
What Does It Mean If My iPad Is Blacklisted?
An iPad gets blacklisted if it has been reported lost or stolen by its previous owner. Basically, a blacklisted iPad cannot connect to cell towers providing CDMA networks and GSM networks. This means you are not capable of making calls and sending messages, because it couldn't connect to any cellular network. Surfing online using cellular data won't also be possible.
What Causes Bad IMEI/ESN on an iPad?
The IMEI (International Mobile Equipment Identity) and ESN (Electronic Serial Number) are unique numbers that uniquely identify your iPad. If you get a bad ESN or IMEI, that means your current carrier is has blacklisted your iPad and no longer usable.
Here are some possible reasons why an iPad gets bad ESN/IMEI:
If you have an unpaid remaining balance and violations on your contract under carriers like AT&T, T-Mobile, or Verizon, your mobile network may blacklist your iPad. So if you owe money to your carrier, simply pay your due and your iPad will be unblacklisted most likely on the same day. Follow these steps to pay your outstanding bill:
AT&T: Sign in to your AT&T account  > Select Make a Payment from the Billing and Payment option > Select your payment method and enter the amount to be paid.
T-Mobile: Log in to your T-Mobile account using the T-Mobile app > Choose Pay Bill from the menu selections and input the amount to be paid > Select your payment option and follow the prompts.
Verizon: Sign in to your Verizon account > Click on Pay Bill after selecting the Billing tab > Enter the amount to be paid and choose your payment method.
Note: Please keep in mind that the steps may differ depending on your account type and carrier rules. If you face any problems or have questions about paying your outstanding balance, it's always a good idea to contact your carrier's customer service.
Devices reported as lost or stolen:
If a device is reported as lost or stolen, the carrier can blacklist it and results to a bad ESN or IMEI. This is done to prevent the device from connecting to the network and to deter theft.
Visit a third-party website that offers IMEI or ESN checking services (Examples: IMEI Pro or IMEI 24) > Enter your device's IMEI or ESN number in the search bar > Click Check to see if it's been reported lost/stolen.
If an iPad is involved in fraudulent conduct, like making unlawful calls or texts, the carrier can blacklist the device which results to a bad IMEI or ESN. This is a carrier's way to prevent the device from being used for further fraudulent behavior.
Unauthorized modifications:
There are also instances when an iPad is unlocked or jailbroken without the carrier's permission. For example, some users try to forcefully switch carriers using risky software. As a result, the carrier might blacklist it and result to a bad ESN or IMEI. This prevents the iPad from being used on the network in an unsafe or unauthorized manner.
Can I Sell Blacklisted iPads with a Bad ESN?
You might ask if you can sell your iPad with a bad IMEI or ESN. Yes, there are a variety of solutions open to you:
Sell to online buyback stores: Several companies specialize in purchasing devices with a blacklisted IMEI. They will provide a quote upfront, free shipping, and payment options like a check, PayPal, or Direct Deposit. Remember that your iPad's worth may be lower than an unblacklisted device. (Where to sell: Check Quotes Here)
Sell for parts: If you have an iPad with bad ESN or IMEI, its components may still be valuable to repair shops. (Where to sell: eBay, Craigslist)
Trade-in or exchange: You can try selling your iPad on Facebook Marketplace or similar platforms. However, the gadget's worth will be lower than that of an unblacklisted iPad and these sites don't offer money-back guarantees. (Where to sell: Facebook Marketplace)
Remember that selling a blacklisted iPad to an unknowing buyer is unethical and unlawful. That's why you should always inform potential buyers that your iPad is blacklisted and provide complete information.
Selling iPads With Bad ESN on BankMyCell
You can still sell your iPad with a bad ESN to BankMyCell. We have partnered with buyback companies that specialize in buying blacklisted devices.
Here's how to sell your iPad with BankMyCell step by step:
How to sell, step-by-step
Search for your iPad model: On the search bar, enter your iPad model on the BankMyCell website and pick "blacklisted". Following that, you will see quotes from several buyback companies.
Compare quotes: Compare offers from several buyback firms and select the one that provides the best value for your blacklisted iPad.
Ship your iPad for free: Once you've decided on a buyback firm, use the pre-paid shipping kit to ship your iPad for free. To ensure your iPad reaches you safely and on time, follow the shipping instructions carefully.
Get paid: After the store receives and inspects your iPad, you will be compensated via check, PayPal, or Direct Deposit.
Selling your blacklisted iPad with BankMyCell is a straightforward process that can help you regain a part of the value of your gadget. To guarantee a seamless transaction, declare that the device is blacklisted and offer precise details regarding its state.
FAQ: What To Know When Selling Blocked iPads
If you have an iPad with faulty ESN/IMEI, it indicates that its cellular connection functionalities are unavailable because your current carrier has blocked it. This results in bad ESN or IMEI. When an iPad is reported lost or stolen, or involved in fraudulent activities like forcibly trying to switch carriers via third-party software, it gets blacklisted.
A blacklisted iPad can be sold through marketplaces or repair shops that need individual parts. However, the most viable option is selling it to a buyback company on BankMyCell, which pays the highest price for an iPad with blacklisted IMEI.
BankMyCell has partnered with buyback firms that specialize in purchasing blacklisted devices. When you sell through BankMyCell, you get an upfront quote, a free shipping label, and payment options via check, PayPal, or Direct Deposit. Selling your blacklisted iPad with BankMyCell is a quick and painless process.