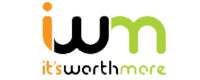 ItsWorthMore Review (Nov 2023)
Is ItsWorthMore Legit? An Honest Review From an Industry Expert: Compare Customer Feedback, Prices, Service Pros & Cons
The Bottom Line
Following our comprehensive review of several buyback stores, we found that ItsWorthMore is a legitimate buyback company offering a simple process for selling your device. With its user-friendly website, ItsWorthMore offers an instant quote for your gadget at decent pricing and with typically fast payment times, contributing to its high customer ratings. However, the platform has also received some negative feedback from customers who felt lowballed after repricing due to disputes in the device condition grading. To prevent payment delays, it's important to accurately assess your device and double-check your personal information before submitting an offer because they have a strict policy on modifying personal information.

Buyback & Trade-in Market Expert Since 2009
We've worked in the buyback/trade-in business since 2009. Our editorial team gives a 100% independent and impartial review from the consumer and our expert experience in our store reviews.
Our research provides you with an honest look on:
Customer rating: We analyze online feedback to give you an overview of the store's benefits and drawbacks from REAL customers' perspective:
Positive vs. negative feedback: What proportion of their reviews on independent third-party platforms are good or bad?
Pros & cons: Provide real reasons why people like you liked or disliked the service.
Expert opinion: Discover how to work around potential seller issues and get the most out of your trade-in.
Prices quoted: Our research offers an impartial comparison of quotes by comparing the market, so you see if you're getting the best deal or a low-ball offer.
Price checks: We research and check prices on the top 30% of devices sold.
Price ranking: Compare 40 buyback or trade-in options and see who will offer the best price.
Store vs. alternatives: What other options are available based on quotes, payment, features, and reviews?
Service offered: Discover what this store offers compared to the benefits and drawbacks of what else is available in the market so that you can choose wisely.
How it works: Get the process explained in plain English, from quote to payment.
Payment & shipping options: Discover what they offer and how it compares.
Device condition: What conditions devices do they accept and the rules behind it where people slip up and get paid less?

2-Minute ItsWorthMore Review Overview
Expert Opinion: What to Expect Selling With ItsWorthMore
Are you tired of old electronics cluttering up your home? Selling them online can be a great way to eliminate them while earning extra cash. But with so many buyback stores out there, finding one that's reliable and offers a fair price can take time and effort.
To help you out, Ash Turner, a senior staff writer at BankMyCell and a tech enthusiast, and his team analyzed the buyback program of ItsWorthMore. We found some important factors you should consider before selling your devices to the store.
While a few customers may have experienced delays in reaching ItsWorthMore's customer service team, they have a user-friendly website that provides an efficient way of selling used cell phones or gadgets for more than 90% of their customers. They also provide fast payments and offer multiple payment options. Moreover, they provide a free re-inspection service to ensure accurate assessments of your device in case of disputes. If you value fast payments and transparency when selling your electronics, ItsWorthMore may be worth considering.
User-friendly website: We're completely satisfied with how ItsWorthmore provides clear and straightforward descriptions for each device condition. There is also a helpful pop-up box when you click ``Tips to assess the condition of your device,`` which contains four tips to help you accurately assess your device.
Various cash payment options: Compared to other buyback stores typically limited to PayPal, ItsWorthMore offers many payment options. Aside from PayPal, they also pay via direct deposit, check, Zelle, and Venmo, giving customers the flexibility and convenience they need when receiving payment for their devices.
Offers reinspection: ItsWorthMore offers a free re-inspection service, which allows customers to request a second evaluation of their device if they feel it was inaccurately assessed. Other buyback stores typically do not offer a free re-inspection service, making ItsWorthMore stand out as a company that prioritizes customer satisfaction and transparency in the device-selling process
Fast payments: ItsWorthmore typically offers a straightforward process for most of their customers and provides quick turnaround times on assessing devices and sending payments.
Strict policy: ItsWorthMore does not allow customers to modify their personal information associated with an already submitted offer, such as incorrect addresses. It may potentially lead to delays or issues with payment, so always make sure you're entering the correct information during your initial submission
Limited device model options: ItsWorthMore has a narrower selection of accepted devices compared to other buyback stores, which may not be ideal if you're looking to sell less common models or older devices. For example, they only accept three Samsung cell phone models, whereas other stores accept up to 30 different Samsung models. Nevertheless, they still accept a wide range of devices like phones, desktops, games, cameras, monitors, etc.
Potentially lower buyback prices: While ItsWorthMore does offer competitive prices for used devices, their prices may not always be the highest compared to other buyback stores. It's always a good idea to shop around and compare prices before selling your electronics.
ItsWorthMore Trade-in Program Review
1. Consumer Feedback Overview
Customer Opinion: Is Selling on ItsWorthMore Legit?
One of the challenging parts of selling a used gadget is deciding where to sell it. There are a lot of stores out there that offer trade-in options, but you must be looking to get paid in cash in the most secure way possible. Marketplaces are risky since you have to meet strangers, and e-commerce has too many processes to complete before selling. Buyback sites are a great alternative that offers a quick and convenient process while making sure you get paid in cash value for your gadget.
To make an informed decision on whether to use the buyback site ItsWorthMore, we will assess various important factors such as their ability to provide instant quotes, their payment speed after receiving your gadget, their level of customer communication, and the usability of their website.
We have also collected information on ItsWorthMore by examining their website and analyzing reviews from third-party sites. This will help us determine whether ItsWorthMore is truly worth considering.
Customer Review Rating Distribution

0
%
Excellent-Average Ratings
Various payment options: Many sellers left positive reviews about ItsWorthMore's multiple payment options, such as PayPal, Zelle, and Check, because these options allow sellers to have flexibility in receiving payment for their devices.
Fast and easy process: Based on customer reviews, many sellers found the whole process of requesting a quote to be simple, quick and straightforward, and appreciated the user-friendliness of the website.
Free and fast shipping offered for devices: Customers praised the fact that you don't have to pay shipping with ItsWorthMore, making their process even more convenient.
Some cases of disagreements on condition grading: Around 5% of ItsWorthMore's Trustpilot reviews show that some sellers were offered a lower price than the original quote. This is likely due to changes in item condition status after the assessment team found more damages, such as unreported scratches, etc.
Delayed payment: Some sellers who experience issues during the assessment may also experience payment delays ranging from one week to a few weeks.
Difficulty in reaching customer service: Some customers have complained about contacting ItsWorthMore's customer service team. This can be frustrating for people with questions or issues about their device or payment.
2. ItsWorthMore VS. Alternatives
Compare Trade-in Quotes, Ratings & Services
We compared ItsWorthMore to similar platforms to identify the best-rated, best-quoted, and best-featured online buyback site. The site's overall customer rating, the competitiveness of its quotes, and the quality of its payment and shipping choices were all criteria in our review.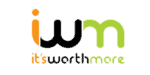 4.6 out of 5 on Trustpilot
Customers like them; 4.6 out of 5 Trustpilot rating.
Large payment option selection.
Free re-inspection if you're not happy with their original assessment.
They don't offer prices for Broken or Damaged devices.
48 hour inspection and payment timeframe.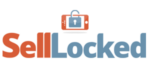 99% of the customers rated the store 5 stars.
Fast payment – get paid within three days after the device is delivered.
Hassle-free and a great experience when trading in phones.
Excellent customer service.
Limited products accepted.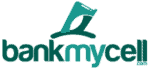 4.4 out of 5 on Trustpilot
Provides the highest up-front quotes.
Ranked #1 for services offered:
Pay by Direct Deposit, PayPal, Check, and many more.
Shipping label and returns for FREE.
A 30-day price lock feature.
Wide range of devices accepted.
3. How Does ItsWorthMore Trade-in Work?
FAQs: Payment, Shipping, Conditions, and More
How Selling With ItsWorthMore Works
Step 1: The whole process starts with going to the ItsWorthMore website > Click Start Selling > Click Sell.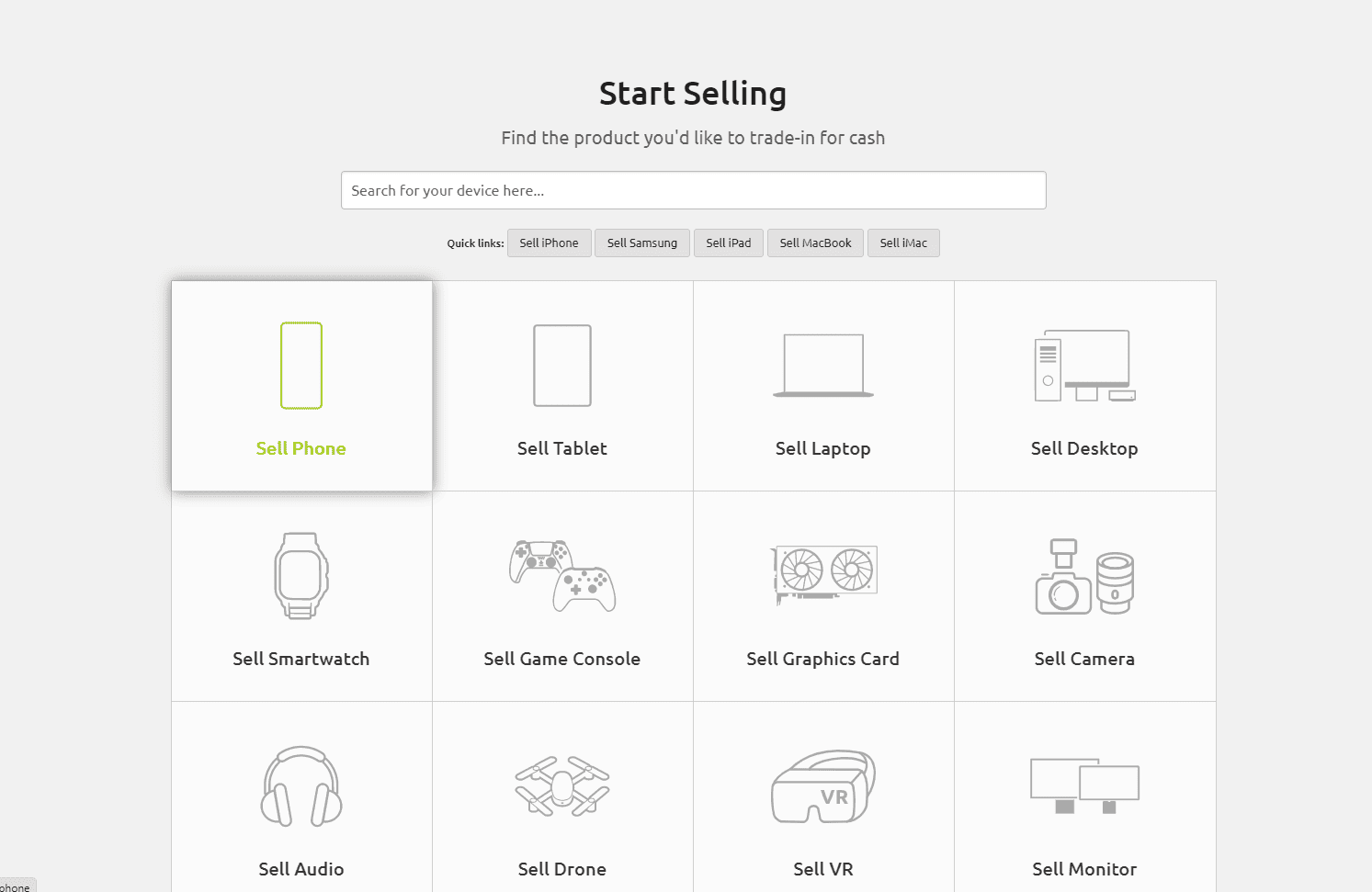 Step 2: You can also search for your device on the search bar by typing in the specific model or selecting your phone's brand from the options provided.
Step 3: After selecting your phone's model, a page will appear showing a picture of the device, its specific details, and a sample quote of its value.
Step 4: Click on the model of your device to proceed to the next step.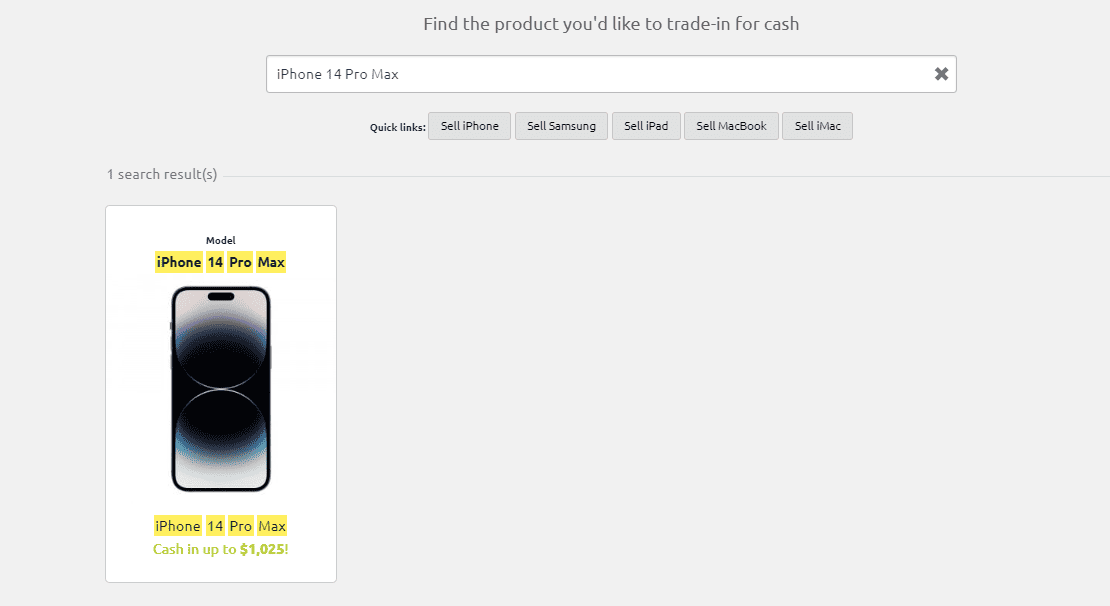 Step 5: You will be asked to indicate the condition of your phone from the choices of Brand New, Flawless, Good, Fair, or Broken.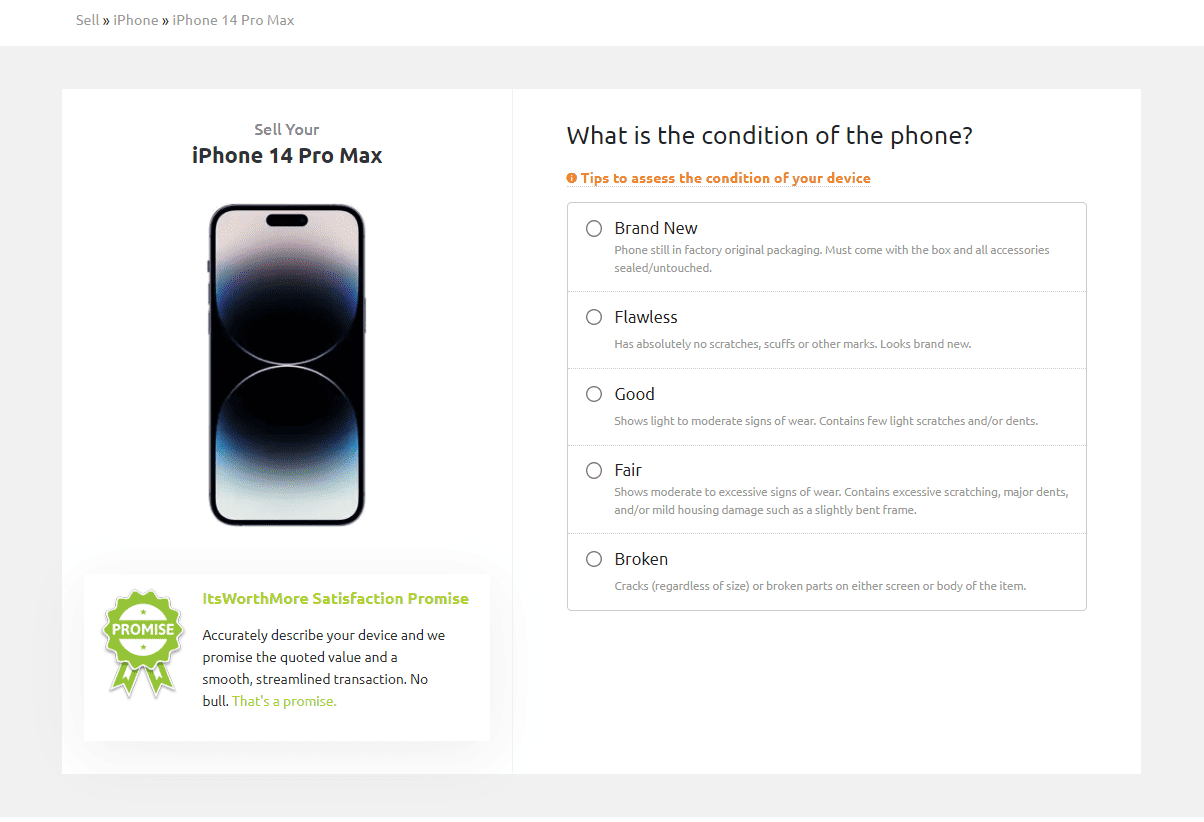 Step 6: Select the appropriate option and click Next Step.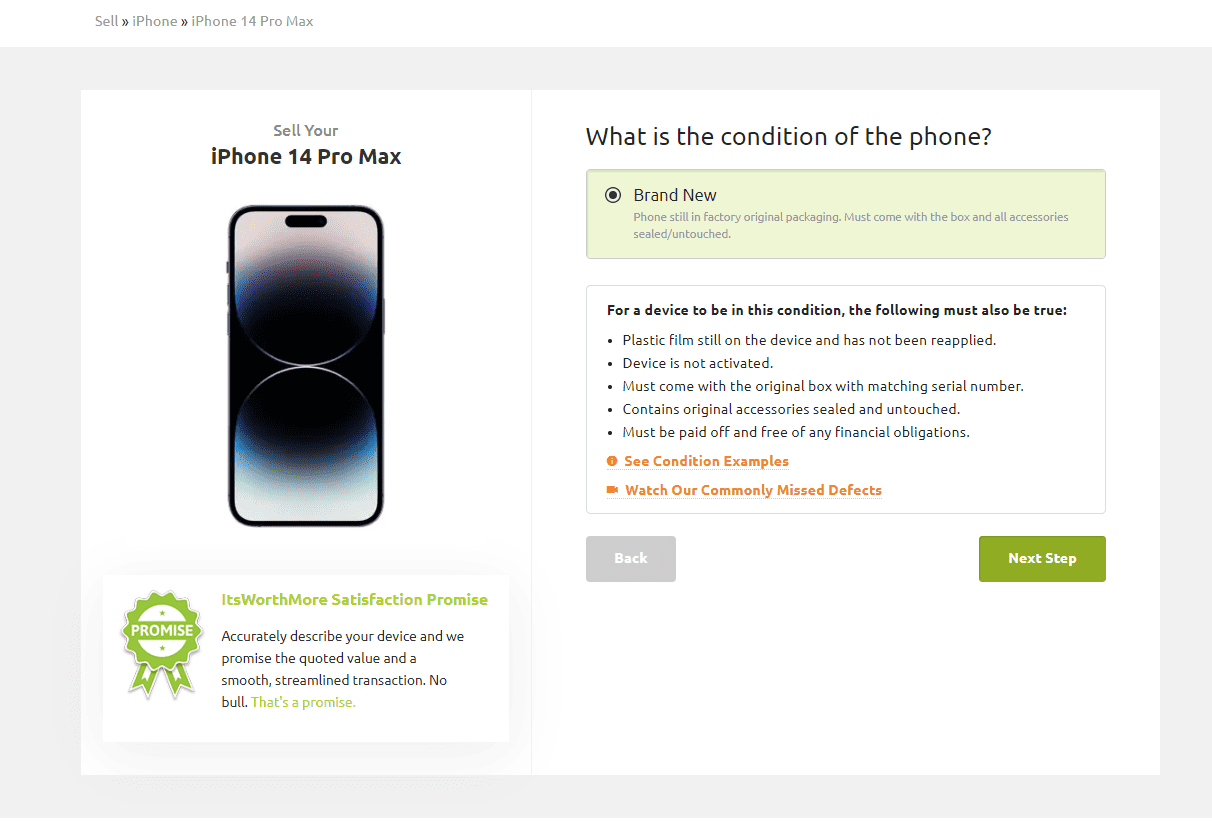 Step 7: Choose the carrier of your device from the choices provided, such as AT&T, Verizon, Sprint, T-Mobile, Unlocked, or Other Carrier > Next Step.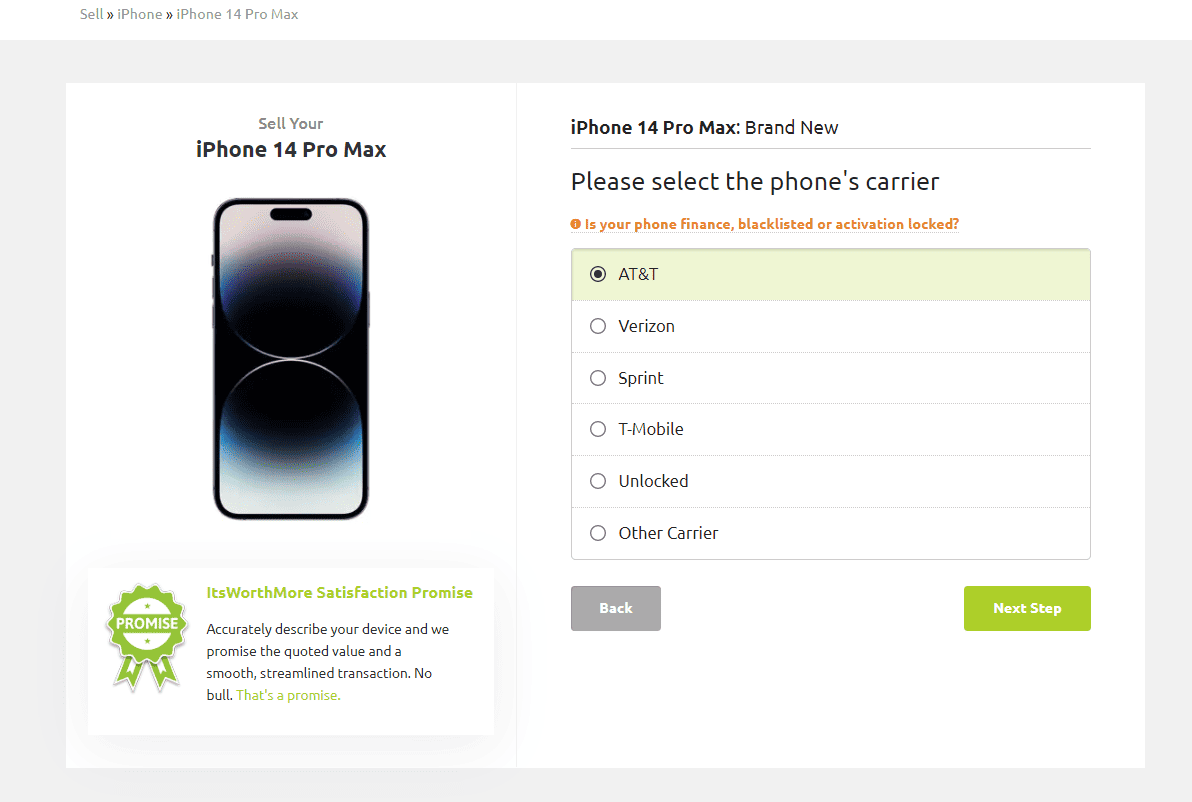 Step 8: Select the device's storage capacity from the options 128GB-1TB > Next Step.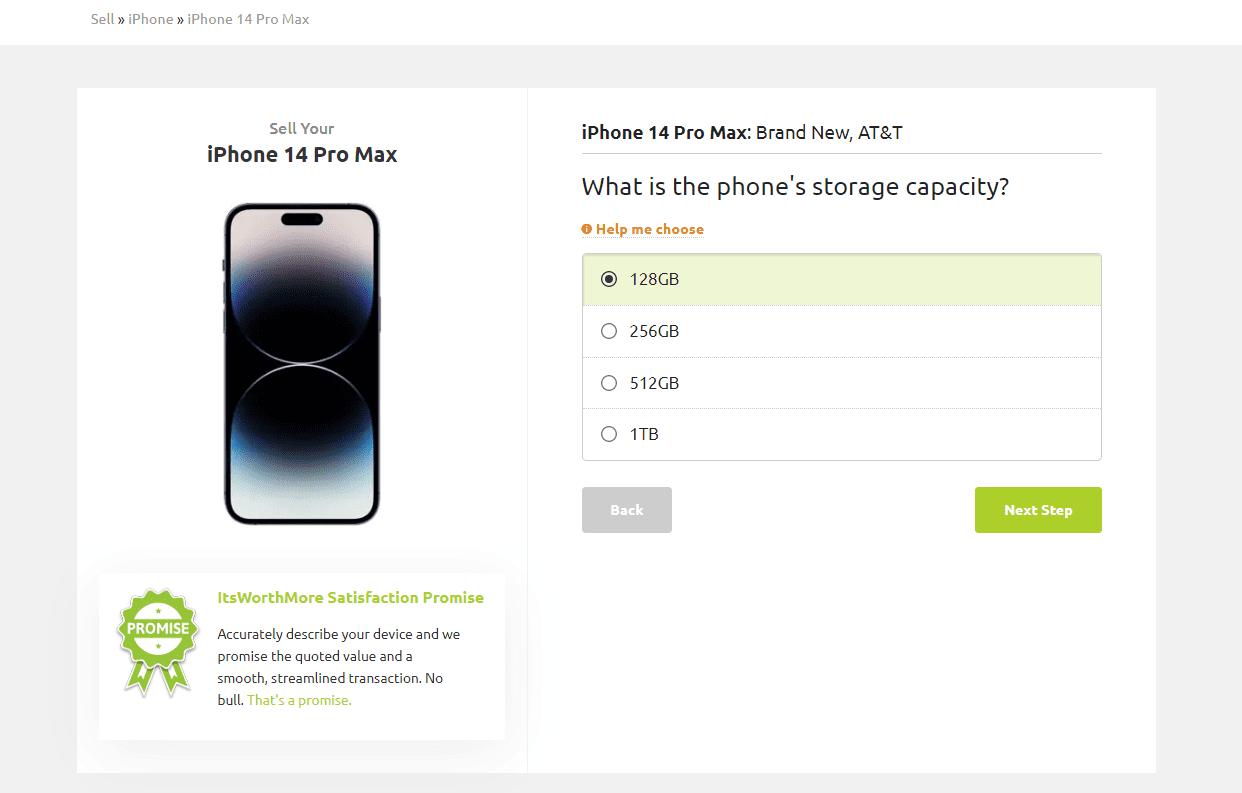 Step 9: The site will load for a few seconds to generate a price quote for your device, showing you its estimated value.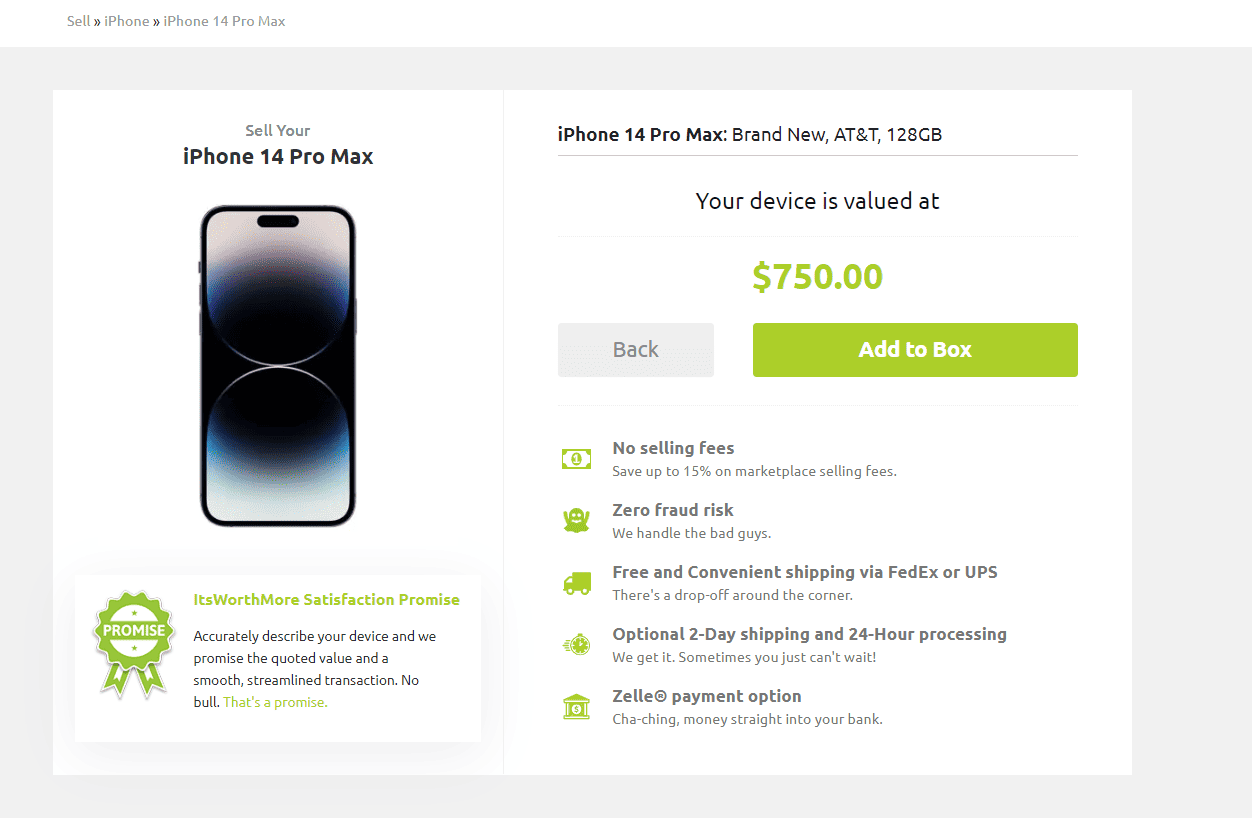 Step 10: The page will remind you that ItsWorthMore has no selling fees, zero fraud risk, free shipping, optional 2-day shipping, and 24-hour processing time, as well as the option to receive payment via Zelle®.
Step 11: If you need to make any changes to the details you entered, you can go back to the previous page. Otherwise, if you accept the quoted value of your device, click Add to Box.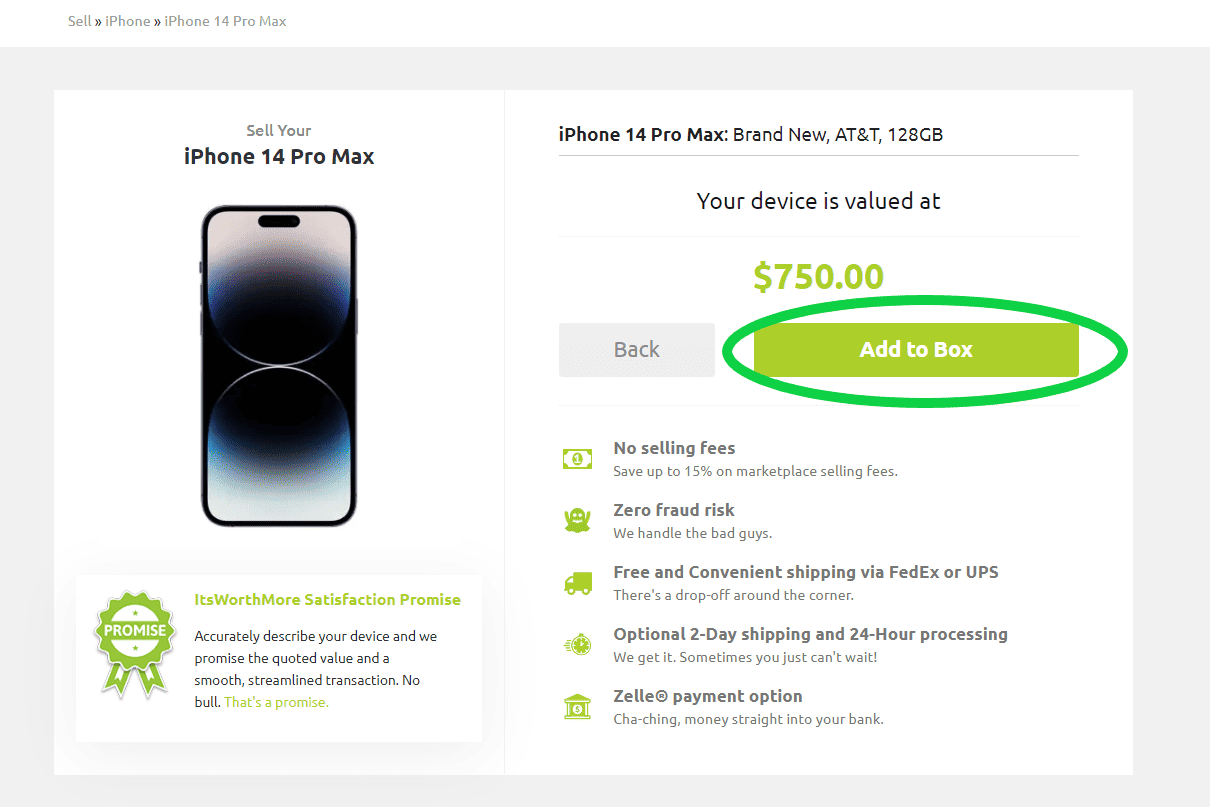 Step 12: You will be directed to "Your Box," which is similar to a typical shopping cart on an e-commerce site. Here, you will see all the items you have agreed to sell, including their corresponding values, and a summary of your total payout.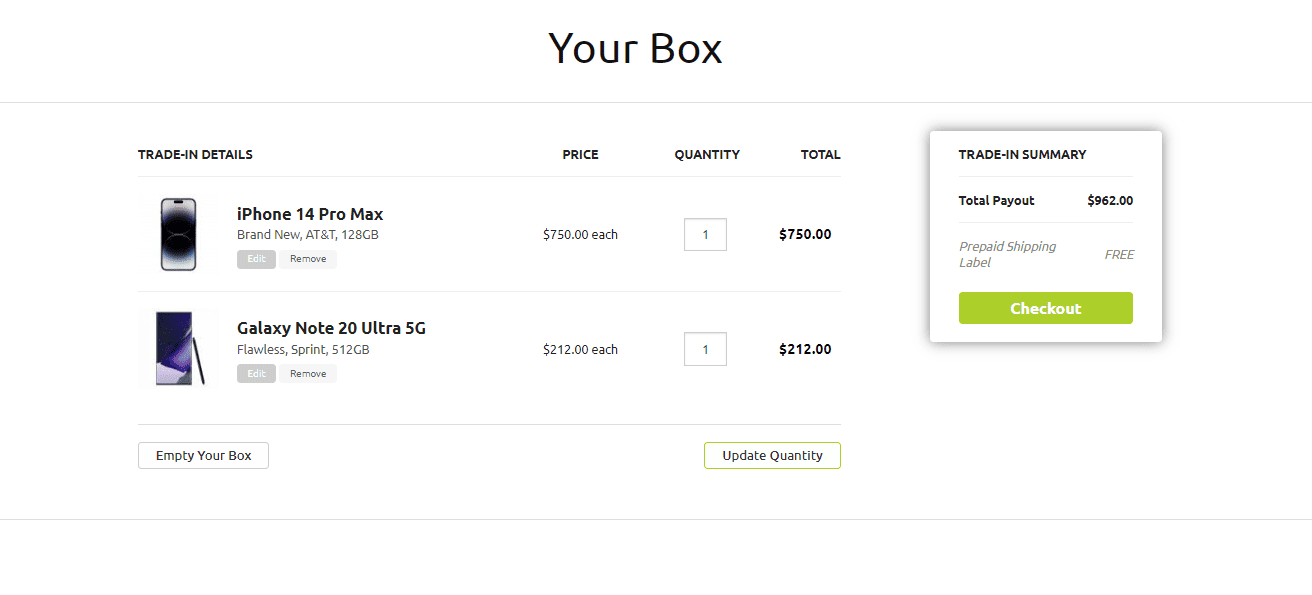 Step 13: Double-check the details of your sale, and if everything looks good, click Checkout to proceed with the transaction.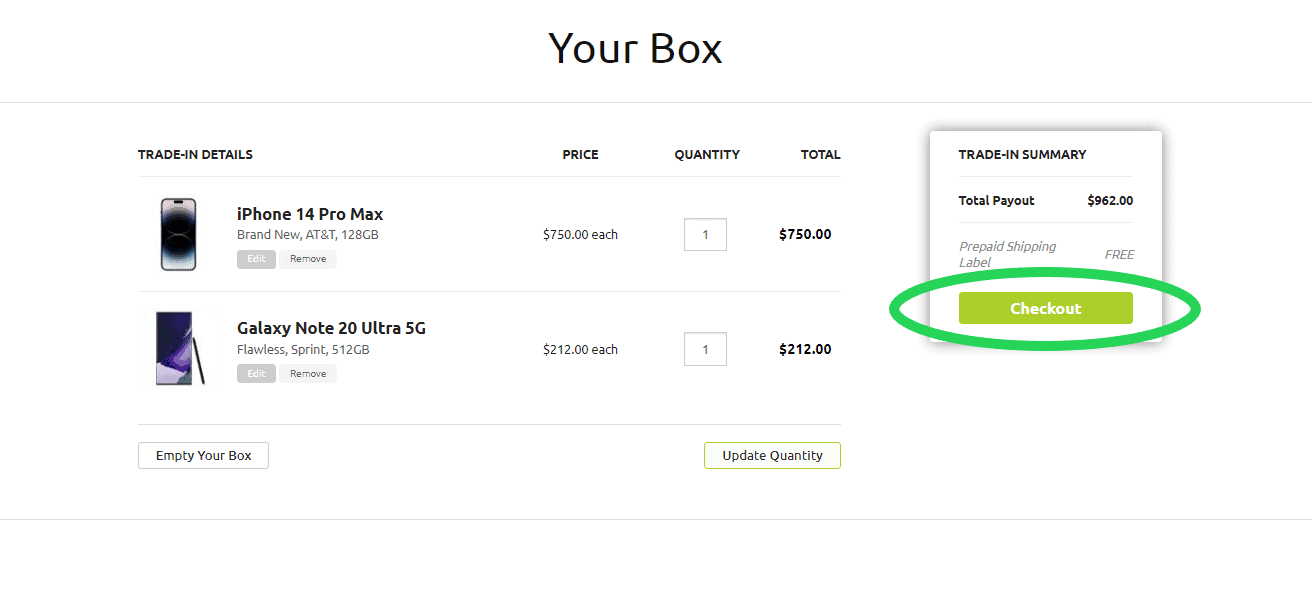 Service FAQs: Payment, Shipping, & Device Conditions
Is selling on ItsWorthMore legit? Based on our comprehensive review of the store and the comments of thousands of satisfied customers, we confirm that ItsWorthMore is a trustworthy buyback/trade-in company. They offer reasonable prices and fast payments if you're looking for a straightforward process of selling your device and receiving cash payments immediately. There were some customer reports on final offer changes and payment delays, and this seems to stem from disagreements over condition grading. It's best to review their condition guide thoroughly to avoid similar issues.
ItsWorthmore offers various payment methods, including direct deposit, check, PayPal, Zelle, and Venmo. Verify your personal information before submitting an offer, as ItsWorthMore has strict policies regarding address modifications for security reasons.