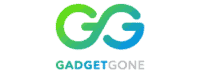 GadgetGone Review (Dec 2023)
Is GadgetGone Legit? An Honest Review From an Industry Expert: Compare Customer Feedback, Prices, Service Pros & Cons
The Bottom Line
GadgetGone is an excellent choice to trade in old devices because it accepts various gadgets, including used iPhones, other Apple Products, old Samsung units, and many more. Moreover, they offer higher payouts compared to other buyback sites.
Another advantage is their convenience because there's no need to log in to an account before selling to them. However, it's important to note that they don't offer check payments, so it's crucial to have either a PayPal account or a bank account for direct deposit if you want to get paid in cash.

Buyback & Trade-in Market Expert Since 2009
We've worked in the buyback/trade-in business since 2009. Our editorial team gives a 100% independent and impartial review from the consumer and our expert experience in our store reviews.
Our research provides you with an honest look on:
Customer rating: We analyze online feedback to give you an overview of the store's benefits and drawbacks from REAL customers' perspective:
Positive vs. negative feedback: What proportion of their reviews on independent third-party platforms are good or bad?
Pros & cons: Provide real reasons why people like you liked or disliked the service.
Expert opinion: Discover how to work around potential seller issues and get the most out of your trade-in.
Prices quoted: Our research offers an impartial comparison of quotes by comparing the market, so you see if you're getting the best deal or a low-ball offer.
Price checks: We research and check prices on the top 30% of devices sold.
Price ranking: Compare 40 buyback or trade-in options and see who will offer the best price.
Store vs. alternatives: What other options are available based on quotes, payment, features, and reviews?
Service offered: Discover what this store offers compared to the benefits and drawbacks of what else is available in the market so that you can choose wisely.
How it works: Get the process explained in plain English, from quote to payment.
Payment & shipping options: Discover what they offer and how it compares.
Device condition: What conditions devices do they accept and the rules behind it where people slip up and get paid less?

2-Minute GadgetGone Review Overview
Expert Opinion: What to Expect Selling With GadgetGone
Imagine the frustration of trying to sell your used or old iPhone or Android device without knowing the best avenue to take. You want to get a fair price while also receiving great service from the platform you decide to sell to. That's why exploring reliable options to meet your needs and expectations is crucial.
One of your options when planning to sell to a buyback store is Gadget Gone. Ash Turner, BankMyCell's Senior Staff Writer and Tech Enthusiast, thoroughly analyzed its services to provide an in-depth review of the platform's prices, features, and overall service quality.
User-friendly Site: The website features a simple and intuitive interface, making it accessible for individuals who are not tech-savvy and may feel overwhelmed by complex web pages.
Straightforward process: We like that you can obtain a quote without needing to create an account beforehand, unlike other platforms that require logging in before initiating the trade-in process.
Various payment methods: They offer a wide range of payment methods, including direct deposit, PayPal, and gift cards. This ensures that you can choose a payment method that suits your preferences, eliminating any potential inconvenience in the payment process.
No check payments: Gadget Gone doesn't offer the option to pay a seller via check, which can be inconvenient for sellers who prefer that mode of payment.
No shipping kit: They do not provide a shipping kit, so sellers must find suitable packaging materials for sending their devices.
Blacklisted Device Policy: While it is understandable that Gadget Gone doesn't accept blacklisted devices, their policy regarding them can disadvantage sellers. If a seller accidentally sends a blacklisted device to Gadget Gone's office, they will be responsible for the return shipping expenses and may receive an invoice of $10 per blacklisted device to have them returned.
GadgetGone Trade-in Program Review
1. Consumer Feedback Overview
Customer Opinion: Is Selling on GadgetGone Legit?
What if I told you there's a simple and practical way to get rid of your old device and make some money? It's true! Instead of letting your used cell phones gather dust, you can sell them to a buyback store.
But here's the real question: Which buyback store should you choose? GadgetGone is one option you can easily find through a quick Google search. Let's delve into how consumers perceive the overall services provided by the store based on their positive and negative reviews.
We'll also examine whether they offer more money than others and how convenient their service is, as these factors are crucial when selling a device.
Customer Review Rating Distribution

0
%
Excellent-Average Ratings
High payouts: Many sellers appreciated Gadget Gone for offering competitive quotes higher than those provided by its competitors, resulting in greater financial benefit for the sellers.
Free Shipping and Return: Numerous sellers expressed complete satisfaction with the store's provision of free shipping labels for sending their devices. This added convenience and eliminated the cost burden of shipping for the sellers.
Easy Selling Process: Positive reviews frequently mentioned the convenience and simplicity of selling devices through Gadget Gone. Sellers appreciated the user-friendly interface and straightforward steps involved in the trade-in process.
Inaccurate Device Evaluation: One posted negative reviews on Trustpilot and Better Business Bureau about Gadget Gone's inaccurate evaluation of their device's condition. They have expressed that the buyback store falsely claimed damage or defects that contradicted the true condition of their devices. The company owner and customer service staff took the initiative to read online reviews and respond to them, so they can provide their perspective and address concerns.
Delayed Review Process: Numerous sellers gave negative reviews regarding Gadget Gone's extended evaluation process. They cited instances where the platform retained their devices for longer than initially estimated, surpassing the expected time frame.
Missing Items in Return: Some customers who declined Gadget Gone's final offer reported missing accessories, such as chargers, when they received their items back. However, Gadget Gone's support page clearly states that any additional accessories included in the package will not be returned during the process. Refraining from sending extra accessories with your device is advisable, as they are not required and do not contribute to the quote provided.
2. GadgetGone VS. Alternatives
Compare Trade-in Quotes, Ratings & Services
Although GadgetGone appears promising, it's important to assess its performance compared to other buyback stores. Since your main objective is to maximize your earnings, we researched to determine users' trust based on public feedback and the highest seller offers.
We also thoroughly evaluated the features offered by other websites. Consequently, we have compiled a list of alternatives considering the above mentioned factors.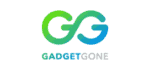 4.6 out of 5 on Trustpilot
Highly rated Buyback Store with competitive pricing.
Free shipping labels and returns.
Wide range of devices accepted.
Lots of payment options including Amazon Gift Cards.
14-day price lock guarantee.
Slightly longer payment timeframe than other buyback stores.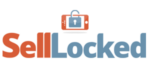 99% of the customers rated the store 5 stars.
Fast payment – get paid within three days after the device is delivered.
Hassle-free and a great experience when trading in phones.
Excellent customer service.
Limited products accepted.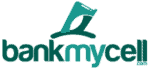 4.4 out of 5 on Trustpilot
Provides the highest up-front quotes.
Ranked #1 for services offered:
Pay by Direct Deposit, PayPal, Check, and many more.
Shipping label and returns for FREE.
A 30-day price lock feature.
Wide range of devices accepted.
3. How Does GadgetGone Trade-in Work?
FAQs: Payment, Shipping, Conditions, and More
How Selling With GadgetGone Works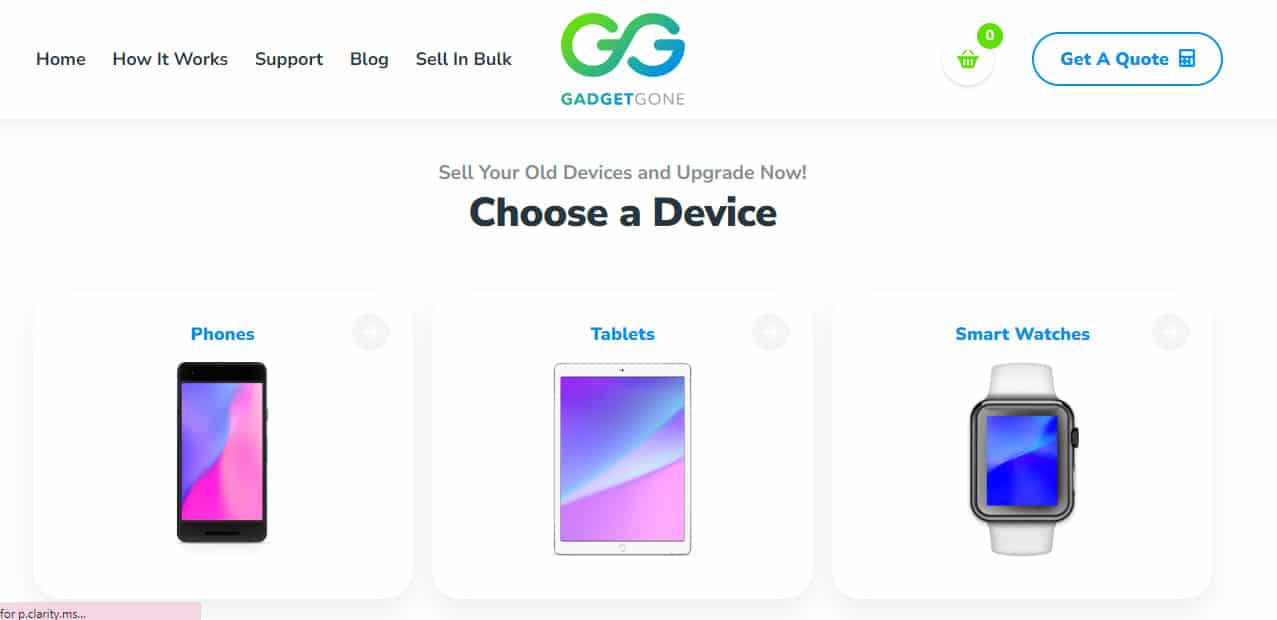 Select the type of device.
Select its brand and specific model.
Fill out the details needed: Carrier, Storage, and Condition.
After entering these details, the page will load to give you an Overview of your item.
The overview includes the Carrier, Storage, Condition, and Quantity of the device/s.
You'll find Device Value at the bottom right section of the page. This represents the quote provided by the store for your device, whether in cash or as a gift card.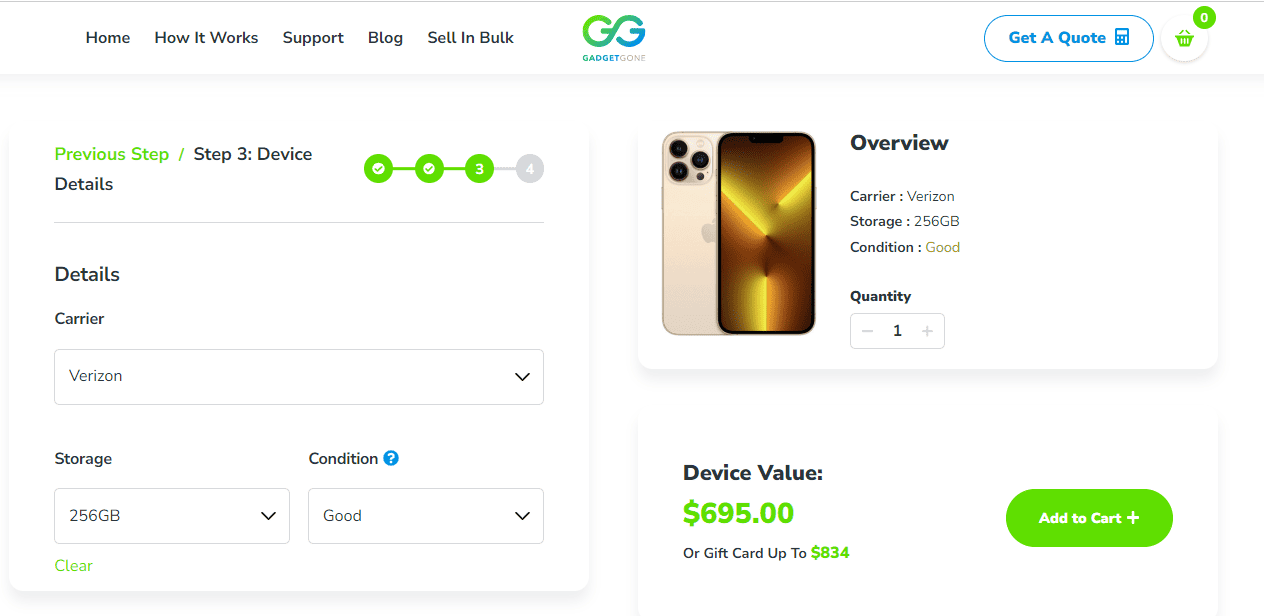 REGISTER YOUR SALE
If you agree with the offer, Click Add to Cart.
You will be directed to the Checkout page > Click the + sign if you'd like to add another device.
If not, and you're ready to sell > Click Checkout.
Note: You can apply a coupon code before checking out if you have one.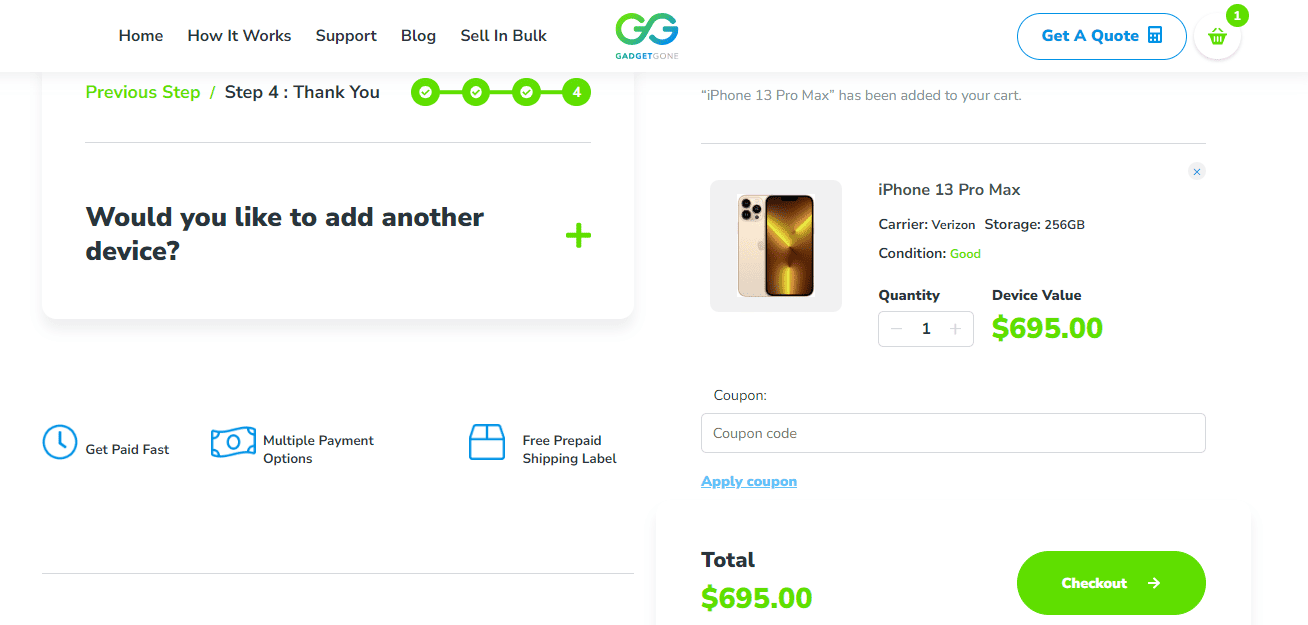 Choose how you want to get paid (via Gift Card, PayPal, Virtual Visa Card, or Bank transfer).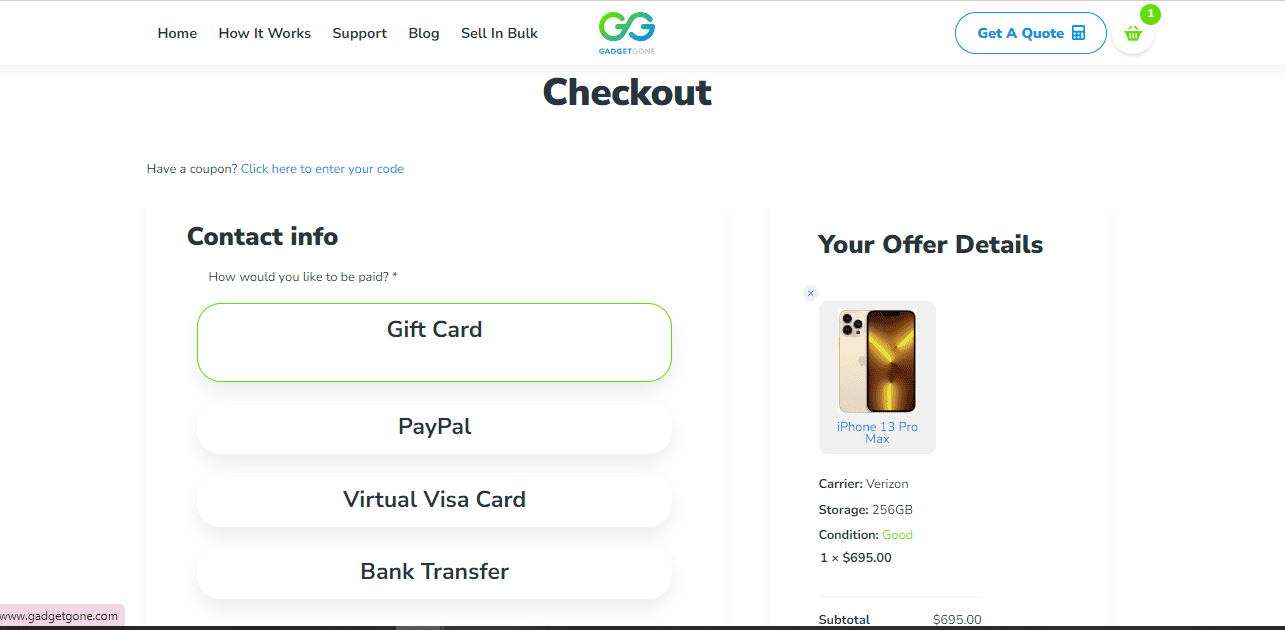 After choosing a mode of payment > Enter your contact information like your name, email address, phone, number, etc.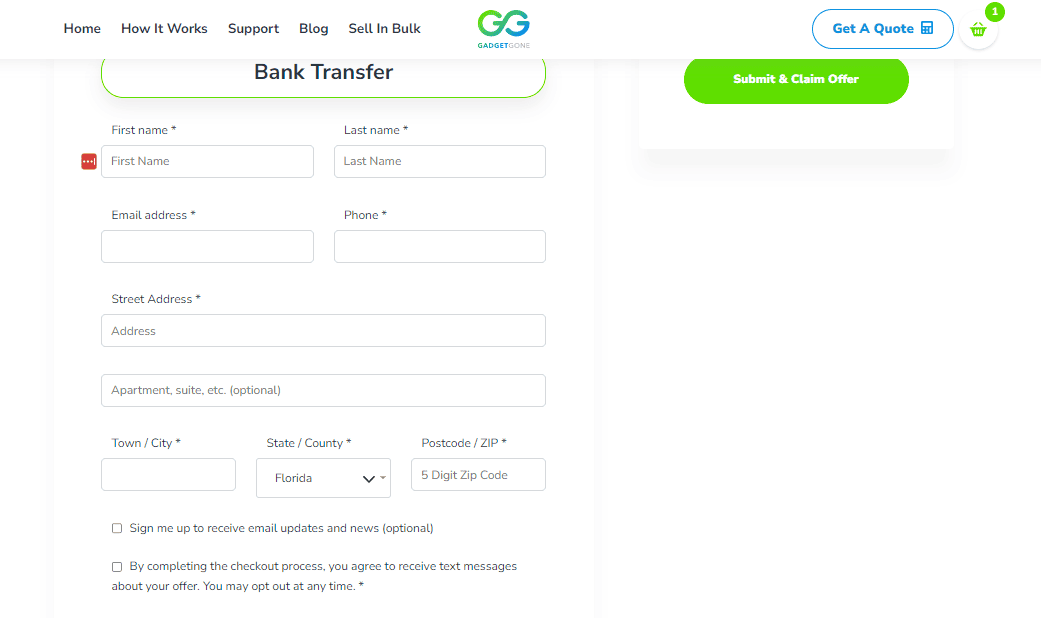 COMPLETE YOUR ORDER:
The first box is optional, but the second must be ticked to complete the checkout process.
Under Your Offer Details, tick the box beside'I have read and agree to the website terms and conditions' > Click Submit and Claim Offer.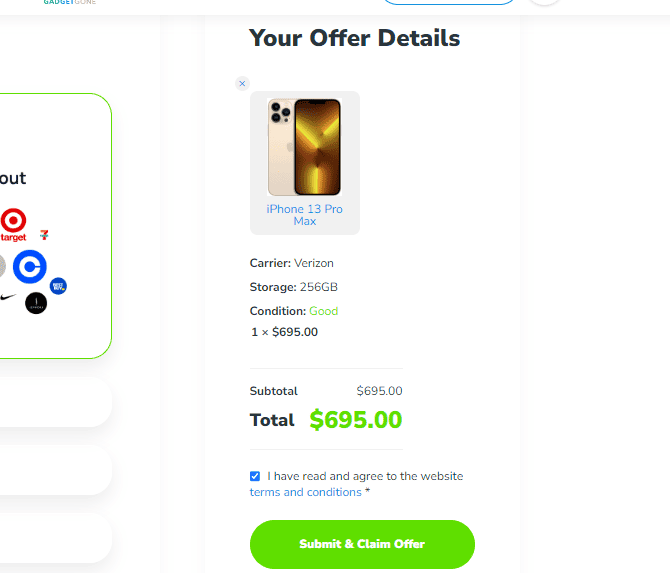 SHIP YOUR DEVICE:
After completing all the necessary steps, you will be directed to the Checkout page. Here, you will receive your order number and a mailing label that you can use to send your device. GadgetGone will provide information about the amount they owe you and other essential order details.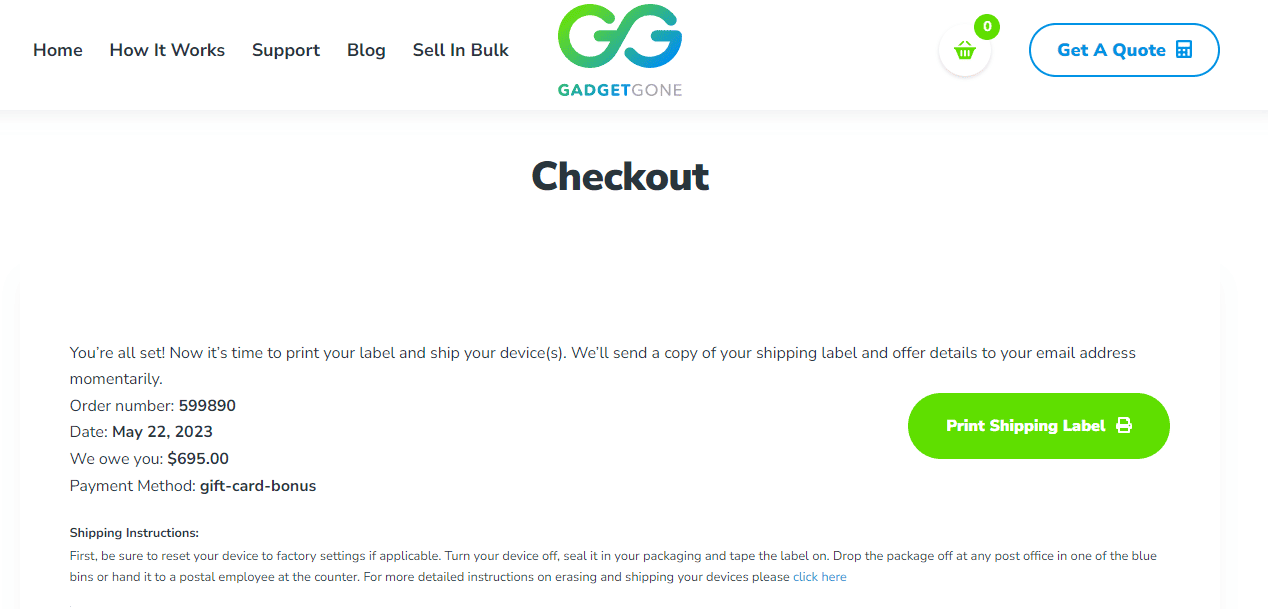 Service FAQs: Payment, Shipping, & Device Conditions
You can consider Gadget Gone because they accept several types of devices and offer higher payouts than other buyback sites. Selling to them is also convenient, as no account login is required. However, they don't provide check payments, so a PayPal or bank account is necessary if you prefer cash payment.