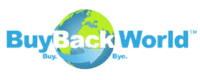 BuyBackWorld Review (Dec 2023)
Is BuyBackWorld Legit? An Honest Review From an Industry Expert: Compare Customer Feedback, Prices, Service Pros & Cons
The Bottom Line
Our in-depth review of buyback stores reveals that BuyBackWorld is one of the safe and legit stores to sell your old cell phones. If you have a wide variety of devices to sell, are looking for a convenient way to do it, BuyBackWorld is a good option for you. They provide FREE shipping kits (and FREE shipping returns!) and a price lock feature of 30 days for a hassle-free experience. They also have multiple cash payment options such as check, PayPal, Venmo, and others.
Their price offers for the most commonly sold phones are slightly lower than the best prices in the industry, but they're one of the rarer stores that offer prices for many other electronic devices. They accept not just phones but a wide variety of devices, whether tablets, smartwatches, game consoles, speakers, cameras, etc.

Buyback & Trade-in Market Expert Since 2009
We've worked in the buyback/trade-in business since 2009. Our editorial team gives a 100% independent and impartial review from the consumer and our expert experience in our store reviews.
Our research provides you with an honest look on:
Customer rating: We analyze online feedback to give you an overview of the store's benefits and drawbacks from REAL customers' perspective:
Positive vs. negative feedback: What proportion of their reviews on independent third-party platforms are good or bad?
Pros & cons: Provide real reasons why people like you liked or disliked the service.
Expert opinion: Discover how to work around potential seller issues and get the most out of your trade-in.
Prices quoted: Our research offers an impartial comparison of quotes by comparing the market, so you see if you're getting the best deal or a low-ball offer.
Price checks: We research and check prices on the top 30% of devices sold.
Price ranking: Compare 40 buyback or trade-in options and see who will offer the best price.
Store vs. alternatives: What other options are available based on quotes, payment, features, and reviews?
Service offered: Discover what this store offers compared to the benefits and drawbacks of what else is available in the market so that you can choose wisely.
How it works: Get the process explained in plain English, from quote to payment.
Payment & shipping options: Discover what they offer and how it compares.
Device condition: What conditions devices do they accept and the rules behind it where people slip up and get paid less?

2-Minute BuyBackWorld Review Overview
Expert Opinion: What to Expect Selling With BuyBackWorld
You are probably searching and checking through BuyBackWorld reviews to see if it is worth selling the old cell phone you bought to this store for extra money. This comprehensive, honest, and helpful review by BankMyCell's Senior Staff Writer and Tech Enthusiast Ash Turner provides everything you need to know about BuyBackWorld.
We reviewed the BuyBackWorld buyback reviews from its consumer rating on BuyBackWorld's Trustpilot, examined its services in detail and compared it to other stores, and evaluated the trade-in process ourselves for you.
BuyBackWorld has a detailed guide during the trade-in process, which is helpful for customers to select the right option for them.
They offer a FREE shipping pack where you can store your device or a FREE shipping kit to print at your own convenience.
Your initial quote is valid for up to 30 days, so you wouldn't have to hurry to decide or ship your device at that time.
They offer prices for a wide variety of brands and old electronics, which is definitely important if you're looking to sell multiple devices.
Some of the customers' online reviews include slow customer service.
They offer slightly lower rate for an old phone compared to other stores.
You might receive your payment a little longer compared to other stores. It is not a strong option if you're going to need extra cash urgently.
BuyBackWorld Trade-in Program Review
1. Consumer Feedback Overview
Customer Opinion: Is Selling on BuyBackWorld Legit?
You may have many questions when selling a device for the first time at websites like BuyBackWorld, like "Is selling on BuyBackWorld legit?" and "How does BuyBackWorld pay you?". You are also probably reading BuyBackWorld trade-in reviews to be sure they are worth it.
As your helpful guide, we gathered and reviewed all consumer reviews of BuyBackWorld, from the payment and overall trade-in process to customer service, to make it easier for you to assess.
Customer Review Rating Distribution

0
%
Excellent-Average Ratings
FREE shipping kit: BuyBackWorld provides a prepaid shipping label, packing slip, bubble wrap protection, box, or return padded envelope for FREE, which customers find easier to sell their device.
Hassle-free: Customers find it smooth and convenient to transact with BuyBackWorld with their easy trade-in process.
Extended price lock feature: BuyBackWorld makes their initial offer valid for 30 days, giving customers time to consider and weigh their options.
Changes in offers: Some customers experienced receiving a final payment that's lower than the initial quote after changes in item condition status during the assessment.
Payment delays: Some of the customers have experienced delays with receiving their money.
Slow customer service: Some customers experienced being on hold for an hour and a half when they called customer service.
We've compiled other platforms and sites where you can alternatively sell phones other than BuyBackWorld. We checked and reviewed all the other stores regarding the trade-in process, customer service, payment time frames, prices they offer, shipping services, and many more to help you weigh your options quickly.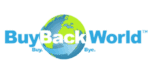 4.1 out of 5 on Trustpilot
73% of customers gave the store 5 stars.
Good range of devices accepted.
2-3 days payment timescale for PayPal and Venmo.
30-day price lock-in, one of the best options available.
They offer fair price quotes for your devices.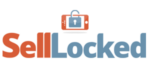 99% of the customers rated the store 5 stars.
Fast payment – get paid within three days after the device is delivered.
Hassle-free and a great experience when trading in phones.
Excellent customer service.
Limited products accepted.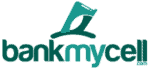 4.4 out of 5 on Trustpilot
Provides the highest up-front quotes.
Ranked #1 for services offered:
Pay by Direct Deposit, PayPal, Check, and many more.
Shipping label and returns for FREE.
A 30-day price lock feature.
Wide range of devices accepted.
3. How Does BuyBackWorld Trade-in Work?
FAQs: Payment, Shipping, Conditions, and More
How Selling With BuyBackWorld Works
In this section, you will find the complete answer to "How does BuyBackWorld work?" if you are interested in considering selling your device to this store.
Get Your Initial Offer
Visit the BuyBackWorld website and select Sell Smarter.
Choose your device from the vast options.
Select the model you own.
Pick the carrier you have for your device.
Select the storage capacity of your device.
Click the exact condition of your device. BuyBackWorld has set requirements for each to guide you in choosing the best state for your device to see your instant quote.
Select Get Paid to proceed.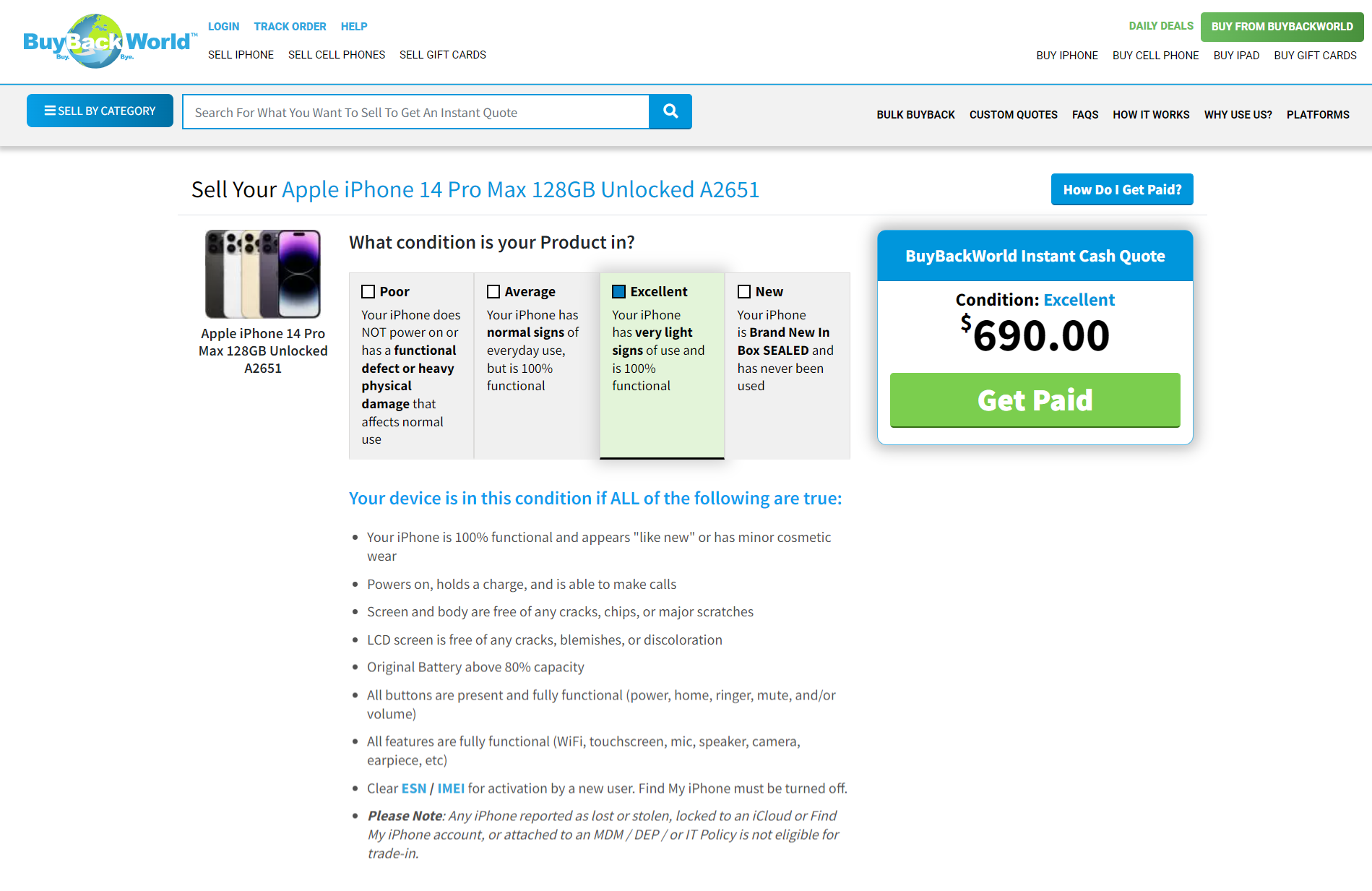 Choose Your Payment Option
Before selecting how you want to be paid, you must provide the company with your email for tracking and status updates. BuyBackWorld has three options: login, new user, and guest.
Use login if you already have an account at BuyBackWorld, a New user if you want to create an account at the store site, or a Guest if you want to be a member later. Follow these next steps after that:
Select Continue to Payment.
Choose your preferred payment option – check, PayPal, or Venmo.
Follow on-screen instructions.
Select Continue to Shipping.

Proceed to Shipment
Select the shipping option you like – request a free shipping kit or print your shipping label. You will see the process for each method, which will help you choose how you want to ship your device.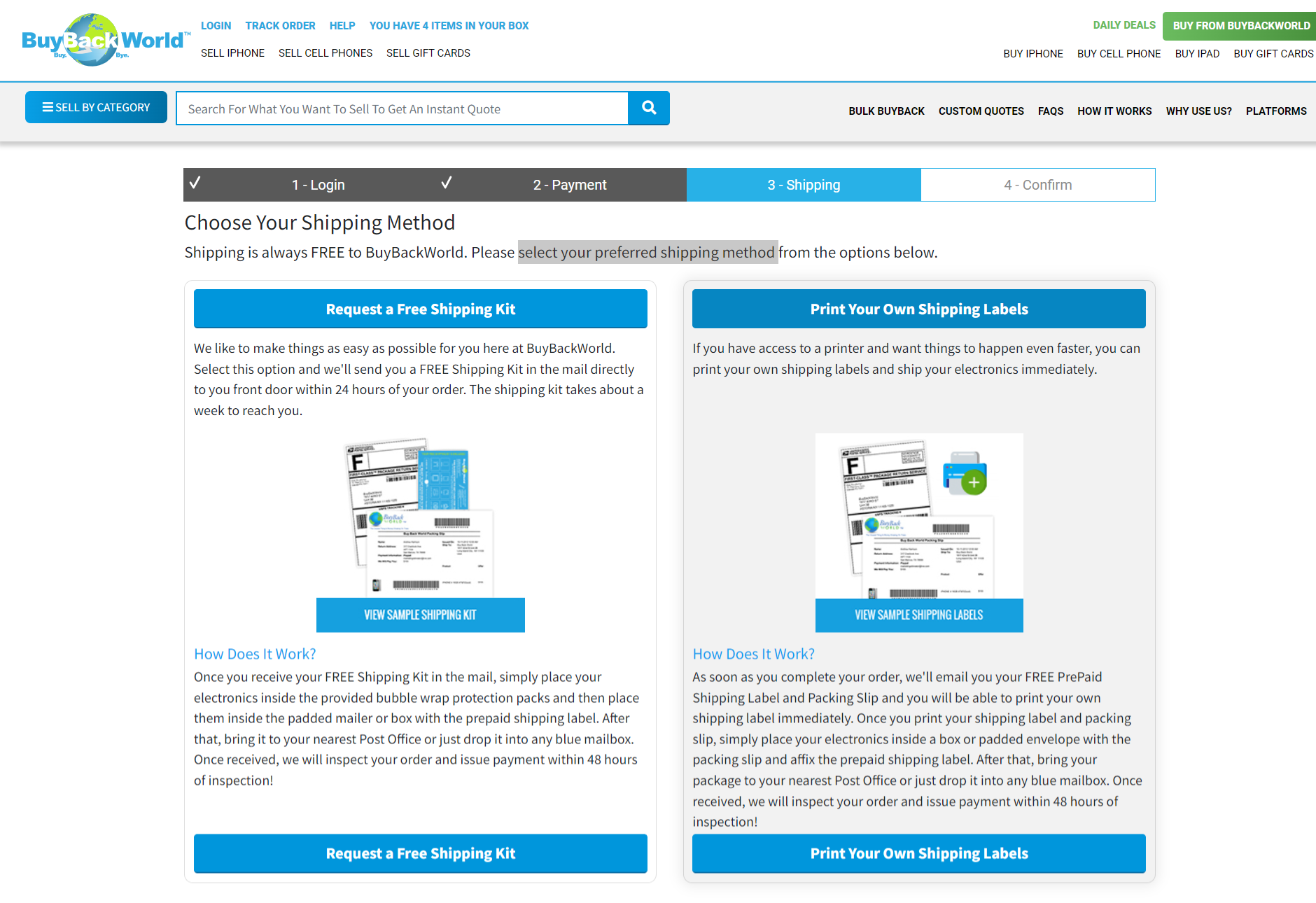 Follow the next on-screen steps right after and proceed to confirm your details. After reviewing your information, which you can edit if you'd like, answer the fifth question and tick the checkbox. Then, click Submit My Order.
BuyBackWorld will show you what to do after that, and you will see your order summary for your reference.
Service FAQs: Payment, Shipping, & Device Conditions
BuyBackWorld is a store you can consider if you want to sell your used iPhones or any other devices. They accept most devices other stores don't, which makes it one of the best options if you're thinking of selling multiple electronic devices. They even offer a complimentary shipping kit.
BuyBackWorld might not be your best option if you prefer more immediate payments or if you want to sell a locked, blacklisted, or financed devices.
But if you want the ease of selling multiple devices with a store that makes shipping more convenient and allows the flexibility of receiving your payments from a wide range of options, BuyBackWorld is a strong option to keep in mind.