Gizmogo Review (Sep 2023)
Is Gizmogo Legit? An Honest Review From an Industry Expert: Compare Customer Feedback, Prices, Service Pros & Cons
The Bottom Line
Gizmogo is an online buyback site that provides good trade-in values, flexible payment and shipping options, and accepts a massive range of phones and tech. We recommend choosing them as they not only passed all our company checks, but also have a solid history of high ratings on 3rd party consumer review sites. Top Tip: As long as you're honest about the condition of your device and pay a few dollars for insured shipping – you'll have a stellar experience!

Buyback & Trade-in Market Expert Since 2009
We've worked in the buyback/trade-in business since 2009. Our editorial team gives a 100% independent and impartial review from the consumer and our expert experience in our store reviews.
Our research provides you with an honest look on:
Customer rating: We analyze online feedback to give you an overview of the store's benefits and drawbacks from REAL customers' perspective:
Positive vs. negative feedback: What proportion of their reviews on independent third-party platforms are good or bad?
Pros & cons: Provide real reasons why people like you liked or disliked the service.
Expert opinion: Discover how to work around potential seller issues and get the most out of your trade-in.
Prices quoted: Our research offers an impartial comparison of quotes by comparing the market, so you see if you're getting the best deal or a low-ball offer.
Price checks: We research and check prices on the top 30% of devices sold.
Price ranking: Compare 40 buyback or trade-in options and see who will offer the best price.
Store vs. alternatives: What other options are available based on quotes, payment, features, and reviews?
Service offered: Discover what this store offers compared to the benefits and drawbacks of what else is available in the market so that you can choose wisely.
How it works: Get the process explained in plain English, from quote to payment.
Payment & shipping options: Discover what they offer and how it compares.
Device condition: What conditions devices do they accept and the rules behind it where people slip up and get paid less?

2-Minute Gizmogo Review Overview
Expert Opinion: What to Expect Selling With Gizmogo
BankMyCell's senior staff writer and tech enthusiast, Ash Turner, tested Gizmogo's trade-in program and researched how the store ranks on the important factors that every seller looks for in online buyback sites. This includes ease of service, trade-in values, payment systems, shipping options, and the device conditions they accept.
Will you get the "safe and simple way to sell electronics" experience they claim on their website, or is it just another broken promise?
They certainly live up to expectations in terms of having an easy-to-use website, a wide range of devices accepted, and a decent trade-in value. Gizmogo also performs data deletion on each device sold to them to ensure that no personal information is retained and that the seller's safety isn't compromised.
It's a very safe and convenient online website that customers rate highly. Gizmogo's Trustpilot rating is at 4.8, with hundreds of reviews. However, if you're looking to increase the value you get from your old mobile phones, you can sell a similar range of products and earn slightly more money with GadgetPickup or ItsWorthMore.
A Wide Range of Devices: Gizmogo accepts a wide range of tech you can sell. They accept items like drones and camera lenses in addition to standard gadgets like phones and tablets. You can also sell an unknown device with an initial evaluation of $0. Gizmogo will quote a new price once the device has been inspected for quality - and you get it back FREE if you don't like the offer! (This is useful for non-techy users who want to get rid of their devices but don't know their specific model.)
Bulk Sale: They accept bulk sales from users who have more than 10 devices to sell. This benefits gadget enthusiasts or businesses with a large inventory, as they can quickly get rid of old units and receive one lump sum of cash.
Brand Ambassador Program: Gizmogo offers this program for individuals who want to earn money using their reach on social media accounts. Ideal for influencers or people that can earn commissions from friends or family that hoard old tech.
Gadgets Under Contract Not Accepted: Gizmogo doesn't accept mobile phones or gadgets that are still under contract or have an unpaid balance. This is terrible news for people selling their used devices to repay what they owe on their service agreement.
Reports of Misplaced Items: Shipping services like UPS/USPS/FedEx have lost track of some items, resulting in other sellers not getting paid - make sure you add insurance to high-value items you ship using the build-in checkout option!
Pricelock Timescale: While Gizmogo has a lot of good payment options, it appears that their price lock timescale isn't up to par with others. Stores such as Decluttr, BuyBackWorld, and Smartphones PLUS can provide up to 30 days of price lock-in, which is beneficial for undecided sellers.
Gizmogo Trade-in Program Review
1. Consumer Feedback Overview
Customer Opinion: Is Selling on Gizmogo Legit?
You go to Google to find an online buyback site where you can sell your old gadget to get bombarded with too many options. It makes one wonder, "Are these stores legit?" Our research shows that Gizmogo is legit. They have a large business unit in Chino, California that processes hundreds of devices daily. What's more, they've been around since 2019 and are backed by a large company overseas.
We have spent hours reading and analyzing review data from third-party sites to determine the customer satisfaction of sellers who have previously transacted with the company. From their quotes to speed of payment, here's how consumers deem Gizmogo as an online buyback site:
Customer Review Rating Distribution

0
%
Excellent-Average Ratings
High Quotes: Many Gizmogo reviews show appreciation for the site for providing competitive trade-in values over other stores. Some claimed that even if their mobile phones are damaged, they still got a fair price, so they'll continue to use Gizmogo to sell old electronics in the future.
Ease of Use: Gizmogo reviews from many sellers consider the process easy. They report that it's easy to find mobile phones or other devices on their website, and they're surprised at how quickly the transaction is completed. Simply enter your trade-in details online, and the store will send you a prepaid box.
Customer Service: Previous sellers say that Gizmogo representatives (on their online website or social media accounts) have quickly resolved their issues. This is an essential consideration for any seller because one easy online chat means less hassle for them.
Payment Issues: According to 2.3% of reviews, Gizmogo massively reduced their quotes after evaluating their old mobile phones or gadgets - Solution: Check the condition descriptions on the product pages to avoid disappointment.
Misplaced Items: According to 1.1% of Gizmogo reviews, the shipping companies UPS/USPS/FedEx lost track of their item - Solution: Select the tracked & insured option!
Order Processing Issues: While there are many positive Gizmogo reviews, 1.5% of seller reviews mention they took a long time to update them on the status of their returned devices and didn't evaluate some of their used electronics immediately - Solution: Don't trust the 24-hour evaluation claims, be prepared to wait a few days if they're backlogged
2. Gizmogo VS. Alternatives
Compare Trade-in Quotes, Ratings & Services
We compared Gizmogo to other online buyback sites in the market to give you an idea of where they are succeeding and failing. The factors we took into account are the overall rating received from third-party sites, how generous their quotes are, and the convenience of their service features.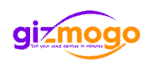 4.8 out of 5 on Trustpilot
96% positive customer feedback on Trustpilot.
One of the only Buyback Companies to offer courier collection and shipping kits.
Wide range of phones and tech to sell.
Accepts bulk sales of more than 10 devices.
4 payment options.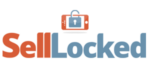 99% of the customers rated the store 5 stars.
Fast payment – get paid within three days after the device is delivered.
Hassle-free and a great experience when trading in phones.
Excellent customer service.
Limited products accepted.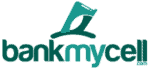 4.4 out of 5 on Trustpilot
Provides the highest up-front quotes.
Ranked #1 for services offered:
Pay by Direct Deposit, PayPal, Check, and many more.
Shipping label and returns for FREE.
A 30-day price lock feature.
Wide range of devices accepted.
3. How Does Gizmogo Trade-in Work?
FAQs: Payment, Shipping, Conditions, and More
How Selling With Gizmogo Works
1 – Get a quote: You should initially get a quote before selling your used device. To get one:
Open their website and find your device.
Choose the carrier, capacity, and condition of the device, and then answer a few questions about other specifications.
You will be given an estimated price before checking out.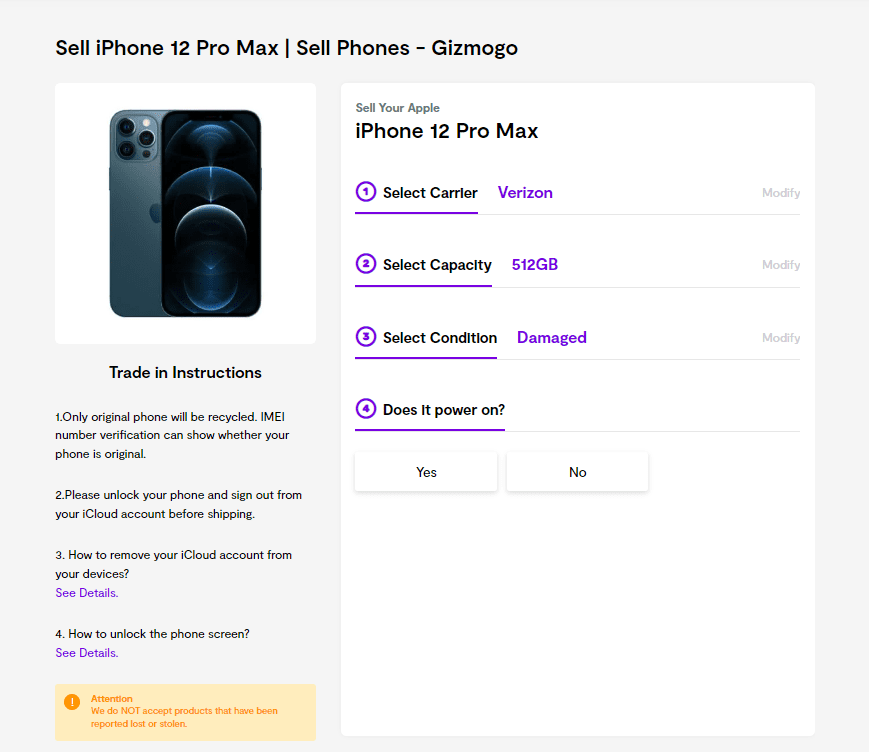 2 – Select a payment option: Gizmogo offers a variety of payment systems for used devices.
You can get paid in cash via PayPal, Zelle, Check, and e-Check. Another option is to get paid with an Amazon gift card.
Choose how you like to get paid. Simply enter your email address/address/other important details.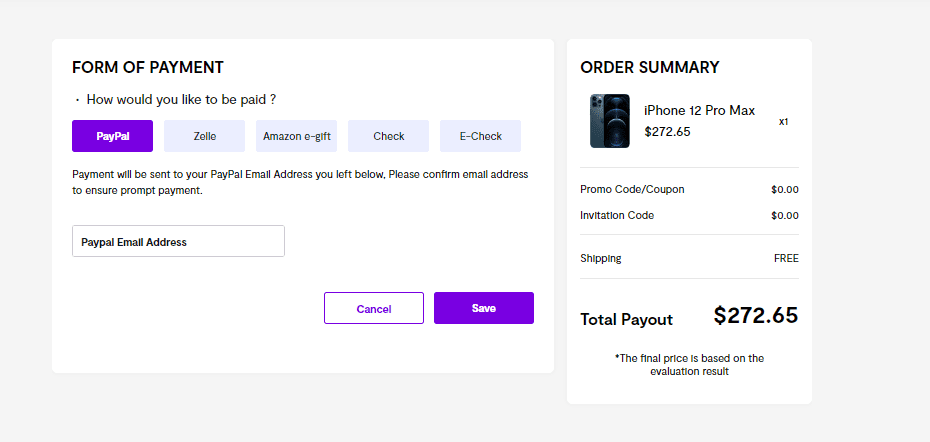 3 – Ship your device: If you send the device as soon as possible, you can get paid quickly.
Choose from the following options: FedEx, UPS, USPS, Prepaid Box, or Store. Gizmogo will recommend a courier best used for your specific item.
Select between dropping off your device or scheduling a pickup from your home. Input your shipping address afterward.
Finally, confirm your order.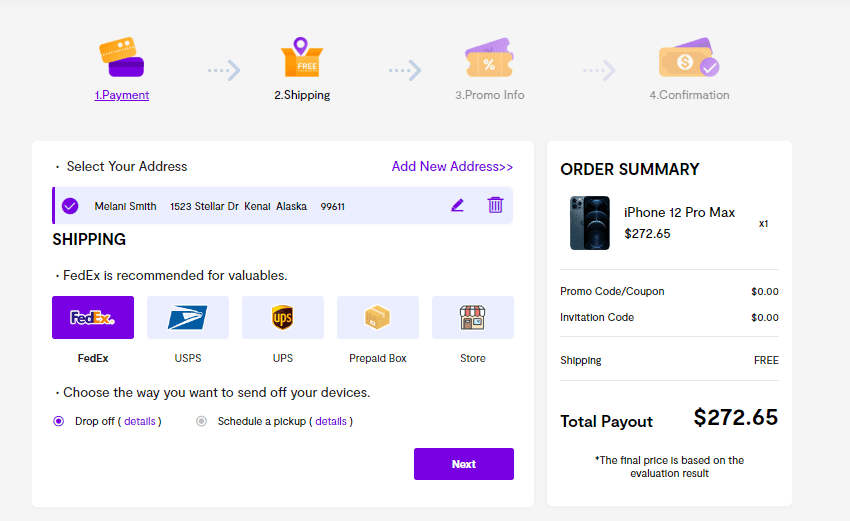 4 – Get Paid: After completing the quality assessment of your device, Gizmogo will pay you immediately via your preferred payment method. To track your package: Sign in to your account > Go to your profile > Click My Orders.
*You Can Enter A Promo Code: This is an optional feature wherein you can use a promo code or coupon if you have one. You can also add an invitation code to redeem some discounts if applicable.
Service FAQs: Payment, Shipping, & Device Conditions
When selling a device, it can be time-consuming to read reviews and compare the services of each site to determine which stores have the best offers. We all know this feeling — when presented with many options, our minds tend to get overwhelmed.
Ash Turner, BankMyCell's senior staff writer and tech enthusiast, conducted extensive research for Gizmogo's features, reviews, and services. We present the best of what Gizmogo offers and its weakest links.
Choose Gizmogo because it supports a wide range of devices. This is the place to be if you're looking to sell items like Kindles or camera lenses. It also provides various payment options, which means you can be paid in whatever way is most convenient for you as they pay with cash, Amazon gift cards, or even use your profit to donate to charity.
On the other hand, Gizmogo's price lock timeframe of 15 days falls short of the competition. Price lock-in periods of up to 30 days are available at stores such as Decluttr, Smartphones PLUS, and BuyBack Boss.
For some sellers, having the option to lock in a given quote for an extended time makes a store more reliable, resulting in greater trust in their brand. After all, who doesn't like predictability? It allows you to see the big picture of the overall cost without unexpected reductions.