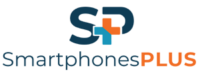 Smartphones PLUS Review (Dec 2023)
Is Smartphones PLUS Legit? An Honest Review From an Industry Expert: Compare Customer Feedback, Prices, Service Pros & Cons
The Bottom Line
SmartphonesPLUS is an excellent choice for selling your device, whether it's a cell phone or a tablet. They accept a wide range of devices and have a customized quote feature that sets them apart. You can use this to obtain a quote if your device isn't listed on their website. Their website is user-friendly, making navigating and following the selling process simple.
SmartphonesPLUS provides convenient options such as pre-paid shipping labels, shipping kits, and free returns. They also accept phones in various conditions, from devices in full functionality to broken ones, as long as they are not blacklisted. Note: They do pay for devices with outstanding balances (financed/monthly plans).
When it comes to payment, you can expect payment within one day after they receive and evaluate your gadget. Take note that they do not offer direct deposits as a payment method but instead have three options: PayPal, Check, or Venmo.

Buyback & Trade-in Market Expert Since 2009
We've been in the buyback/trade-in business since 2009. Our editorial team delivers a 100% unbiased and impartial examination of our store reviews based on consumer feedback and our expert expertise. Our research gives you an unbiased perspective on the following topics:
Customer Rating: We use the public's feedback to look into the viewpoints of REAL consumers on Smartphones PLUS services. Is their pricing reasonable? Did their consumers have a positive experience?
Positive vs. Negative Feedback: What percentage of customer reviews on independent third-party sources are good or negative for Smartphones PLUS?
Pros and Cons: We explain why customers liked or disliked Smartphones PLUS service to guide you when planning to sell your phone.
Expert Advice: Discover how to avoid potential seller hassles and optimize the value of your gadget,
Prices Quoted: Our research compares quotations unbiasedly by researching the market. It enables you to determine whether you are receiving the finest value or a lowball offer from Smartphones PLUS.
Price Checks: To provide an in-depth assessment, we undertake research and price comparisons on the top 30% of sold gadgets.
Price Ranking: We compared 40 buyback or trade-in options to determine which store will provide you with outstanding service and the best offer for all devices.
Smartphones PLUS vs. Alternatives: We assess what other options are available based on quotes, payments, features, and reviews.
Service Offered: Compare Smartphones PLUS' services to those of other buyback retailers so you can make an informed decision.
How It Works: Learn the entire Smartphones PLUS process in plain English, from quotation to payment.
Payment and Shipping Options: Discover what Smartphones PLUS offers and how it compares to others.
Device Condition: Determine the rules and regulations that Smartphones PLUS accepts for each device.

2-Minute Smartphones PLUS Review Overview
Expert Opinion: What to Expect Selling With Smartphones PLUS
Are you looking to sell your old devices, like an Android phone? You might consider selling it to a buyback store like SmartphonesPLUS. To check if they accept your specific device, you can use the search devices feature on their website. They accept fully functional gadgets or even those with water damage. There are also other stores also offer similar services.
To provide more insights, BankMyCell's Senior Staff Writer and Tech Enthusiast, Ash Turner, tested selling on SmartphonesPLUS. He explored topics such as standard shipping procedures and how SmartphonesPLUS handles payments to help you better understand whether SmartphonesPLUS is the right buyback store for you.
User-friendly website: SmartphonesPLUS' website (© 2021 Smartphones Plus, LLC) is easy to navigate, which is especially beneficial for first-time sellers or those who may not be very tech-savvy, as it allows them to easily understand how to search devices and operate the website. The selling process becomes smooth and hassle-free with a clean interface and well-organized pages.
Accepts a wide range of devices: SmartphonesPLUS accepts a wide variety of devices, providing you with the opportunity to add different types of devices to your cart for checkout and earn extra money from them.
Custom quotes: If you can't find your device on the website, you can get a personalized quote from Smartphones PLUs by providing information about the device you're selling, such as brand, storage size, and carrier. Their team will respond with a quote and answer your questions.
Provides lower value: Some buyback stores offer a higher value than Smartphones PLUS.
Only accepts a few conditions: Smartphones PLUS doesn't purchase locked or blacklisted devices, which means you can only sell devices in broken to perfect condition.
Doesn't offer direct deposit options: SmartphonesPLUS does not provide direct deposit as a payment option. Therefore, having a PayPal or Venmo account is essential, as these are the preferred payment methods.
Smartphones PLUS Trade-in Program Review
1. Consumer Feedback Overview
Customer Opinion: Is Selling on Smartphones PLUS Legit?
We have assessed the performance of SmartphonesPLUS as a buyback store by examining user reviews. By analyzing feedback from previous sellers, we can gain insights into the reputation of the store. SmartphonesPLUS has received positive ratings on reputable review sites, with a score of 4.4/5 on Trustpilot and 3.22/5 on the Better Business Bureau.
Customer Review Rating Distribution

0
%
Excellent-Average Ratings
Fast shipping: Sellers liked Smartphones PLUS for shipping the devices fast and that shipping is always free.
Easy to use website: Many sellers appreciated Smartphones PLUS for having a website that's easy to follow, so they sold their devices without a hassle.
Quick payment: Sellers praised Smartphones PLUS for sending their payments faster than they expected.
Evaluation issues: One seller experienced a decrease in the initial offer after the company received her phone in broken condition. To avoid similar issues, document your phone's condition with photos or videos and report everything carefully to get an accurate initial offer.
Customer service: A customer mentioned their dissatisfaction with the customer service provided by SmartphonesPLUS, noting that they experienced a lack of response from the company to resolve their issue.
Issues with shipping during transit: One customer shared their experience of the packaging being damaged during transit, claiming that they encountered some challenges while trying to resolve the issue with the shipping company.
2. Smartphones PLUS VS. Alternatives
Compare Trade-in Quotes, Ratings & Services
We are here to assist you in finding the best buyback store that suits your device, your expected price point, and more. SmartphonesPLUS is a fantastic option for selling cell phones, tablets, and other devices. However, if you're curious about other alternatives, we have compiled a list of stores for you to compare with SmartphonesPLUS. You can assess them based on prices, customer ratings, and features to make an informed decision.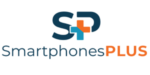 4.8 out of 5 on Trustpilot
Brilliant customer feedback, 91% leaving a 5 star review.
Fast payment, usually within 1 day of inspection.
Top tier price lock-in timescale (above average).
3 payment options – Paypal, Check, Venmo.
Lower prices offered than other competitors.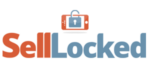 99% of the customers rated the store 5 stars.
Fast payment – get paid within three days after the device is delivered.
Hassle-free and a great experience when trading in phones.
Excellent customer service.
Limited products accepted.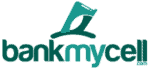 4.4 out of 5 on Trustpilot
Provides the highest up-front quotes.
Ranked #1 for services offered:
Pay by Direct Deposit, PayPal, Check, and many more.
Shipping label and returns for FREE.
A 30-day price lock feature.
Wide range of devices accepted.
3. How Does Smartphones PLUS Trade-in Work?
FAQs: Payment, Shipping, Conditions, and More
How Selling With Smartphones PLUS Works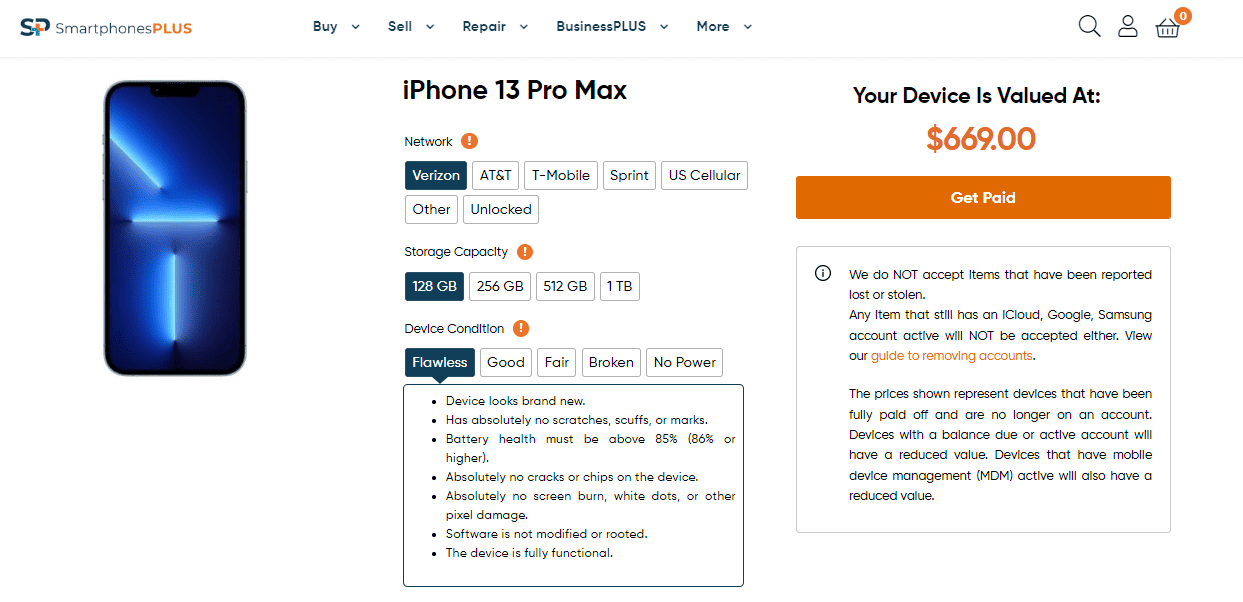 On their website, you can search devices on the search bar or simply select your device on the site's home page.
Provide the necessary details for your device, including the following:
Carrier: T-Mobile, AT&T, Verizon, etc.
Storage size: 128 GB, 256 GB, 1TB, etc.
Condition: Flawless, Good, Fair, Broken, No Power.
Click Get Paid.
You will then be directed to your cart, where you can verify the cart totals.
If you have additional devices to add, click on Continue Selling.
If your shopping cart is ready, click on Proceed to Checkout.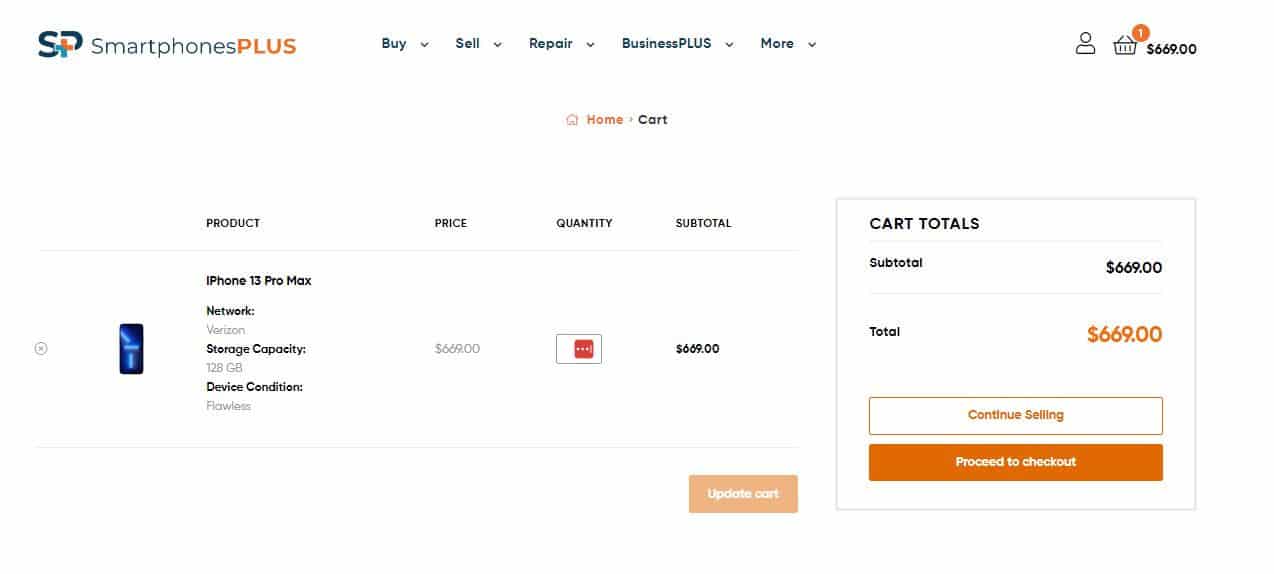 Enter your mailing information, including your preferred payment method, name, address, and other required details.
Read and agree with the site's terms and conditions and privacy policy > Click Place order.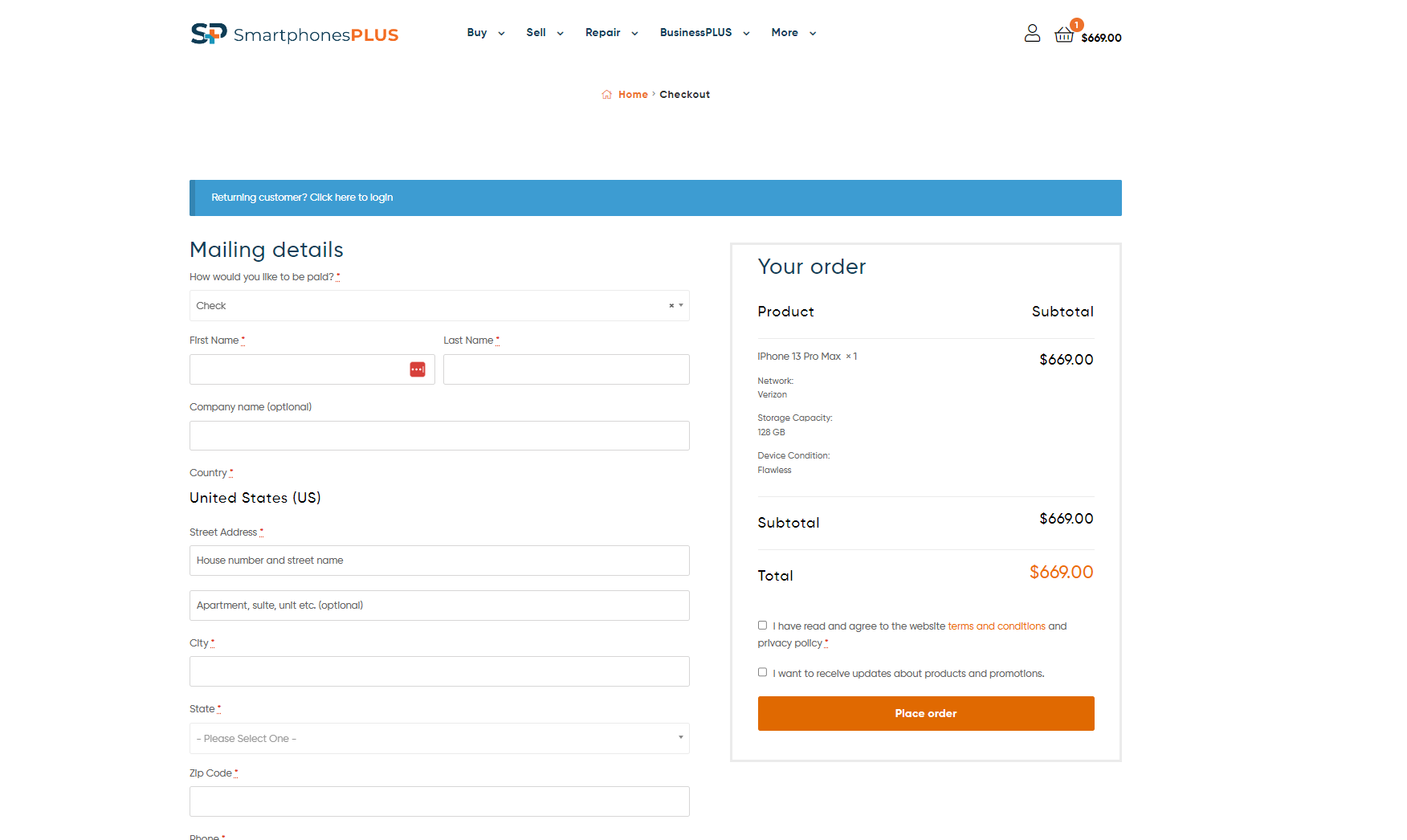 Once you register your sale, you will be redirected to a page with your order number and detailed instructions on preparing, packaging, and shipping your device.
Print your shipping label.
Download your printable invoice.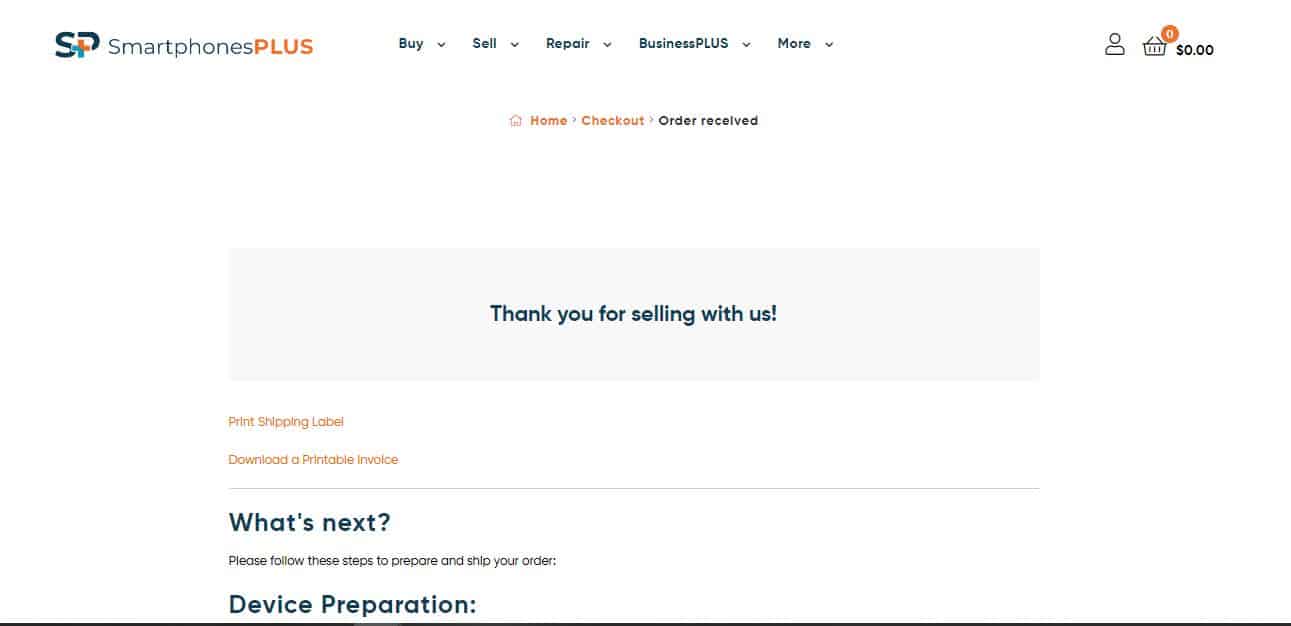 4. Get paid: After dropping off your package at your local USPS or scheduling a pickup, note that your offer will remain valid for 30 days from the order date. You can expect to receive payment once the package arrives at their facility.
Service FAQs: Payment, Shipping, & Device Conditions
SmartphonesPLUS has garnered high ratings from customers, instilling confidence in sellers who choose to sell their devices to them. With three payment options available, including PayPal, Check, and Venmo, and their acceptance of over 10 types of devices, SmartphonesPLUS is a straightforward and convenient choice for selling your device.
They may not always offer the top prices in the industry, but they still offer good value. The range of devices and device conditions they accept, and the easy process they provide also make for an overall good experience for sellers, especially those who want to sell multiple gadgets simultaneously.