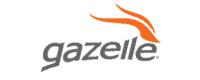 Gazelle Review (Nov 2023)
Is Gazelle Legit? An Honest Review From an Industry Expert: Compare Customer Feedback, Prices, Service Pros & Cons
The Bottom Line
While Gazelle is a legitimate buyback company, our review of the company found that more than 30% of the comments customers left on Gazelle's Trustpilot page were negative reviews. They have some good features for their buyback process, like a long-term price lock feature and free shipping. Still, they also often offer lower value than other stores when you're selling your phone. If you want to find better offers for your device, we recommend that you visit BankMyCell to see how much multiple stores are offering for your gadget.

Buyback & Trade-in Market Expert Since 2009
We've worked in the buyback/trade-in business since 2009. Our editorial team gives a 100% independent and impartial review from the consumer and our expert experience in our store reviews.
Our research provides you with an honest look on:
Customer rating: We analyze online feedback to give you an overview of the store's benefits and drawbacks from REAL customers' perspective:
Positive vs. negative feedback: What proportion of their reviews on independent third-party platforms are good or bad?
Pros & cons: Provide real reasons why people like you liked or disliked the service.
Expert opinion: Discover how to work around potential seller issues and get the most out of your trade-in.
Prices quoted: Our research offers an impartial comparison of quotes by comparing the market, so you see if you're getting the best deal or a low-ball offer.
Price checks: We research and check prices on the top 30% of devices sold.
Price ranking: Compare 40 buyback or trade-in options and see who will offer the best price.
Store vs. alternatives: What other options are available based on quotes, payment, features, and reviews?
Service offered: Discover what this store offers compared to the benefits and drawbacks of what else is available in the market so that you can choose wisely.
How it works: Get the process explained in plain English, from quote to payment.
Payment & shipping options: Discover what they offer and how it compares.
Device condition: What conditions devices do they accept and the rules behind it where people slip up and get paid less?

2-Minute Gazelle Review Overview
Expert Opinion: What to Expect Selling With Gazelle
Is selling on Gazelle legit? You might be exploring the idea of selling or trading in your used electronics with Gazelle. This Gazelle review by BankMyCell's Senior Staff Writer and Tech Enthusiast Ash Turner and his team might help you decide.
We tested selling a phone with Gazelle to see its trade-in process, the used electronics they accept, payment options and timescales, prices they offer, and many more. We also compared it to other sites and gathered all the customer reviews of Gazelle to help you decide whether it is worth selling your devices here.
30-day price lock feature: You can have the value of your device valid for up to 30 days. This is helpful if you don't have the means to take care of the shipment yet or want to explore more options.
Fast payment: You can get paid within a day after Gazelle checks your device via PayPal, check, or Amazon gift card.
Free shipping and returns: Gazelle offers free shipping USPS or FedEx labels for your shipment. They also give free returns if you want your device back if they changed the quote after checking it.
Lowball offers: You can lose up to 5% value for your total payout when you sell your device at Gazelle compared to other buyback stores.
Limited accepted devices: They only accept a very limited range of old electronics, such as iPhones and other cell phones, iPads, and Macbooks, and only if they are new, good, cracked, or faulty. They won't accept it if it is locked, blacklisted, or financed.
Poor customer service and rating: Around 30% of Gazelle's customers on Trustpilot encountered terrible customer service. Those who were buying or selling devices usually encountered transparency issues, such as receiving defective, locked, financed, or blacklisted devices or getting a lower final offer.
Gazelle Trade-in Program Review
1. Consumer Feedback Overview
Customer Opinion: Is Selling on Gazelle Legit?
Are you considering selling your used phones to Gazelle for extra cash or upgrading to a new one? You should see if they are legit and trustworthy to protect your devices and prevent wasting time.
We are here to help you with that! We researched and gathered all the Gazelle buyback reviews from their consumers, giving you the advantages and disadvantages of selling your device to this store. It includes Gazelle's payment methods, timescale, customer service, etc. All these will show you whether they are worthy of your used phone.
Customer Review Rating Distribution

0
%
Excellent-Average Ratings
Fast payment: Customers are satisfied that they can get paid in one to five days after Gazelle inspects their device.
Easy process: Customers say it is easier to sell their used phones or electronics at Gazelle compared to marketplaces like eBay.
User-friendly interface: With a good layout, Gazelle's website makes it easier for customers to trade their devices.
Poor customer service: A significant percentage of Gazelle customers had a terrible experience with Gazelle customer service. You have to wait only hours for them not to resolve your issue.
Lower price: There are instances where Gazelle makes the final offer lowered to 80% less than the initial offer after inspecting the device. Around 3% of customers on Trustpilot are claiming the reasons provided to them are false issues.
Problems with transparency: Gazelle trade-in reviews show some of the customers' experiences with the store. Many of their buyers thought they were a scam as the devices they bought turned out to be defective, locked, financed, or blacklisted. These customers go through a tedious process of returns and refunds, which end up costing them more.
2. Gazelle VS. Alternatives
Compare Trade-in Quotes, Ratings & Services
Selling your old phones and other gadgets can be difficult as there are many options out there you can choose from. To help you reach the best decision, we compared Gazelle to other alternatives in terms of the prices they offer, customer reviews, and their features.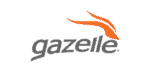 3.9 out of 5 on Trustpilot
59% of customers rated Gazelle 5 stars.
Less competitive with price quotes.
Broken & damaged devices not accepted.
30 day price lock-in, one of the longest options available.
You can get cash via three payment options – Check, PayPal, and Amazon Gift Card.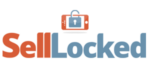 99% of the customers rated the store 5 stars.
Fast payment – get paid within three days after the device is delivered.
Hassle-free and a great experience when trading in phones.
Excellent customer service.
Limited products accepted.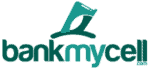 4.4 out of 5 on Trustpilot
Provides the highest up-front quotes.
Ranked #1 for services offered:
Pay by Direct Deposit, PayPal, Check, and many more.
Shipping label and returns for FREE.
A 30-day price lock feature.
Wide range of devices accepted.
3. How Does Gazelle Trade-in Work?
FAQs: Payment, Shipping, Conditions, and More
How Selling With Gazelle Works
GET YOUR INITIAL OFFER
Go to the Gazelle website and select Sell Smart (Trade-in for Cash).
Scroll down until you see Sell Your Device in Minutes.
Choose the device you want to sell and the model you own.
Select your carrier – AT&T, T-Mobile, Verizon, Factory Unlocked, and Other Carrier.
Choose the storage capacity of your device. The price varies depending on this feature as well.
Tell Gazelle the device's condition to give you a fair price by answering the questions on the page.
After that, you will see how much Gazelle can pay you for your device. Expect that it will change after the store go through the inspection of your device.
Enter your email to proceed.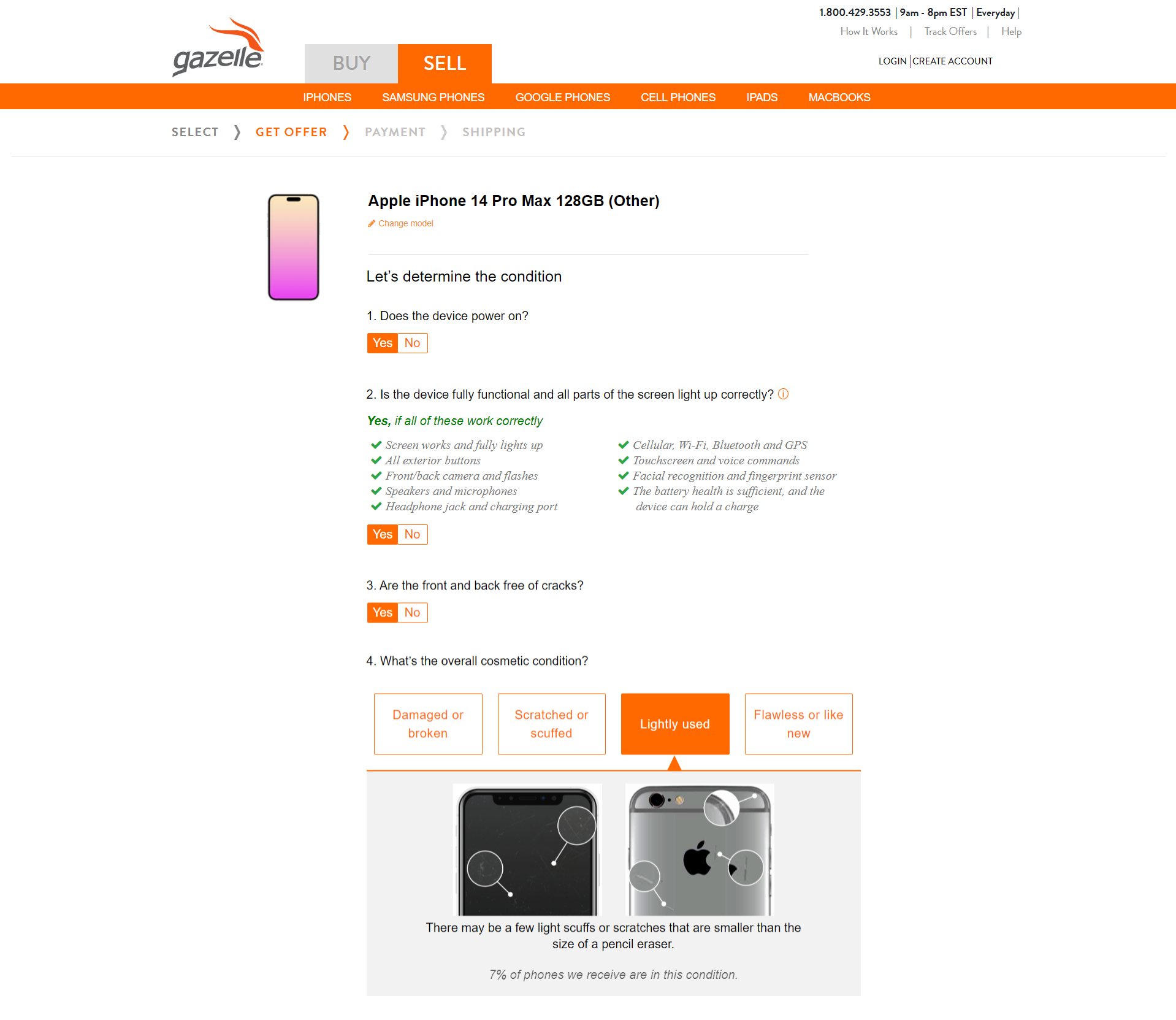 RECEIVE PAYMENT
Choose your payment option – Amazon Gift Card, PayPal, or Check.
Follow the on-screen instructions.

SHIP THE DEVICE
Fill out the shipping address form. Gazelle will use it for your complimentary shipping label.
Select Continue.
Check your address to verify if it is correct. You can click Edit if you have any changes to the information you provided.
Select Confirm when done.
Select a shipping method – a box and prepaid shipping label or a prepaid USPS shipping label.
Click Continue.
Recheck your information, such as contact email and payment and shipping details.
Click the box after reading the terms and conditions and privacy policy.
Select Complete. An email will be sent to you with your trade-in details.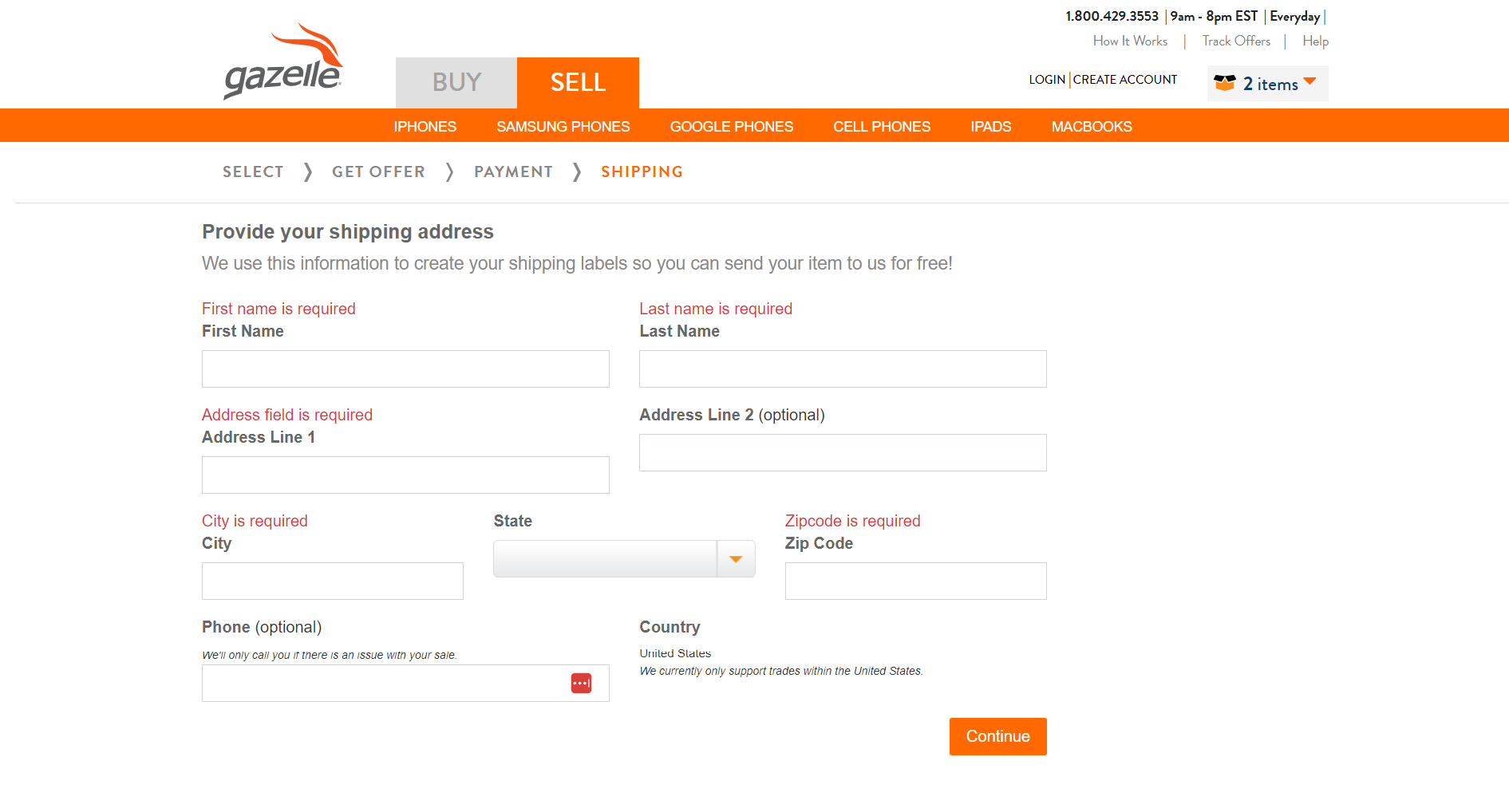 Service FAQs: Payment, Shipping, & Device Conditions
Due to the volume of issues customers seem to have with Gazelle, we recommend that you thoroughly check and accurately report and document your device's condition to avoid problems when selling your used iPhones or other electronics to the store. It is one of the more well-known buyback stores, and they generally offer a straightforward process. But they only accept a limited range of devices, might offer lower prices than other buyback stores, and running into issues with the sale can become tedious with their customer service. Alternatively, you can check BankMyCell to check the best offers for a wider range of devices.