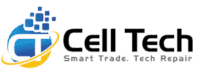 Cell Tech Review
Is Cell Tech Legit? An Honest Review From an Industry Expert: Compare Customer Feedback, Prices, Service Pros & Cons
The Bottom Line
Cell Tech Express is one of the safest and most legitimate places to sell your old iPhone, Samsung phone, and other tech items. We recommend selling your used items here as long as they are in perfect condition or in good working order to earn extra money.
It is one of the buyback stores that offer the most value for your phone. They also offer quick payments through PayPal. However, aside from checks and PayPal, you don't have much choice for payment options. You may also shell out money for shipping if you decide to have your phone back since they don't offer free returns. Additionally, Cell Tech Express does not accept damaged devices. If you're selling one, we recommend going to the BankMyCell website to see different stores willing to pay for your faulty phone.

Buyback & Trade-in Market Expert Since 2009
We've worked in the buyback/trade-in business since 2009. Our editorial team gives a 100% independent and impartial review from the consumer and our expert experience in our store reviews.
Our research provides you with an honest look on:
Customer rating: We analyze online feedback to give you an overview of the store's benefits and drawbacks from REAL customers' perspective:
Positive vs. negative feedback: What proportion of their reviews on independent third-party platforms are good or bad?
Pros & cons: Provide real reasons why people like you liked or disliked the service.
Expert opinion: Discover how to work around potential seller issues and get the most out of your trade-in.
Prices quoted: Our research offers an impartial comparison of quotes by comparing the market, so you see if you're getting the best deal or a low-ball offer.
Price checks: We research and check prices on the top 30% of devices sold.
Price ranking: Compare 40 buyback or trade-in options and see who will offer the best price.
Store vs. alternatives: What other options are available based on quotes, payment, features, and reviews?
Service offered: Discover what this store offers compared to the benefits and drawbacks of what else is available in the market so that you can choose wisely.
How it works: Get the process explained in plain English, from quote to payment.
Payment & shipping options: Discover what they offer and how it compares.
Device condition: What conditions devices do they accept and the rules behind it where people slip up and get paid less?

2-Minute Cell Tech Review Overview
Expert Opinion: What to Expect Selling With Cell Tech
You might be checking Cell Tech trade-in reviews to sell your phone or other old stuff. Several questions might be in your head, like "How does Cell Tech work?" and "How does Cell Tech pay you?" Finding all the answers through each Cell Tech review can be overwhelming. But we made it easy and convenient for you with this review!
Senior Staff Writer and Tech Enthusiast Ash Turner of BankMyCell and his team conducted in-depth reviews of several buyback stores and compared Cell Tech's performance to its competitors. We also tested Cell Tech's key features and examined customer experience to provide a comprehensive guide.
High resale value: Cell Tech Express is one of the companies that offer the best price for your iPhone.
Accepts a broader range of tech devices: You can sell used stuff like iPhone, Samsung phone, iPad, iPod, Apple Watch, and game consoles. It is a lot more compared to other platforms.
Some carrier-locked phones are accepted: Cell Tech Express accepts AT&T, Verizon, and Unlocked options when you sell your phone. While carriers are limited, it is one of the few stores that accept financed phones. If you have other carriers, you can visit the BankMyCell website to see other buyback stores that accept them.
Limited payment options: Cell Tech Express only has PayPal and check as payment options. Paypal allows you to get paid quickly, but there is a 3% processing fee, so expect to receive less money than the instant offer price.
Average price lock timeframe: Cell Tech Express offers a 14-day price-lock, which means you can retain the price offer within that timeframe. Other companies, however, can give you as long as 30 days.
No free returns: You might have to pay a shipping fee if you want your cell phone or device returned. To avoid this, you must be sure about selling your device and be precise in providing details, particularly its condition.
Cell Tech Trade-in Program Review
1. Consumer Feedback Overview
Customer Opinion: Is Selling on Cell Tech Legit?
Do you want to sell tech and get extra cash? You may come across Cell Tech Express and wonder, "Is selling on Cell Tech legit?" Checking reviews of Cell Tech is one way to answer your question, and we want to take away the pain of reading thousands of reviews to check whether or not it is a trustworthy company.
We invested significant time checking Cell Tech buyback reviews from consumers to share their experience selling cell phones in this store. We explored the customer feedback experience in terms of customer services, payment methods and timeframes, customer complaints, and features.
Customer Review Rating Distribution

0
%
Excellent-Average Ratings
Excellent customer service: Customers commended Cell Tech Express' customer service as they are friendly, informative, and attentive.
Quick cash: You can receive your payment within two days after Cell Tech Express evaluates your cell phone or another device.
FREE shipping label: Cell Tech Express provides free shipping labels so you can send your cell phone for FREE.
No free returns: Cell Tech Express does not offer free returns, which means some customers had to shoulder a shipping fee when they wanted to get back a cell phone or device they were selling. So you need to be 100% sure about selling your device and be accurate in providing details about it to prevent changes in prices.
Revised offer price after inspection: Less than 1% of the customers claimed that they got a lower offer than the initially offered price after the quality assessment process due to unreported battery health issues. So make sure you read the terms and conditions on the page to receive the accurate price for your cell phone.
Limited payment options: Cell Tech Express has limited payment methods - PayPal and check. You can receive your money quickly from Paypal, but it comes with a processing fee of 3%, so expect to lose a bit of money.
2. Cell Tech VS. Alternatives
Compare Trade-in Quotes, Ratings & Services
In this section, we compared Cell Tech Express to other sites or stores where you can sell your phone or other devices to give you more options. We included some of the best stores based on the following categories – customer satisfaction with the trade-in process, pricing, and features.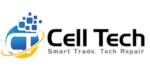 4.8 out of 5 on Trustpilot
Very high customer review rating, 91% rating Cell Tech Express 5 stars.

Wide range of devices accepted.

They do not accept broken, cracked or damaged devices.
Quick payment timescale (2 Days).
Only offers payment via PayPal.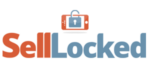 99% of the customers rated the store 5 stars.
Fast payment – get paid within three days after the device is delivered.
Hassle-free and a great experience when trading in phones.
Excellent customer service.
Limited products accepted.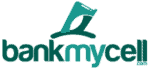 4.4 out of 5 on Trustpilot
Provides the highest up-front quotes.
Ranked #1 for services offered:
Pay by Direct Deposit, PayPal, Check, and many more.
Shipping label and returns for FREE.
A 30-day price lock feature.
Wide range of devices accepted.
3. How Does Cell Tech Trade-in Work?
FAQs: Payment, Shipping, Conditions, and More
How Selling With Cell Tech Works
Check the Instant Price of Your Device(s)
Go to the Cell Tech Express website.
Select Sell Your Device or Sell at the main menu or scroll down to go to the device you want to sell quickly.
Choose the brand and the model you own.
Select your carrier. They only have AT&T, Verizon, and Unlocked on the options.
Select the storage capacity and the exact condition of your device. You can click the links to check battery health or see condition examples.
Select Sell Now to proceed.
On the side of the screen, you will see your transaction summary. You can review if it is right or add quantity if you have two or more same kind of devices.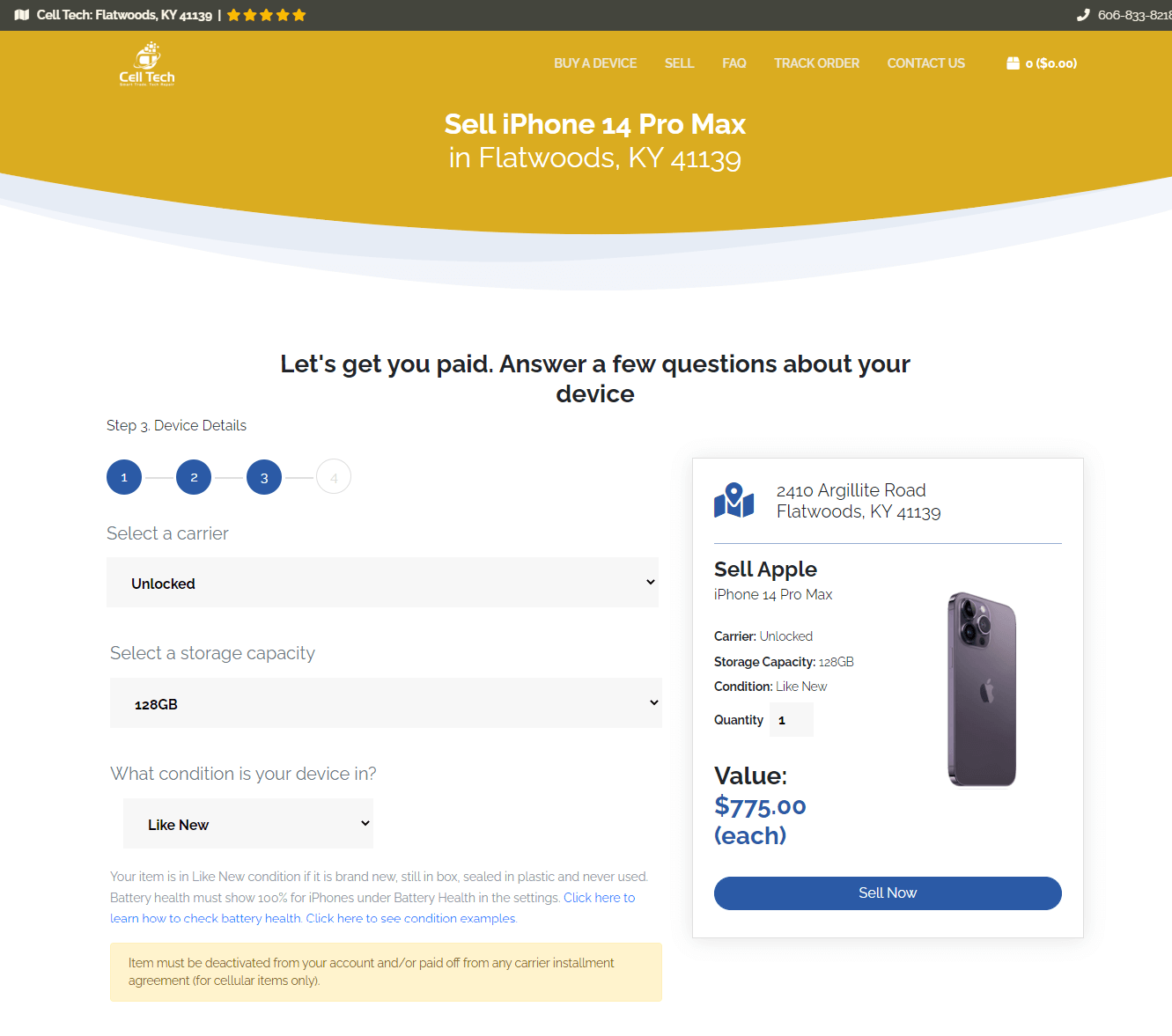 Complete Your Order
Fill out the shipping form for your shipping label.
Select PayPal as a payment method.
Tick the checkboxes after you read the terms and conditions.
Select Sell My Device(s) to proceed.
Ship Your Tech Items and Get Paid
Print the shipping label provided by clicking Print My Label on the site.
Take a photo of your device and pack it securely for proof if Cell Tech Express lowers the price after inspecting it.
Wait within two business days to receive your payment after they are done examining it.
Service FAQs: Payment, Shipping, & Device Conditions
If you have a device in working order and want to get paid good value within two business days, then selling to Cell Tech Express is the right choice. The company also accepts carrier-locked devices under AT&T and Verizon.
However, you might receive less than the full amount due to Paypal's processing fee. And if you have a phone or other device in poor condition, like cracked or broken, Cell Tech Express may not be the best choice since they do not accept those devices.
We recommend you sell your stuff directly to our website for a hassle-free experience as we allow you to compare trusted buyback stores, giving you options to make money for your damaged phone or other items.