Find reputable trade-in companies and get an instant quote for your water-damaged iPad
Know the cost of repair for your water-damaged iPad to determine if selling might be a better option for you.
Learn how to identify if your iPad has been water-damaged.
Summary: Who Pays The Most?
Have you dropped your iPad in the sink or dropped a glass of water on it by accident? Aside from a cracked screen or software issues, a soaked iPad is also a frustrating situation.
Knowing if your device has already been damaged by water is important so you know what steps to take next. You can request for repair rates and an instant quote from buyback companies interested in purchasing a water-damaged iPad and then compare their prices to make a decision.
Compare Buyers of Water Damaged iPads
It's Simple - Find your iPad, Select 'Broken', get an offer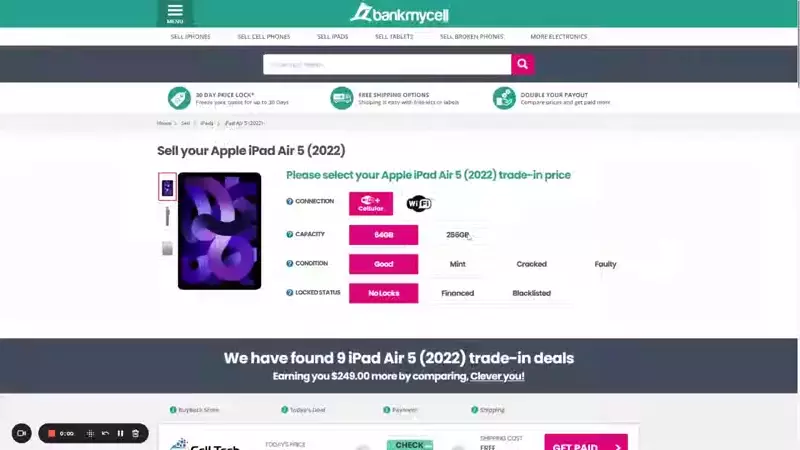 Where Can I Sell Water-Damaged iPads?
You might be wondering where to sell a water-damaged iPad. In BankMyCell, you'll find reputable companies that buy from individuals selling water-damaged iPads. They will pay you in cash and even provide free shipping or returns.
For more information, go to BankMyCell's search page. This will take you to the companies' details and Trustpilot ratings. You will be asked to enter some basic personal information to lock in the sale price.
The following companies below can be found under BankMyCell. Once you've inputted the information about your device, the website offers you a view of the companies' offers according to the best prices.
Online BuyBack Store Options
Can I Sell a Water-Damaged iPad?
It's worth noting that Apple's iPad warranty excludes water damage.
The good news is that there are buyback stores where you can sell a damaged gadget like a water-damaged iPhone, iPad, or other devices. We've compiled a list of the best places where you can sell an iPad damaged by water.
The following are the various kinds of damage that an iPad may sustain:
Display:
Water may enter your device's screen, especially if it's cracked or your iPad has been submerged for a long time.
Speakers:
The speakers of every iPad model are housed on the device's outer body. And so if the Apple device has been soaked, the speakers are directly exposed to liquid damage.
To examine if the speaker is damaged, you can play some tunes and pay close attention to the audio quality or if the speaker is producing sound. If you notice a change in sound quality, your speakers might be compromised.
Charging port:
Apple built the port to be resistant to water damage, but it can still get liquid-damaged. In most cases, you can try plugging in its charger and see if it works. The charging port might have sustained some water damage if it is no longer working.
Home button:
If your Apple iPad's home button no longer works after being submerged in water, it may be already damaged.
Who Buys Water-Damaged iPad & Android Tablets?
BankMyCell's comparison site compiles the top and legitimate companies where you can sell your water-damaged devices at a fair price.
On the website, search for your iPad model, then select 'faulty' to specify your iPad's condition. The website will bring up a list of companies that purchase broken handsets of that model along with their current offer. The list will be arranged according to the highest prices.
When Should I Repair or Sell?
Repairing a liquid-damaged iPhone and iPad is usually a 50/50 chance. It's not uncommon for your damaged device to be repaired and for everything to function normally. But there is also a chance that it may malfunction again in a few weeks.
Out-of-warranty repairs for 2- to 3-year-old iPad models are typically more expensive than secondhand iPads. You might lose more money trying to repair it compared to selling the damaged device and using the cash to buy another iPad. Sometimes, selling might be a better and more hassle-free option.
We've provided you with a sample of repair costs below. You may compare them with the price offered at buyback companies to make a better decision.
Here are example repair costs:
iPad Pro: $379-$749
iPad Mini: $199-$399
iPad Air: $299-$469
iPad: $249
How to Tell if Your iPad has Water Damage?
It's easy to determine if you've got a water-damaged iPad. Apple devices are equipped with a Liquid Contact Indicator or LCI that serves as a mechanism to help users determine if their device sustained liquid damage. The LCI can be found on the device's SIM tray. The indicator's color is typically silver or white, and it turns red when it comes into contact with water or any liquid. A red color usually indicates liquid damage. Humidity or temperature changes within the product's environmental requirements will not cause an LCI to activate.
It's important to note that even though newer models of Apple's iPad have improved water resistance, prolonged exposure to any liquid can still damage it.
You may follow the steps below to determine if your device is now broken due to water damage:
Detach your iPad's case and look for the SIM card tray.The SIM tray can usually be found on the side of the iPad. It's a long oblong outline with a small hole near one of its corners.
Using a SIM ejector tool or an uncurled paper clip, insert the tool inside the small hole and press until the SIM tray pops open.
Try to find a red color by shining a light into the empty SIM slot.
The red color is a bad sign because it indicates that the phone's Liquid Contact Indicator has been activated and that liquid has entered the tablet. This is a potential sign that your device is damaged. Otherwise, you should see silver or white, indicating that your device is in good condition.
You can sell any iPad model that has been damaged by water. We hope we've also answered your questions about who buys water-damaged iPads and which stores pay cash or check.
If you're trying to decide whether to repair or sell, weigh the repair costs we've provided against what you can earn when you sell using BankMyCell's comparison engine. Selling your old iPad to purchase a new or secondhand tablet might save you money and time.
Visit BankMyCell now!