Do you plan to trade in your Apple Watch? Discover which sites offer the best prices (close to market value) for your device!
Learn how to unpair your watch and back up your data before selling your Apple Watch. We'll walk you through the process of preparing your device for a trade-in.
We'll also be providing you with some tips for preparing and shipping your device securely.
Step 1: Make Sure You Got The Best Apple Watch Trade-in Deal
You might be looking for the most value for your Apple Watch. BankMyCell allows you to compare offers from only the most legitimate buy-back and trade-in sites for your watch. The prices are updated in real-time.
Top Tier Buy-Back comparison sites: Your Apple Watch can get you up to a $200 trade-in value when comparing prices on buy-back websites. This is 40-100% more value than you would on carrier buy-back programs. You can also check out the best offers even for watches with different levels of condition or activation lock issues.
Carriers: Pay a maximum trade-in rate of $150, which means you would lose up to around $50
Amazon Trade-In: Pays a maximum trade-in rate of $165, which means you can lose approximately $35
Best Buy: Pays a maximum trade-in rate of $155, losing you around $45
You might now have an idea where to secure the best deal for your watch. Now you might be wondering what to do before selling your Apple Watch or things you should do when preparing your Apple Watch for trade-in. Continue reading the article as we guide you through the process.
Find The Best Price in Seconds Here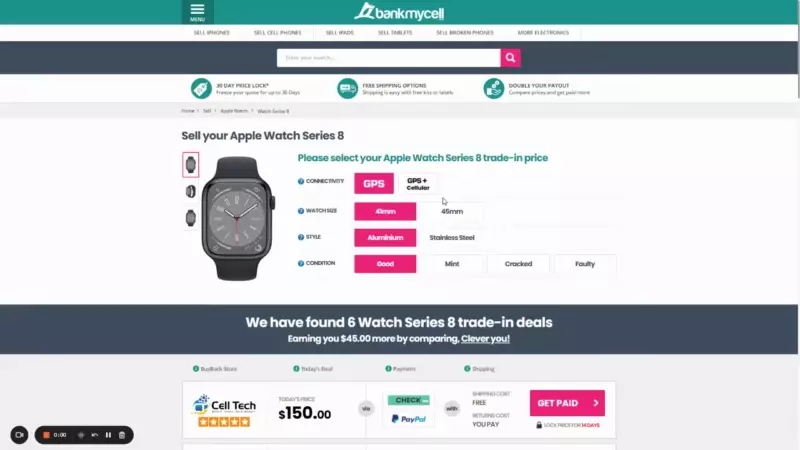 Step 2: Unpair your Apple Watch from your phone
What to do if you've already given the Apple Watch device away
If you've already sold your Apple Watch without resetting it or disabling the Activation Lock feature, you should follow these steps. It's a simple way to remove your account on the device without the watch.
To delete the device and disable the Apple Watch Activation Lock remotely:
Choose Find My app on another device or use an internet browser to go to iCloud.com.
Sign in to your iCloud account using your Apple ID and Apple ID password.
Click All Devices, and then select the Apple Watch.
Click Erase Apple Watch.
Click Next until the device has been removed.
Click the X button next to the Apple Watch.
Bonus tip: How to Clean Your Device
Now that your data is secure and the device is ready for activation by its new owner, you might be wondering how else you can prepare the device, like "how to clean your apple watch before selling it," perhaps? After all, a clean device gets a high trade-in value.
Here are some tips:
Remove screen protector marks and grime from the edges of Apple Watches.
Take off all of the accessories and then gently wipe the casing and the back and front of your Apple watches.
Use a soft microfiber cloth and a small amount of solution to make the Apple Watch clean.
Remember not to use ammonia-based cleaners; no liquid should enter the charging port or headphone jack.
Bonus tip: How to Prepare Your Apple Watch for a Secure Shipping
Take Pictures of Your Device
It would be best to photograph your Apple Watch's latest appearance before shipping it to the buyer. This step will prove that the device is in good condition and avoids any inconvenience during shipping.
These images should show the screen turned on and with pictures from every angle: front, back, sides, top, and bottom.
Turn off your old Apple Watch and Prepare Your Watch for Safe Shipping
You should ensure that your used Apple Watch is safely shipped by following these steps:
Turn off your watch.
Use a sturdy box to store your watch.
Use materials like bubble wrap and packing tape to pack the parcel and seal it safely.
To back up data, please refer to the Step 2: Unpair your Apple Watch from your phone section of this article. This automatic process happens whenever you put your watch and iPhone close to each other. You do not need to do anything else to back up your watch if you have gone through the second step of this article.
The goal of backing up is to keep all of your data safe so that if your device fails, you will still have a copy of your files. This is also applicable when trading in your Apple Watch. If you do not want to reconfigure your personal settings for a new Apple Watch, back up your old device and use it to set up your new watch.
Data from a backup include settings for apps like Maps, Mail, Calendar, etc.; home screen layout and general settings; health and fitness data; synced photo albums and playlists, etc.
How to Backup Apple Watch if iPhone is also Being Sold (Alternative Ways to Back up Apple Watch)
This option might be helpful if you're about to sell both the Apple Watch and the iPhone paired with it. If you back up your iPhone, it includes the most recent data from your Apple Watch the last time they were paired together. Your iPhone can be backed up using your iCloud account or your computer.
When you set up a new iPhone using your iPhone backup, the last paired data from the Apple Watch is also restored.
To back up your iPhone (and Apple Watch) using your iCloud account:
Make sure your Apple Watch is turned on and connected to the internet.
Open your iPhone, tap to open the Settings app, and then tap your Apple ID profile.
Tap iCloud.
Tap iCloud Backup, and tap the switch to turn on the feature.Turning on this feature automatically backs up your apps and data (including the Apple Watch) when your iPhone is connected to power and on Wi-Fi.
Select Back Up Now.
To back up your iPhone (and Apple Watch) using Windows PC:
Open iTunes on your Windows PC.You might need to download iTunes if you still do not have it on your computer.
Use a USB or USB-C cable or a Wi-Fi connection to connect your Apple device to your computer.
Follow the onscreen instructions. You might be prompted for your device passcode or to allow Trust This Computer on your phone.
On the iTunes window, select your device by clicking the Device button.
Under the device's settings on iTunes, click Summary.
Choose the Encrypt local backup checkbox from the Backups section, and create a password you will remember.You must encrypt your backup if you want to save Health and Activity data from your device or Apple Watch.
Click Back Up Now.When the process is finished, you can check to see if the backup was successful.
FAQ: Reset Your Apple Watch to Factory Settings & Remove Cloud Accounts