How to Activate & Unlock Your Blacklisted iPhone (FREE & Paid Removals)

This article has solutions if you have a blacklisted iPhone that's reported lost/stolen/unsettled bills
If you want to un-blacklist it to use it, we show free & paid options to remove and activate your iPhone
Believe it or not, but you can sell blacklisted iPhone's, below are the companies that buy them
The purpose of this article is to help you get around the issue. If you want to un-blacklist the phone and use it, we'll discuss both free and paid options to remove and activate it. Alternatively, you can sell the blacklisted iPhone to companies that will buy them (including iCloud activation lock).
If you've ever purchased a used iPhone and discovered that it didn't work normally once you inserted your SIM card, don't lose hope just yet. If the purchased iPhone notifies you that your SIM card is invalid or not supported, the iPhone likely is on a blacklist.
What a blacklisted phone means is that someone may have reported the phone you purchased as lost or stolen. Generally, a carrier will refuse service to a blacklisted phone until the previous account holder removes the block.
Getting a blacklisted iPhone can be stressful, but that doesn't mean it's too late to get it fixed and use the phone as you normally would. You can still have your phone's IMEI unblocked or removed from the carrier's block list.
The easiest way to unlock blacklisted iPhone devices is to contact the previous owner and ask for their help. Unfortunately, most sellers of second-hand items will ignore calls or emails from previous buyers.
Below we have listed all the options to solve this problem…
How to Know if Your iPhone is on the Blacklist
If you suspect you have a blacklisted iPhone, start by checking the status of your iPhone with the proper tools. Here we recommend the following free sites.
Checking whether your iPhone is on the blacklist on either site is quite straightforward. Just visit either of the websites above and enter your IMEI (International Mobile Equipment Identity) to check the status of your phone. You can do the check remotely and all you typically need is the 15-digit IMEI number.
Once you perform a check on the number, the sites will display whether or not your phone has been blacklisted. If you have no clue how to find your IMEI number, just check the official guide on Apple's website
What Does It Mean If an iPhone Is Blacklisted?
An iPhone can become blacklisted for any number of reasons, including if the previous owner has unsettled bills or if someone reported it as stolen or lost. A blacklisted device cannot get connected to any wireless carrier unless it becomes un-blacklisted.
Wireless carriers or iPhone owners tend to blacklist devices to help solve the problem of rampant iPhone theft. Blacklisting also helps to determine whether or not second-hand dealers are selling iPhones that previous owners have reported as lost or stolen.
The blacklist records the phone's IMEI number, which is unique to every device. That makes it an accurate way for carriers to track iPhones that users have reported as stolen or lost and shut them out from their respective networks.
Can You Sell Blacklisted iPhones?
Yes, some companies will buy blacklisted iPhones for up to $900, you get an upfront quote, free shipping, and payment via check, PayPal, or Direct Deposit. Thousands of customers rate these companies highly on Trustpilot. The process is quite straightforward.
Start by searching for your iPhone model here
Select 'Blacklisted' in the filters to get an instant quote
Ship it for free with the label the merchants provide
Get paid via check, PayPal, or direct deposit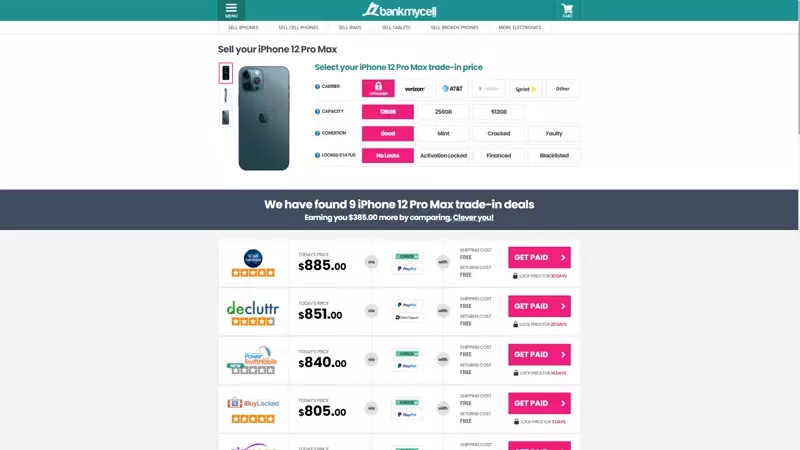 How to Remove & Unlock a Blacklisted iPhone (FREE)
If you check your device as mentioned above only to discover that your iPhone has been blacklisted, you can still unlock your phone, regardless of the carrier you use.
Most people who discover that they possess blacklisted devices choose to contact their carrier, as it's absolutely free. Simply get in touch with the original carrier and find out the reason for the blacklisting of the phone in the first place.
That means you can contact AT&T, Verizon, Sprint, or T-Mobile.
In cases in which your carrier blacklisted the phone in error, you can ask them to remove it from the list for free. If the carrier blacklisted the device because of outstanding payments on the account, you'll simply need to settle the bill before they will remove the device's IMEI from the blacklist. Once your device is off the blacklist, you can either use it or sell it.
Unfortunately, if the previous owner blacklisted the device by reporting it as lost or stolen, then the carrier will be unable to remove or unlock the blacklisted phone.
How to Remove & Unlock a Blacklisted iPhone (PAID)
Unlocking a Device That's Been Reported as Lost or Stolen
A third-party backlist removal service can assist you in your iPhone blacklist status. Generally, unlocking your iPhone device and completing the blacklist removal process allows you to select any other carrier for your phone.
Third-party IMEI blacklist removal services offer the following;
Ability to unlock blacklisted iPhone models remotely with only the IMEI number
Legal and permanent service, so you'll never have to worry about your device being locked again
Compatibility with all iPhone models
You can pay to have your blacklisted phone unblocked with:
It's important to remember that both IMEI Authority, DirectUnlocks, and ExpressUnlocks charge a fee to remove your iPhone from the blacklist and unlock it. They also no longer guarantee the removal of the blacklist if you can't prove that you own the phone, so it's always best to contact them first to make sure they can help you with your specific circumstances.
Unlocking a Blacklisted Verizon or T-Mobile Device
For this method, let's use  unlock service as an example. This is the process
Visit the https://www.imeiauthority.com/ website
Contact them to confirm they can unlock your blacklisted device
Select your country and the network to which the device has been linked
Submit your IMEI number
Choose your device model
Click "Continue"
Once you've made the payment, IMEI Authority will start processing your order. They should deliver in up to 24 hours, so all you have to do is wait.
Unlike other smartphones, your iPhone won't need any network unlock codes. Once you receive confirmation from the third party that your device is now unlocked, simply follow the steps below to use your iPhone.
Remove the current SIM card from your device
Insert another SIM card. The phone should be unlocked now.
If that's not the case, restart your iPhone and follow the steps shown on the iPhone screen.
It's a fast and easy process.
Replacing your IMEI Chip
Replacing your IMEI chip may help you unblock a blacklisted iPhone. This method is fairly complex and even more difficult when dealing with the most recent iPhone models. The Blacklisted IMEI trick only works with much older iPhone models such as the iPhone 3GS and 4, which are practically obsolete now.
Unlike the method where you have to pay a third party to unlock blacklisted iPhone models, this method isn't universal, and you may have a hard time finding a clean chip to use. Since this method isn't ideal for most people, let's move on to the next one.
Getting in Touch With the Seller
The last possible and most efficient option would be to contact the device's previous owner. Unfortunately, this can be challenging since many sellers of second-hand devices won't take calls or may even ignore messages or emails.
If you purchased your blacklisted device on eBay, you can follow the refund procedures to ensure that you at least get your money back.
Unlock Blacklisted iPhone Summary
Buying a used iPhone can be a great way to get your hands on some of the latest Apple devices without going broke. When you end up with a blacklisted iPhone, though, that doesn't necessarily mean you can never use the device. People seek blacklist removal services mainly to allow them to use a blacklisted iPhone.
With the tips we mentioned in this post, you now know how to unlock blacklisted iPhone models and activate them. If you're unable to unlock your device or simply want to avoid the hassle of unlocking it, you still have the option to sell the locked iPhone. You won't get as much money from selling a locked iPhone as you would an unlocked one, but you can still cash in without much of a struggle using a blacklist removal service.
Ultimately, you have three main options: