Canada Smartphone Trade-in Guide:
20 Ways to Sell Your Old Smartphone For Top Dollar
If you're living in Canada and you've got an old smartphone lying around, this guide will give you all the options available so you can get the most money for your old phone! As a bonus, we'll also let you know how to prepare your device for sale!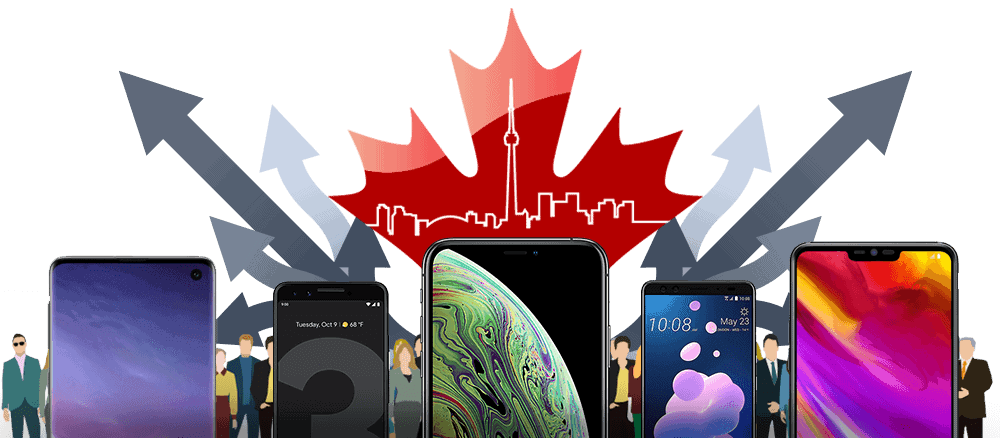 TABLE OF CONTENTS
Important: This is a guide for selling phones in Canada; other territories may differ.
Got an old phone sat around at home? It happens to all of us – we upgrade our phones and keep the old ones as back-ups. It's awesome to have options, but at some point, that old phone is just taking up space. What can you do with it? In this article, we'll look at exactly how to dispose of your phone. Maybe you want to trade-in your phone for cash or know more about environmentally-friendly cell phone recycling. Let's look at some options.
IMPORTANT: To-Do List Before You Sell Your Device
As you'll see below, pretty much all the options we've got for you involves handing over your phone. That means that you're going to want to scrub it of any messages, photos, passwords, information, and so on.
It doesn't matter if you're selling your phone, donating it or recycling it, you must follow the steps listed below:
Memory Cards: Take out any memory cards or any methods used to improve storage.
Backup Data: Backup your phones data with iCloud, Google, or any other storage device.
Delete Personal Data: Reset your phone to the factory settings.
Canadian BuyBack Introduction
How Much Is Your Old Smartphone Worth?
Factors that make up your phones value
It makes sense to opt for selling the phone rather than leaving it to depreciate. Why not make some money off it? If you're like most people, though, you probably have no idea how much your phone is worth.
The exact value of your phone is not an easy question to answer. After all, the phone is only worth what someone would pay for it. What you get for it will depend on:
Its condition: In theory, a phone in perfect working and physical order should net higher, but not always as the prices offered can vary.
Current market conditions: Like any other commodity, supply and demand dictate prices, if you sell after the latest model is released, prices can plummet.
The model: Is it a popular one? Then you might expect to get more if it had a high retail price and isn't that old, then it's probably in demand.
Just throwing your old phone out with the trash is not an option. For starters, no matter what condition the phone is in, it's worth something. Secondly, the components are not biodegradable.
Cell phone recycling is an excellent way to get rid of your old phone and potentially earn some cash. Recyclers will refurbish the phone, putting it in a 'like-new' condition to resell it. If there's no demand for the model you've got or it's not in working order, it might still be worth the effort.
Instore & Retail Trade-in Options
How You Can Sell Your Old Phone
Canadian Retail Trade-In Services
If you want to make a quick sale, this is the most convenient option as you can pop down to your local store and get cash straight away. The advantage of this method is that you get instant money and don't have to deal with mailing phones, potential private buyers, or to place ads.
The main issue with retail trade-ins is that most household brands like BestBuy will not offer competitive market value prices for your phone. In Canada, you'll need to use specialist in-store repair and trade-in stores like Fonelab to get the value your phone is worth.
Fonelab
When we compared Fonelab's cell phone trade-in prices with other buyback solutions, be it in-store, carrier, and even online trade-in stores, they offered a remarkably competitive rate. Why is this a big deal? Typically, when looking for a kiosk or in-store phone trade-in solutions the rates suck, and you can be losing up to $200 on your trade-in – Fonelab pay's what it's worth!
As Fonelab is an experienced cell phone repair chain, another benefit is that you can get much better prices paid for broken phones. For example, Fonelab will pay -34% less for an iPhone X 256GB with a broken screen, whereas most trade-in stores deduct up to -90% of the iPhone's value – another huge win!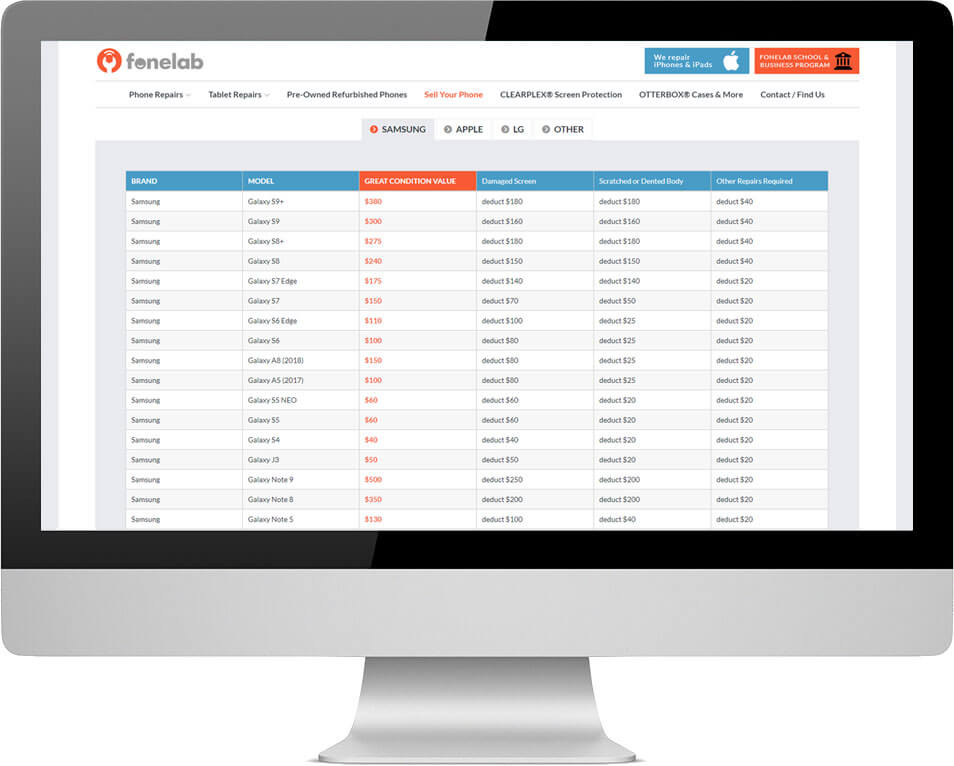 You can check the phone your selling's value online before making the trip to one of their stores – use this link to check it out
Best Buy
If your phone is a little bit old and in excellent condition, Best Buy is an option for you to get instant credit to spend in-store. You can either check out their website or visit one of their 170+ locations in Canada. It's a good idea to get an idea of the value before you take it in, though – as we mentioned, it's only worth it if the phone is old.
The reason being is the quotes are around 15-20% lower than you'll get from other options, so if you're selling a phone that's worth over $500, you could be losing $100 on the trade-in. Of course, for older devices worth $50, this loss won't make much difference being a few dollars.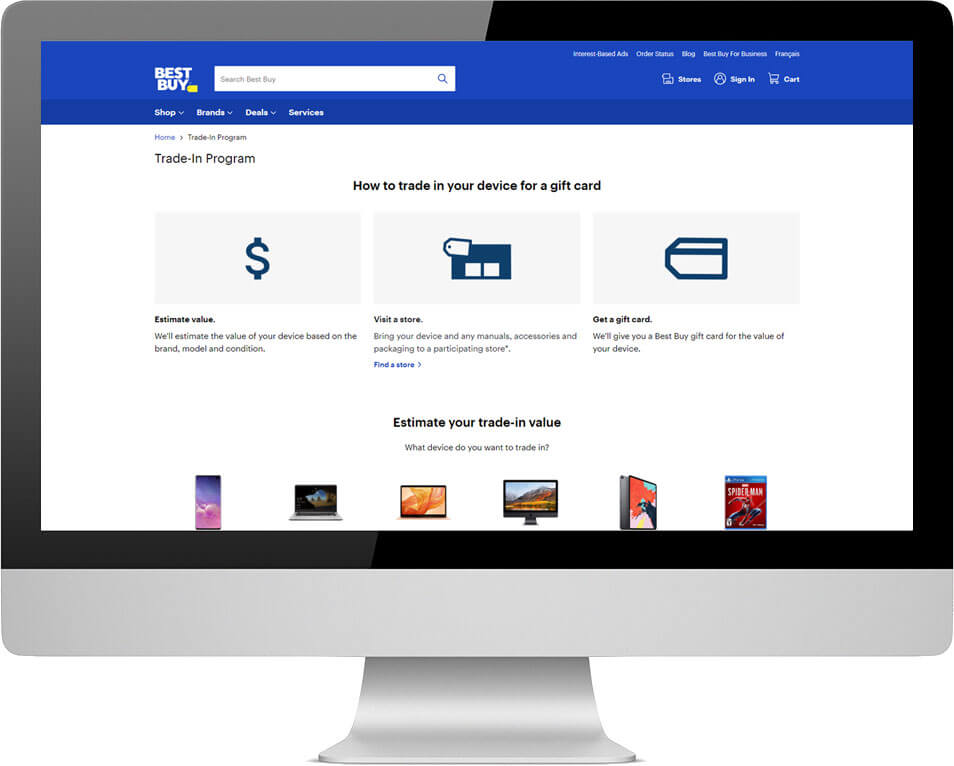 You can get yourself a quote online, so you know the value before you go. We would recommend this to avoid taking a low ball offer or wasting a journey. Again, you will only get credit to use in the store, and it's not cash transferrable.
Canadian Network Carrier Trade-ins
Selling phones to your mobile network
General carrier trade-in process:
We're not going into every carrier in detail as most of the pros, cons, and processes are identical. Below are the general terms of how carrier trade-ins work
Some carriers offer online valuations, but all transactions happen in store.
You get lower offers that only get paid via in-store credit.
You can only sell one phone at a time, as typically they want you to sell your current phone and activate a new one instore.
Credit can, however, get spent on tablets, smartwatches, and accessories
A cell phone trade-in through a carriers store offers a simple way to get rid of the phone. You won't receive full market value, can only sell one device at a time and get paid in-store credit only. Many Canadian carriers offer trade-in programs.
We've listed the ones we've found below: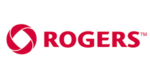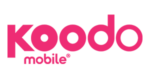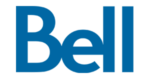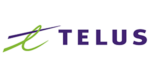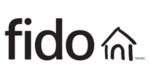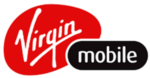 Pros: All Carrier trade-ins
Cons: All Carrier trade-ins
Online trade-ins
Online Canadian Phone Trade-In Services
Online trade-in services have lower overheads, so tend to offer better deals. Head over to the website, find your device, and the service gives you an estimate of what the phone is worth based on what you say.
It's essential to be accurate here so that you get the right estimate – all devices get checked upon arrival and quotes will be changed if you forgot to mention you dropped your phone down the toilet or the screen smashed to bits. You'll then have to ship the phone; however, the Canadian buyback services will usually take care of the shipping bill and returns.
When they receive the phone, they'll check it physically and run some software and hardware tests – this is quick though. Should they confirm your description was accurate, they'll pay out the estimated amount. If the conditions you described were not true, the store makes a counteroffer based on its real value and damages.
It's up to you from there. If you accept the amount, the buyback store will pay directly into your bank or PayPal account. If you decide to call the whole thing off, the store will send your phone back. It's convenient but will take longer than going into a store.
Orchard
Orchard is a little different from other online trade-in stores for two reasons. Firstly, you will get a more accurate quote upfront as their app runs diagnostics on your phone to check its condition, you then register your sale and send it via prepaid shipping. Secondly, they sell it on their own marketplace after refurbishing it and charge a small admin fee.
The downside is that you get paid more by waiting for the maximum 4 weeks for your phone to sell, if you want quick cash they offer similar prices as other trade-in stores.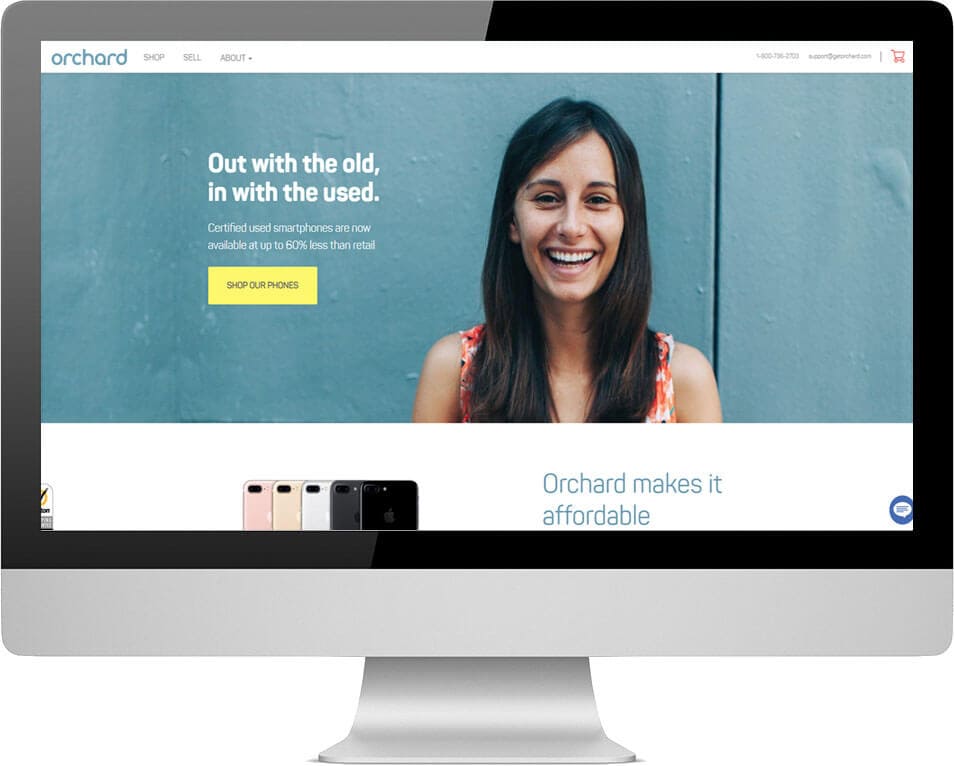 Go Recell
Go Recell is another great Canada based online trade-in store. If you're looking to sell your old phone online, the process is pretty standard – you visit the website to find and value your old smartphone. Once you've registered your sale, you get a prepaid shipping label or packaging sent to you, return your device to them, and you'll be paid instantly as soon as they check it over, usually 24-48hrs.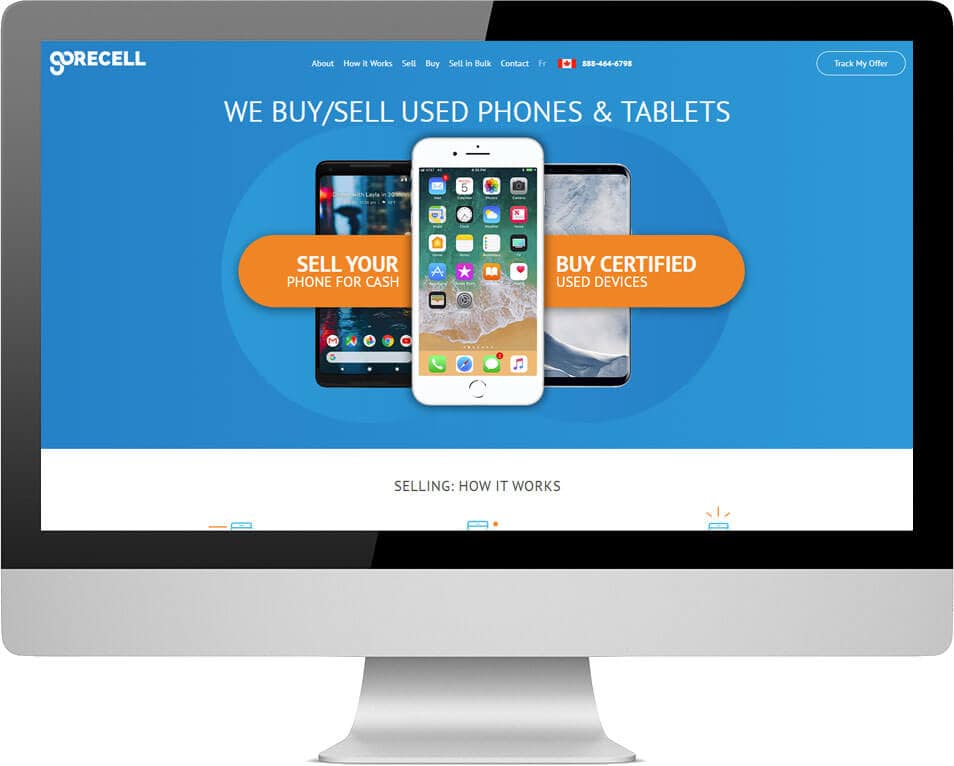 Gizmo Grind
Gizmo Grind offers a comprehensive range of smartphones to trade-in online, so if you have a slightly older device changes are you'll find a price for it here; however, it didn't list some of the latest smartphones released in the past 12 months. The process is much the same, find your phone, register the sale, ship it back to them with the prepaid pack and get paid.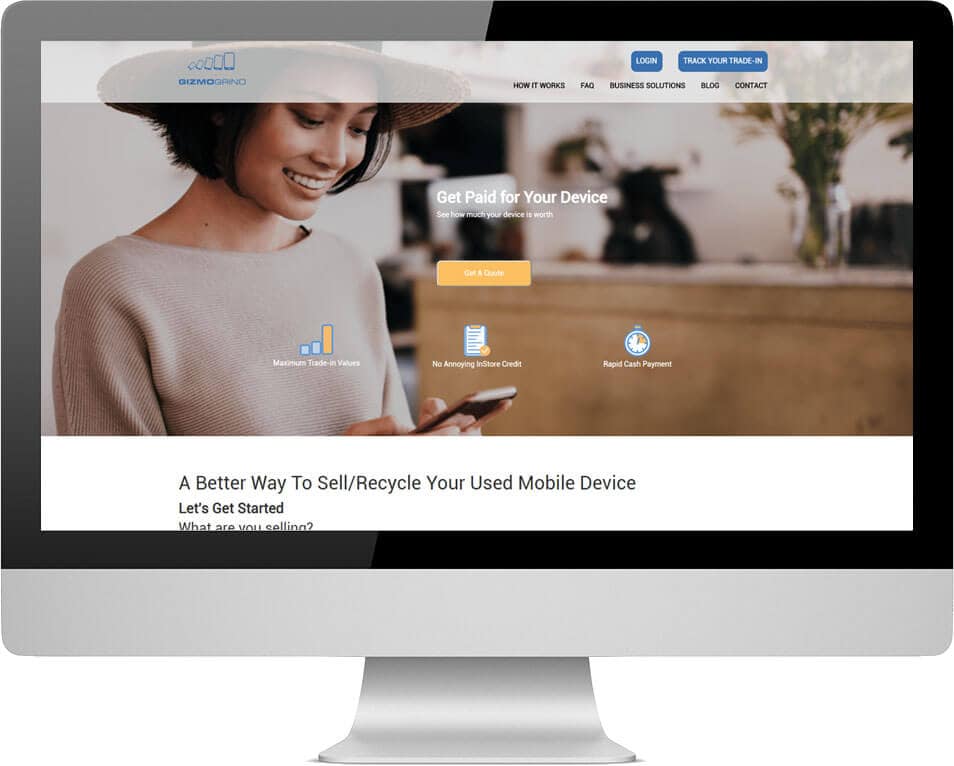 Sphere
In terms of trade-in options, Sphere's website specialized in flagship smartphones only and didn't have a huge range. If you're someone who always gets a pretty up to date smartphone, then your device will be listed! Sphere's process works the same as others, register the sale, get pre-paid shipping packaging sent to you and get paid once the store receives your device.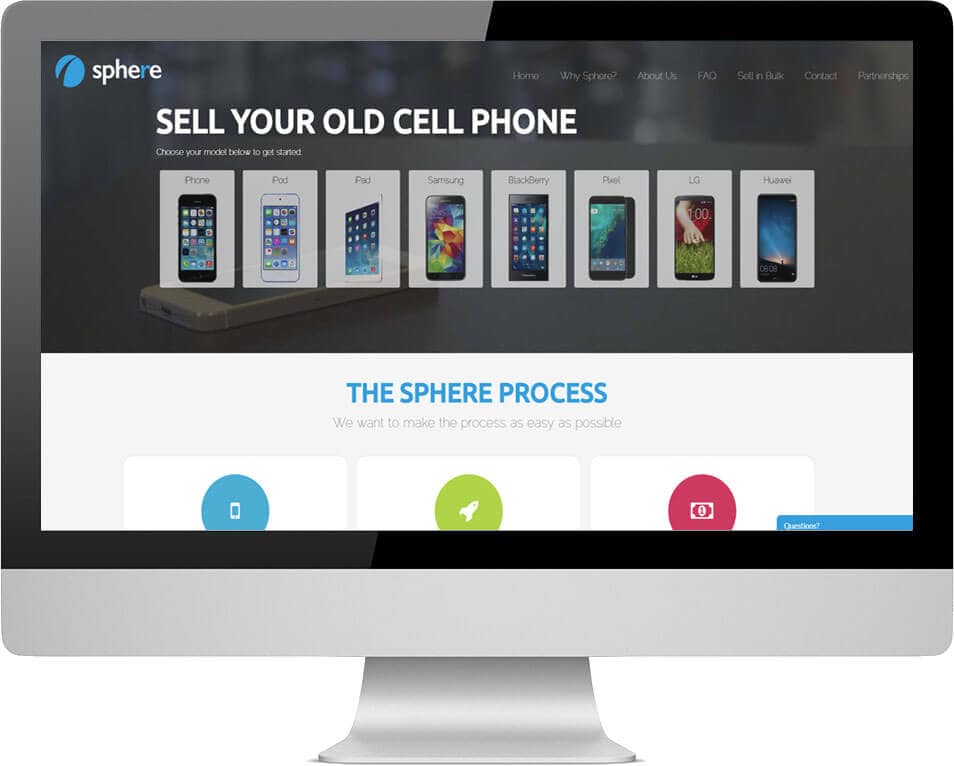 Apple
Naturally, this only applies to Apple devices. You can trade-in under their program, Apple Trade-in. You won't get cash, though. If you're buying a new phone, you can apply the money to that purchase. Alternatively, you can opt for a gift card.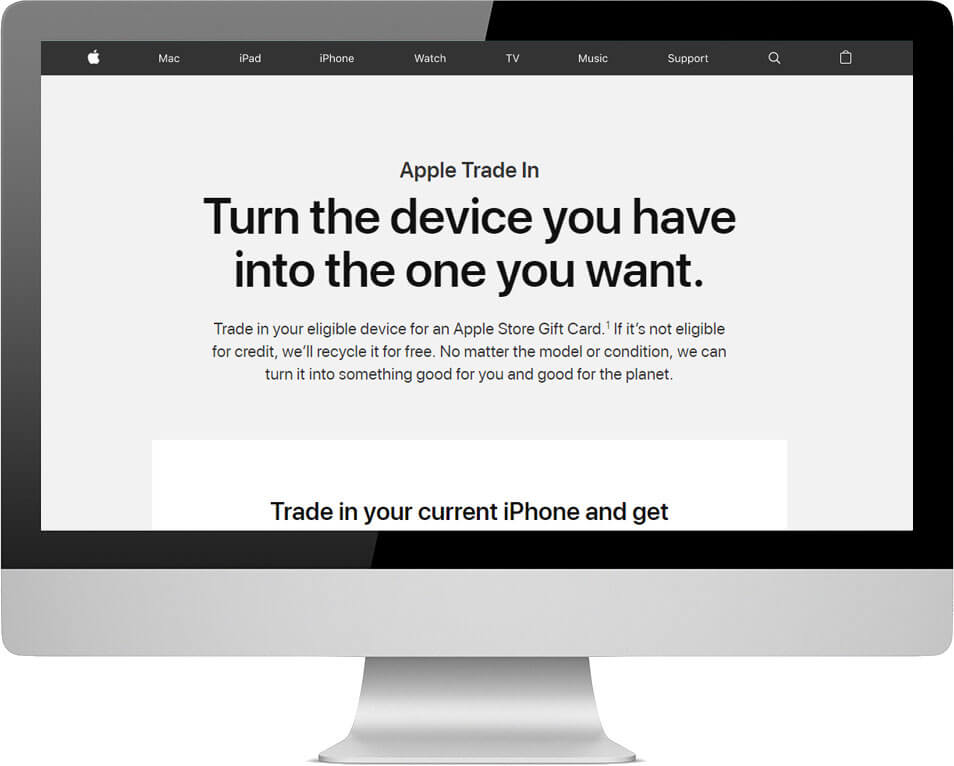 Private Cell Phone Trade-ins
Canadian Auction Sites and Online Classifieds
If you're not in a rush to sell and want the best possible price, this is the way to go. You'll have to create an ad, post awesome pictures, and find a way to get the phone to the buyer.
The downside is that the phone may not sell immediately. There's also the possibility of getting scammed and, of course, you'll have to speak to the buyers. This could mean dealing, haggling, and outrageous requests.
Pros: All Auction / Classified
Cons: All Auction / Classified
eBay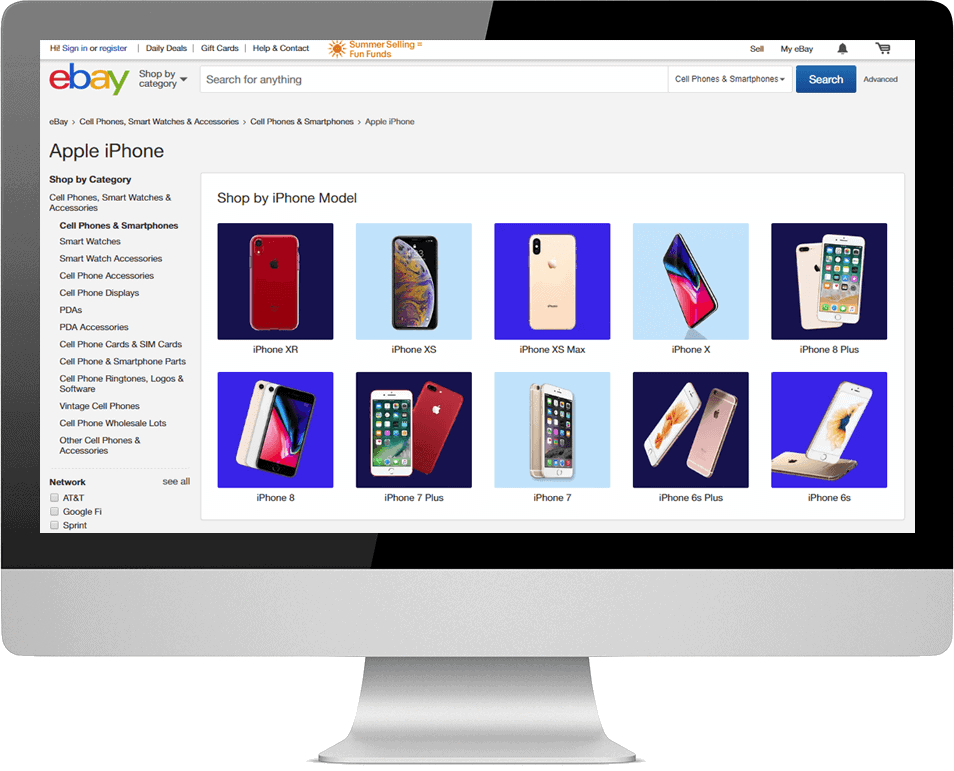 You can choose to auction your phone here or sell it outright. The benefit of this site is that eBay will handle all the payment arrangements for you via PayPal, which gives you some protection. The downside is that you're just one seller among thousands and it can be challenging to get your listing noticed.
Craigslist / Facebook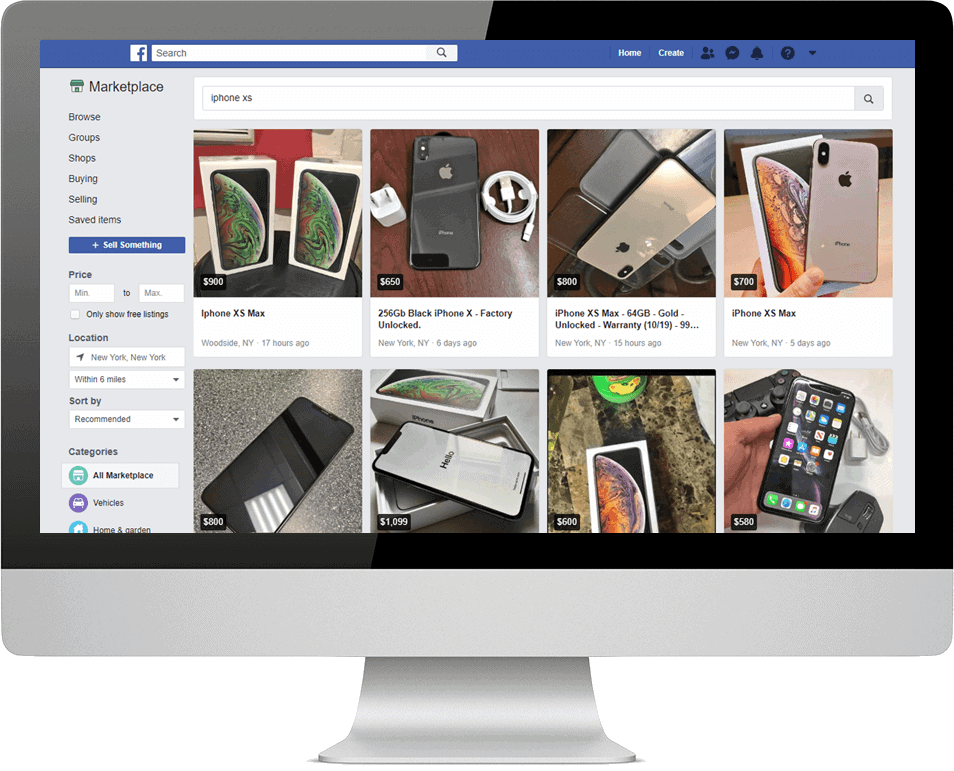 Using Facebook Marketplace or Craigslist is a fairly easy way to sell your phone for cash. Create an online classified listing and make sure that you post a lot of pictures. Do make sure that your email address is hidden, and be wary of scammers as you have no protection once the sale is complete.
Kijiji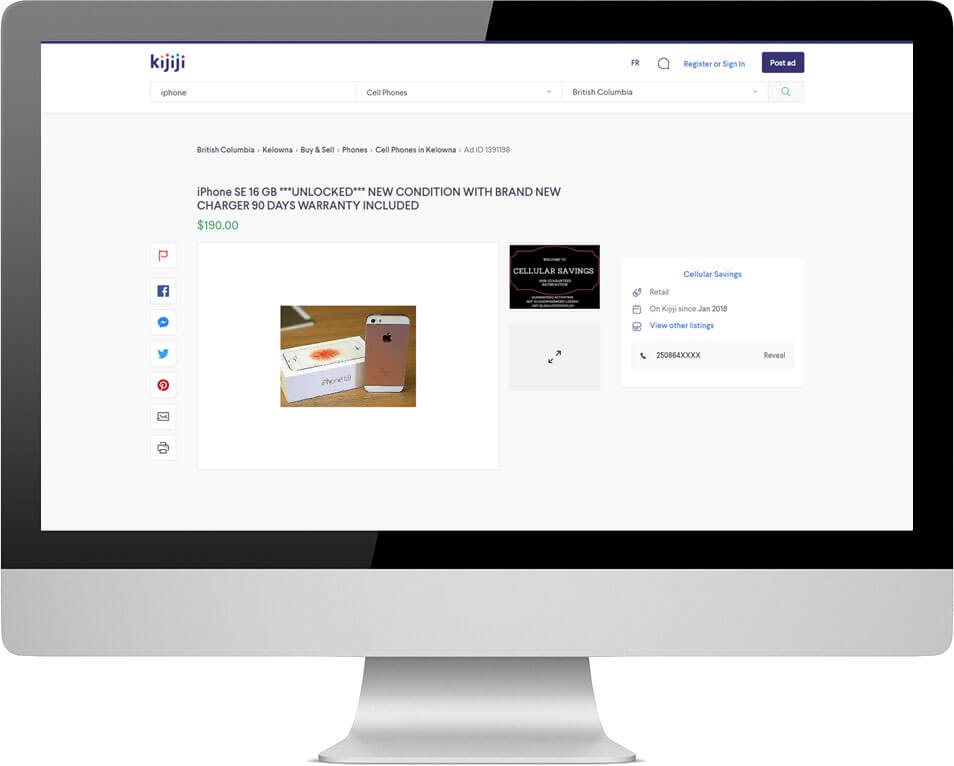 Kijiji is a bigger hit than craigslist in Canada and provides a similar classified listing set up to sell or buy anything. You'll need to create an advert with images, descriptions of the condition of the phone and the price you're looking for, and buyers will get in contact. Once you agree to the terms, meet up in person, and swap the phone for cash.
Cell Phone Recycling
Where to Recycle Your Old Phone in Canada
You've probably got a few outlets in your area that can assist. Recycling stations might get maintained by retailers, charities, or dedicated businesses. Here are some recycle options.
RecycleMyCell - (CWTA)
RecycleMyCell is Canada's national recycling program! Run by Canada Wireless Telecoms Association (CWTA), it helps people dispose of old cell phones and accessories. The service links multiple cell phone recycling services together and provides drop off locations that collect your old devices.
Now, you're not getting money for this, RecycleMyCell is simply a way of recycling electronics with hazardous materials in them that could damage the environment if put in household waste. They accept cell phones, tablets, batteries, and pagers with no limitations on age or condition.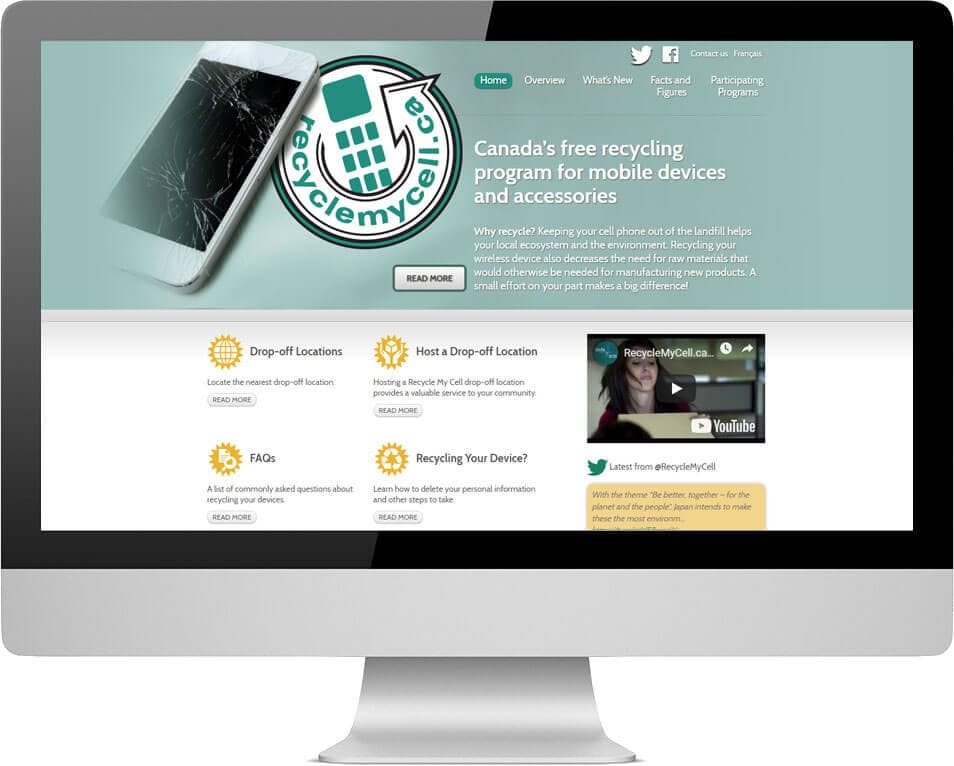 Electronics Shops
There are several different retailers that will buy cellphones or offer to recycle them. Give them a call and see if they take old phones for recycling.
Charity / Donations
Where to Donate Your Cell Phone in Canada
If you don't really need the cash, then donating the phone could be the answer. Cell phones can be recycled or resold by a charity to aid with fundraising. You can turn this into a tax deduction for yourself so that you also get some value out of it.
Phone It Forward
If you want to trade-in your phone for a good cause, the charity for the blind CNIB offers a program called 'Phone it Forward.' You can donate your old smartphone to them, and they'll refurbish the phone and load it with accessibility apps.
Your like-new device will then get given to a Canadian with sight loss, and they'll get one on one training on how to use it. The apps help them with dozens of day to day tasks that people like us take for granted! Great cause!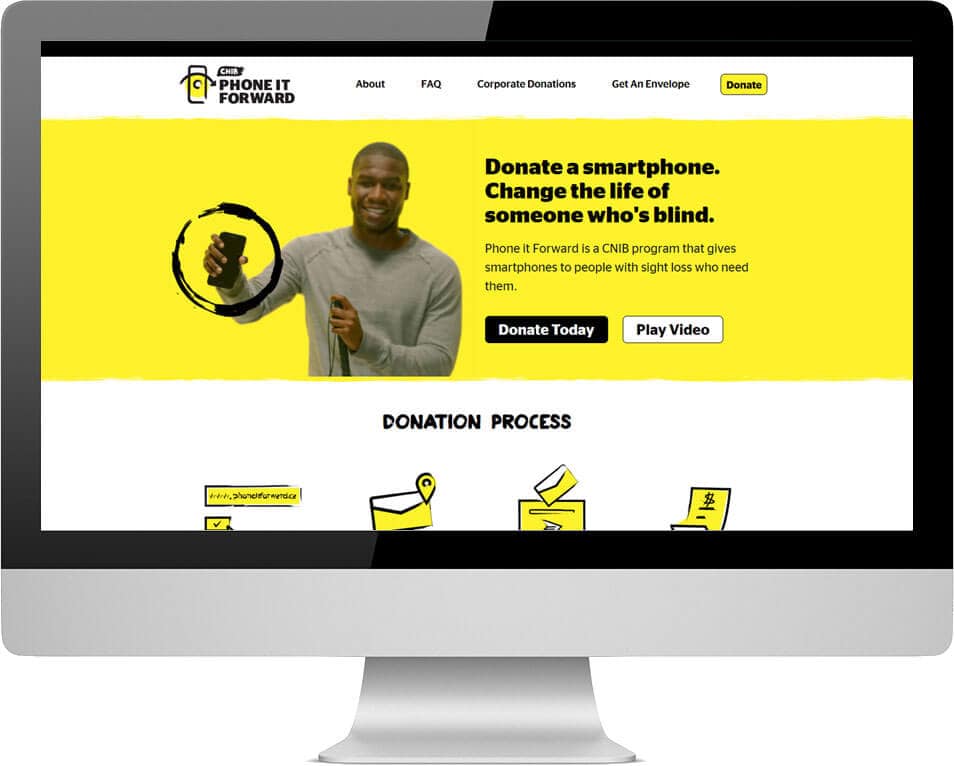 E-Waste Fundraising Programs
Check out the non-profits, churches, and charitable institutions in your area. Many now offer recycling programs to raise funds.
FAQ's
Common Smartphone Trade-in Questions
You might not want to carry around your old cell, but it still has value. Whether you decide to sell it, recycle it, repurpose it or sell it, you now know exactly what to do. Isn't that better than letting it take up space in your home?
Who pays the most cash?
Facebook, Craigslist, and Kijiji: These guys will get you the most for your old phone, but you have no payment protection, create your listings, and haggle with people before meeting them in person. Beware of scammers
eBay: Offers the next best pricing and has payment protection through PayPal, again you must build your own listing. Just be aware that when you list your device, there are reasonably large seller fees – also remember to take the shipping costs into consideration when pricing your device.
Instore: Fonelab was the best overall choice; they offered competitive prices for broken phones too. See if they have a store near you!
Online: Orchard offered the highest prices here, download their app, and value your phone anytime! The higher payouts require you to wait up to 4 weeks for payment while they refurbish and sell your old phone on.
Carriers: Rogers and Fido offered online valuation, so you can check to see roughly what all of them will give there. All carriers will all offer a lot lower than the options above, so we'd only recommend using them if your phone is ancient, or you don't mind losing up to $200 on your trade-in.
Donations: If you're donating your old phone, CNIB's 'Phone it Forward' program puts your old smartphone to good use, helping the blind in everyday tasks – a really lovely cause to participate in.
Recycling: RecycleMyCell has drop off locations all over Canada, check out their website to find one near you – there's no money paid, but your device won't go into landfills and poison the environment.
Repurpose Your Old Phone
Perhaps you're not quite ready to get rid of your back-up phone. If that's the case, why not find a new purpose for it? Here are some smart ways to repurpose your device.
Options include:
Why not use it as the controller for smart devices in your home? All you need to do is to download the appropriate app, and you're golden.
Keep the phone for VOIP calls to keep costs down. Again, it's merely a matter of finding the right app to use.
Use it as a surveillance camera or baby monitor. There are plenty of apps out there for these purposes.
Turn your phone into the perfect universal remote. Movie night will never be the same again.
Install remote apps to help control your computer from anywhere you can get internet access.
Use it as a gaming device or media center.