Canada Refurb iPhone Buyer's Guide
Best Refurbished Apple Deals on Used iPhones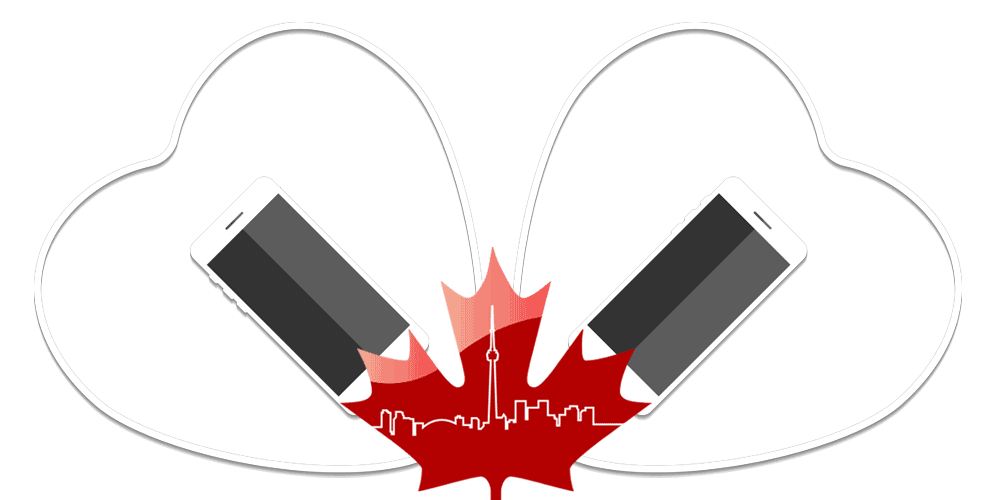 TABLE OF CONTENTS
Important: This is a guide for buying iPhones in Canada; other territories may differ.
With the prices of brand new iPhones hitting dizzy new heights, it's no wonder that people are looking to purchase second-hand devices and save some hard-earned cash off the $1,000+ price tags. It's important to understand that not every used iPhone is the same, and this guide will help you know what condition you're buying the iPhone for and the safest options available to get the best price.
What's The Difference?
Buying Refurbished / Pre-Owned / Used iPhones
When you decide you want to buy a second hand iPhone, you need to understand the lingo stores and auction sites use. Refurbished, pre-owned and used all sound the same but actually, by definition describe very different device conditions, here's what to expect:
So, in short, there's a scale of repair and warranty you get with each option, got it? Great, next we'll look at the best places to buy second-hand iPhones in Canada today!
Exploring the options
Know Where to Buy Used iPhones In Canada
Orchard iPhone Deals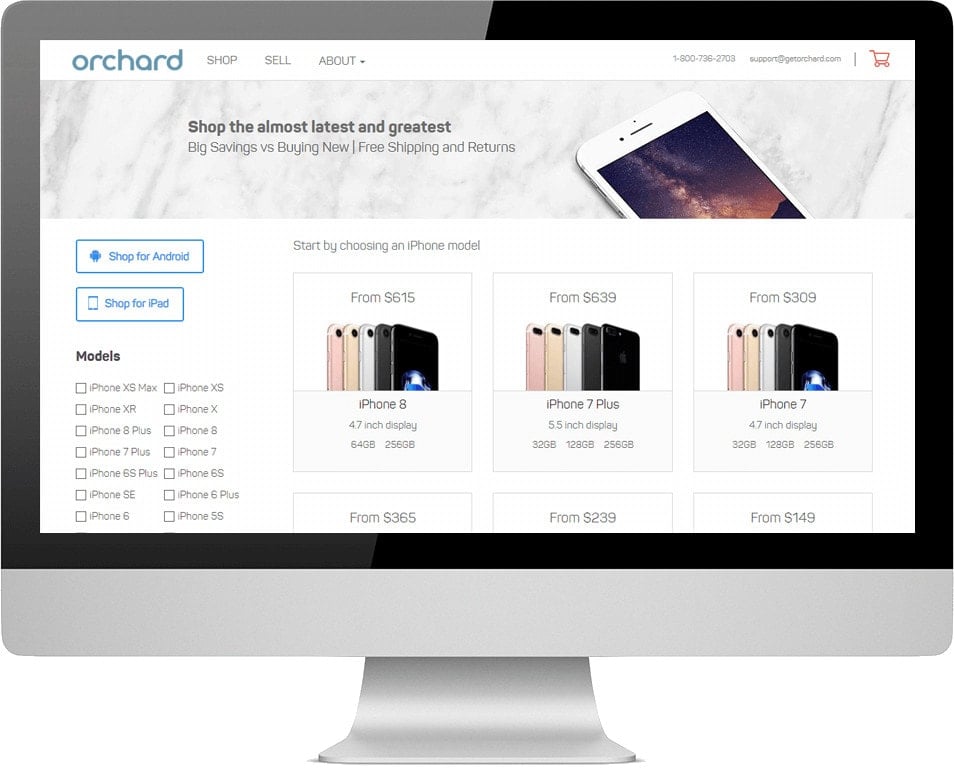 So, Orchard is a fantastic place to get your iPhones from, want to know why? It only deals with the highest quality of pre-owned and refurbished iPhones, plus you can end up saving up to 60% off the brand new retail price.
In terms of quality, Orchard excels in their hardware and software testing, quoting that they have two separate technicians run through a vigorous 30-point testing process. Each second-hand iPhone in their shop's catalog has its own 360-degree photos so you can see exactly what you're buying. There is a 30-day warranty, free returns/shipping, and no strings attached.
Before you buy with debit, credit card, or PayPal, you can check the unique description of the iPhone's condition, so you fully understand the condition of the device you're buying. Buying from a company with a warranty gives you a zero quibble return policy and total faith in the condition of the used iPhone you're buying.
Important tips…
Don't forget to check the network carrier compatibility chart in the iPhones photos, so you know it will work with your SIM.
If you want to make sure the pre-owned iPhone you're buying is going to be in fantastic condition for a long time, consider using their added Orchard Care Warranty for $60, this will give you a whole year damage or functionality repairs (a small excess fee is included depending on the value of the device).
Check around for pricing, you might get an iPhone a little cheaper from auction websites or classified ads, however you won't get a return warranty if it's faulty.
eBay iPhone Deals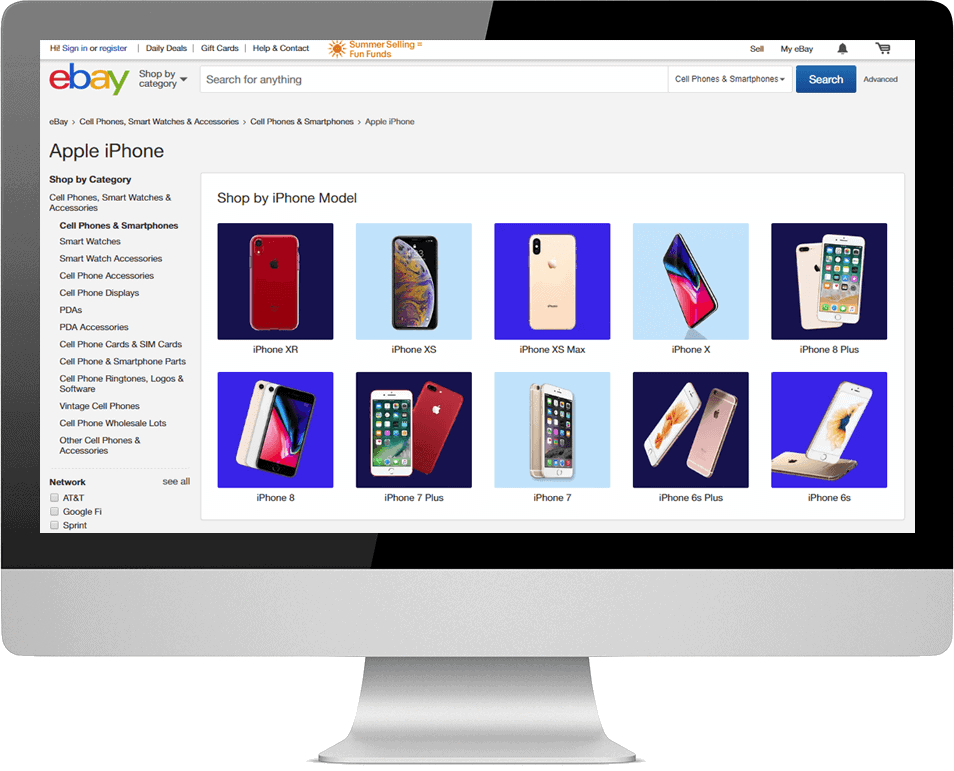 eBay can be the perfect place to get your paws on a second hand iPhone; it can have some excellent pricing too. It also benefits from PayPal protection if anything goes wrong you can raise a dispute with PayPal and try to get your money back – yes it's a bit more hassle than a warranty guarantee but gives you some reassurance when buying second-hand electronics.
If you're planning on using eBay, be aware that this is a prominent market place and a free for all on the type of products listed. What do we mean? You will get devices in ALL SORTS of conditions on there, so you need to make sure you pay close attention to the filter functions to pick the type of device you want, e.g. new, open box, manufacturer refurbished, seller refurbished, used, not working
Important tips…
Check if the seller will accept returns if you're not happy with the device. PayPal cases can take a while to conclude.
Make sure the seller has an excellent rating, the more sales they have, the better. We always snoop around to see what they have been selling too, if it was all phones then great, they're an established iPhone trader. Of course, if they have sold a load of paper clips and this is the first electronic product, then I wouldn't take the seller rating as a vote of confidence.
Read the description of the phone, so you're clear on the condition and don't be frightened to ask some questions on how it was refurbished, or if it has any damage, etc.
Last but certainly not least, request to check the phones ESN. They can type *#06# on the call screen, and it will give you an IMEI number, this can be entered online to find any blacklisting status, owed credit or theft reports.
Craiglist and Facebook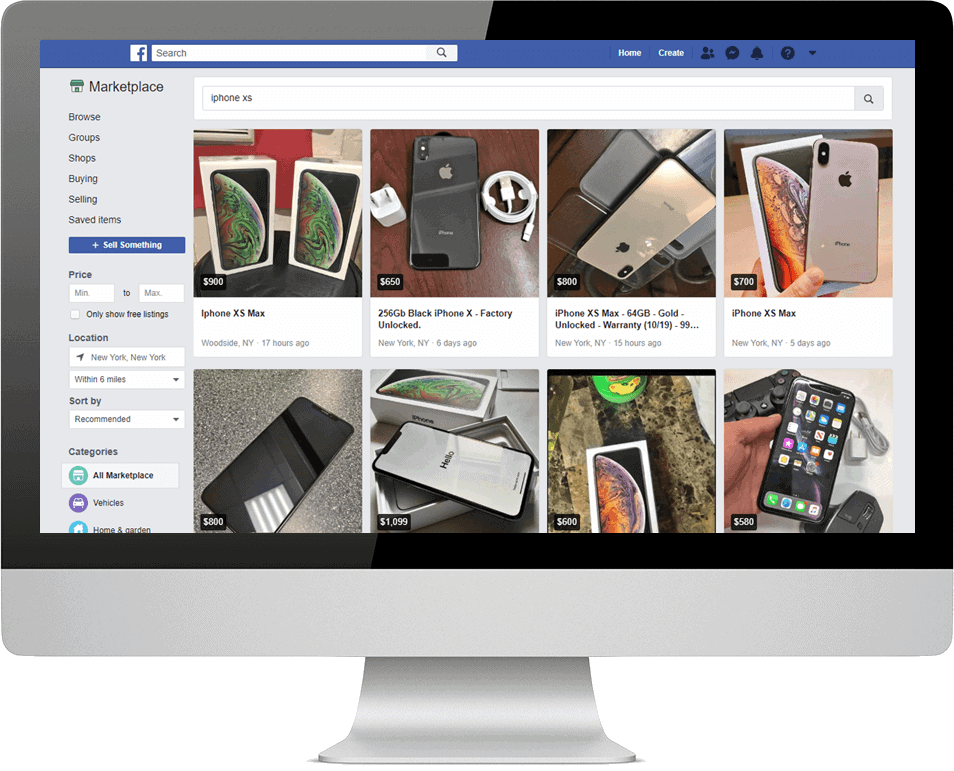 The way we see it, there are two ways of using a classified ads site to find a used iPhone to purchase. Firstly, with something like Facebook, you can ask friends or friends of friends in via a status update if anyone's selling one. If you buy it, you know the person, so you will have some reasonable expectations that their description is genuine.
The other option is taking the normal routes through Craigslist and Facebook Marketplace where you have to go by the quality of the listing and how genuine you think the seller is in the items description. Much like eBay, you can ask as many questions as you like, but as there is no buyer protection, we suggest you drill them as much as possible.
If you manage to get it through a friend or someone that has an excellent condition device, sometimes you can get the best deal!
Important tips…
These iPhones are more than likely what we classed as 'used' phones in the description above. In this circumstance, you'll have to expect that the device has not been refurbished and had no hardware or software tests.
The device will have no warranty, and you have not buyer protection via PayPal, so if it goes wrong, there's not a lot you can do after you paid for it.
Again, like eBay, you'll need to check the ESN by typing *#06# into the call screen and using an online IMEI checker to see there are no theft or outstanding payments on the device.
Try your SIM card before you hand over any cash. You want to make sure the phone works on your network carrier.
Bring a charging cable and headphones to test all the ports work fine. Then give it a quick check over by testing cameras and any functions out, e.g. call someone and see if the microphone and speaker work fine.
Need to know
Tips for Buying Used iPhones in Canada
Check the condition of the iPhone
Make sure you read the fine print, in most online listings private sellers and companies will confirm the condition of the phone in the description. It's a smart move to contact these sellers to confirm this too, really grill them on what state the iPhones in physically and if there have been any software issues.
By doing this, it makes it a lot easier to raise a dispute if any issues occur with the device, especially if you're building a PayPal case as you had written proof the seller said the device was ok before you purchased.
What's in the BOX!!!
Find out what the device comes with. If you're getting some extra chargers and accessories, it's a big bonus to have these spares especially if this is your first iPhone. After all, there's no point in getting one and finding out you've got to buy a charger too!
If someone still has the box with all the manuals, accessories, case, etc. then it could be a sign that it's been well looked after!
Get your purchase timing right!
To get the lowest ticket price for a used iPhone, the best time to buy would be just after the latest model is released. Typically when a new iPhone comes out, the costs of the older ones fall as they're slightly less in demand and no longer hold the latest technology from Apple.
In terms of Apple releases, the calendar has remained pretty much the same over the past decade. Typically, Apple will hold an event in September where they will announce the new iPhones, following this lately they have shipped the latest devices in October and November.
Take note of the iPhone's network, or go unlocked
If you're not getting a new network carrier contract and planning on using the same SIM card or remaining with your provider, you'll need an iPhone that works with it. Second-hand phones will either be unlocked, which means they will work on any carrier providing they are from that country. Alternately they will be locked to a network carrier, in which case you can check with the seller if you go privately or most online stores will mention which carrier it works within the description.
Make sure you understand the returns policy
As we mentioned above, not every route has the same returns policy if there is a problem with your used iPhone purchase. If you're buying from Craigslist or Facebook, it might be challenging to get your money back if the device doesn't work or breaks. If you use eBay, you can contact the seller beforehand to figure out the situation, or a certified iPhone reseller like Orchard will give you a warranty to remove any fears or hassle.
Understand who you're buying iPhones from
If you're buying from a private seller on eBay, Craigslist or Facebook, you should try to work out if they can be trusted. Luckily eBay has seller ratings, and you can check what type of products they sell if it's all phones they chances are they're a pretty trustworthy seller.
If you're using a company, even if they have warranty offers it's worth searching for their brand name and 'reviews' in Google to find REAL customer feedback to see how trustworthy that company is.
If you're in the market for a good as new iPhone to save some hard-earned money, hopefully now you know exactly what you're looking for and what you want to avoid – but here's a quick recap on what we covered:
Refurbished iPhones have functionality testing, physical repairs, and a warranty.
Certified pre-owned iPhones will have functionality testing and a warranty.
Used iPhones come at a better price but have little buyer protection.
Make sure the iPhone you're buying works on your network carrier.
Check the returns and warranty policy of what you're buying.
If you're buying private on eBay, ask lots of questions and use PayPal's buyer protection.
If you're going through classified ads, grill them on the device's condition and take accessories, SIM cards with you to check the device works before you leave.
With any private person to person sale, check the ESN by typing *#06# into the call screen and using an online IMEI checker to see there are no theft or outstanding payments on the device.