MILLENNIAL DATING STATISTICS: WHAT IS GHOSTING SOMEONE?
EXPLORING GHOSTING AND COMMON DATING APP LIES

We all know the era of digital dating is not the most authentic or transparent, especially with the psychological pressures of mobile dating reaching extreme heights. BankMyCell carried out a millennial-focused survey to visualize the ghosting phenomenon, exploring what ghosting someone while in a relationship or texting means and the common lies people are telling to get a date from Tinder, Bumble and similar apps.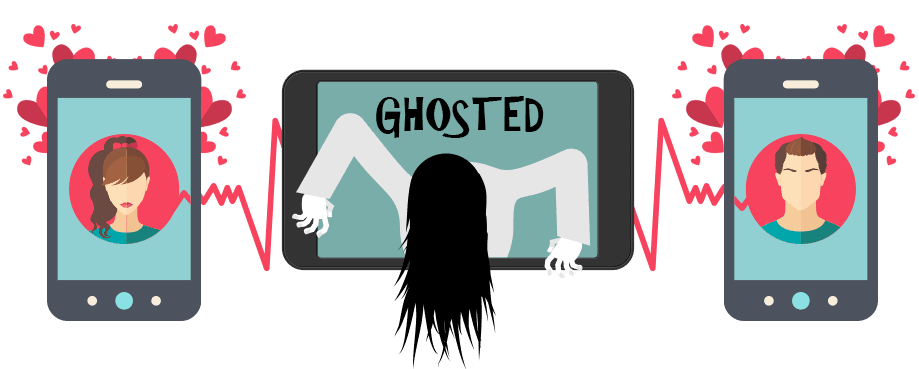 STUDY GOALS
The first goal of this study is to examine the popularity of ghosting among millennials then highlight the most prevalent reasons people chose to 'ghost' someone. The second goal was to present the most universal lies told on dating apps, such as self-presentational lies to get a date, dubious lies to mask information we don't want people to know as well as lies to avoid awkward situations.
We researched the most frequent reasons suggested from forums, blogs, and psychology based analysis to formulate questions that would yield the highest responses in our surveyed 18-35-year-olds.
QUICK LINK NAVIGATION
DATING APP STATISTICS INFOGRAPHIC
Ghosting and Popular Dating App Lies

Definition: What does ghosting someone mean in dating?
Essentially, ghosting is a phrase used in the dating community when someone, without any prior warning, cuts off all communication. You may be in a conversation, or have gone on a date or two with someone, then you find yourself sitting around waiting for next reply. The person will dodge all of your calls and not get back to you at all, dismissively pulling the plug on the whole situation without warning.
PARANORMAL DATING ACTIVITY
EXPLORING WHY PEOPLE ARE GHOSTING
MEN VS WOMEN GHOSTING: WHO ARE THE CULPRITS?
The survey has highlighted that even though many think ghosting is cruel and a form of emotional abuse, it turns out that most people are likely to be the ghost themselves no matter the gender. Out of the millennial's surveyed, 82% of women and 71% of men acknowledged that in this digital era ghosting is an everyday phenomenon, with 11% more men having the slight edge on never experiencing it.
Key Findings
82% of women

have experienced some form of ghosting on dating apps, compared with

71% of men

surveyed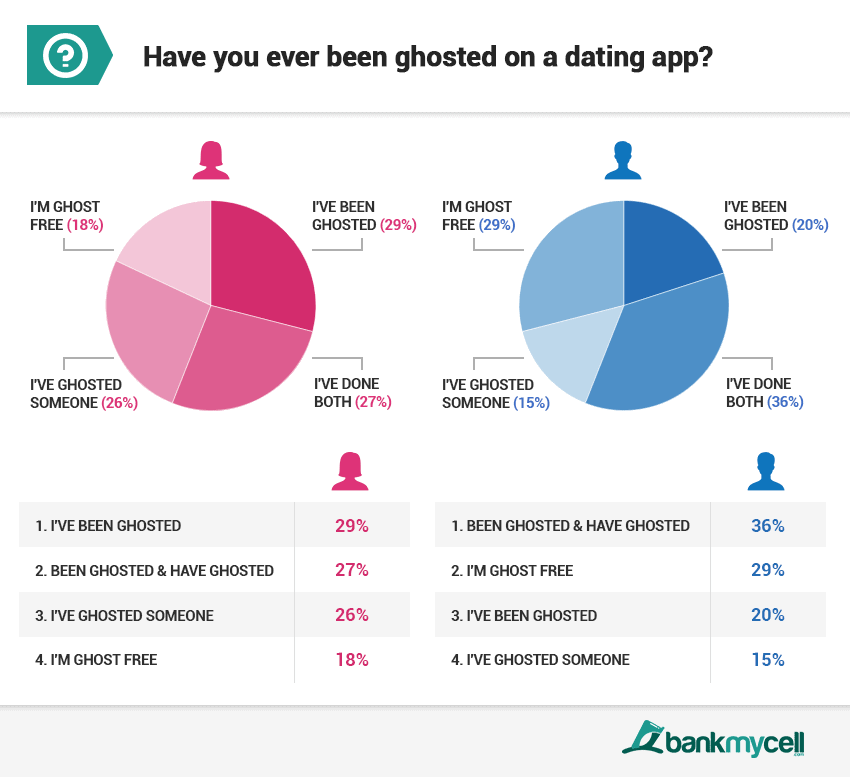 WHAT IS THE MAIN REASON MILLENIALS ARE GHOSTING?
The standout figure here is that people aged 18-35 quite simply want to use ghosting as an avoidance mechanism, rather than facing their fears, being honest, or at least using a cliché to let someone down gently. Women indexed higher in two areas, with 50% ghosting to avoid confrontation and one slightly more genuine reason of there being no real chemistry match, which caused 1 in 10 women to ghost their match. For men, one popular reason for ghosting was due to them feeling their dating partners profile pictures was a misinterpretation of their looks in real life. The third most popular justification for men ghosting is connected to their feelings around the person they're dating is too needy/clingy.
Key Findings
50% of women

that have ghosted someone, did it to avoid confrontation, compared with

38% of men

surveyed
Over

1 in 4 men

have ghosted people for not living up to their profile photos, compared with

1 in 6 women

1 in 6 men

are likely to ghost clingy or needy matches, compared with

1 in 10 women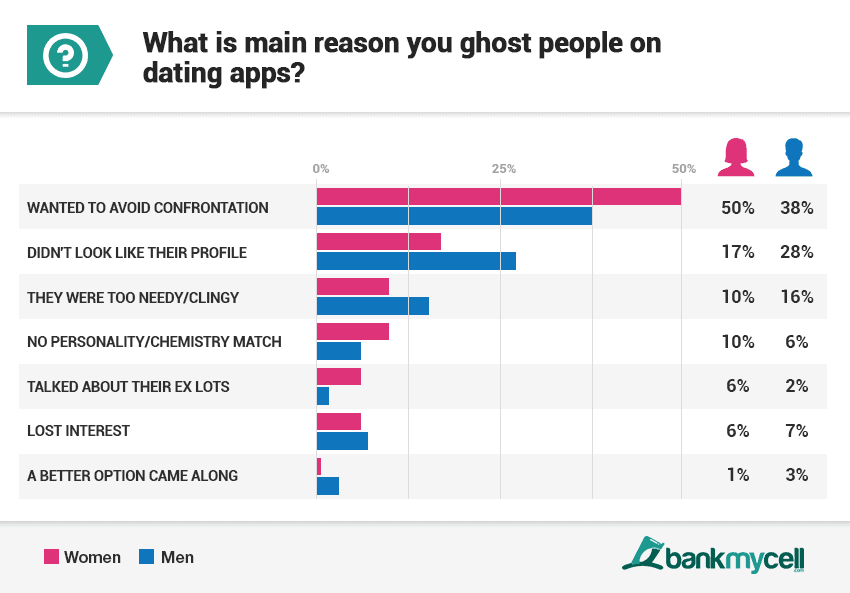 DECEPTIVE MILLENNIAL DATING
EXPLORING THE MOST COMMON DATING APP LIES
In this current dating environment, people can hide behind their phones making it very easy to dismissively ghost, block someone and move onto the next match. The app-based dating scene is also an ecosystem where first impressions mean everything, a bad profile or misplaced message can sadly result in you spending more nights alone.
The result of this pressure is an anxiety-filled desire to stand out from the crowd, profiles and messages are comprised of fabricated content, doctored images and inboxes filled with bent truths.
WHITE LIES MILLENNIALS FLIPPANTLY USE ON DATING APPS
Men are more likely to bend the truth in all aspects of queries surveyed other that profile photos. Over half regularly lie about their number of previous partners, sharing interests and telling trivial lies in order to impress a match, with a meager 16% believing they are generally honest. On the reverse side, 71% of women are greatly over-indexing on the use of filters from apps to improve their physical image representation as well as old snaps in order to catch more fish!
Key Findings
71% of women

have admitted to using exaggerated photos on dating apps, compared with

25% of men

18% of women

believe they have been upfront and not told self-presentation lies, compared with

16% of men

61% of men

have lied about 'their number', compared with

49% of women

58% of men

confess they stretch the truth to seem cooler, compared with

42% of women

57% of men

have pretended to have the same interests, compared with

36% of women

43% of men

admit their profile is exaggerated, compared with

31% of women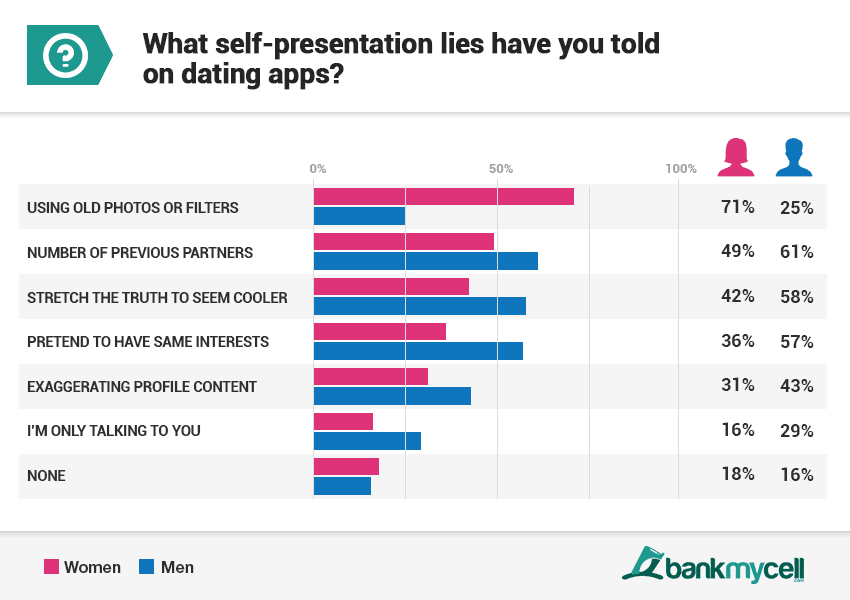 WHAT DIRTY LIES ARE MILLENIALS TELLING ON DATING APPS?
In correlation to the ghosting, the unhealthy avoidance of confrontation tops the next set of respondents answers, with over one-third of men and women agreeing to see someone again when they have no intention of following up on the statement. 1 in 4 men admitted to lying about their job and earnings to impress their match, ranking it the second most common deceit. 1 in 3 of the women surveyed believe they have remained honest around the more significant fraudulent statements. Shockingly, an average of 1 in 10 millennials have used a dating app in some form while being in a relationship.
Key Findings
40% of women

have agreed to 'go out again' to avoid confrontation with matches they have no intention seeing ever again, compared with

36% of men

Only

20% of men

have never told a shady lie on a dating app, compared with

35% of women

24% of men

confess to dishing out false facts on their job and earnings, compared to

7% of women

1 in 10 people

have used a dating app while in a relationship

1 in 20

of online daters have lied about their age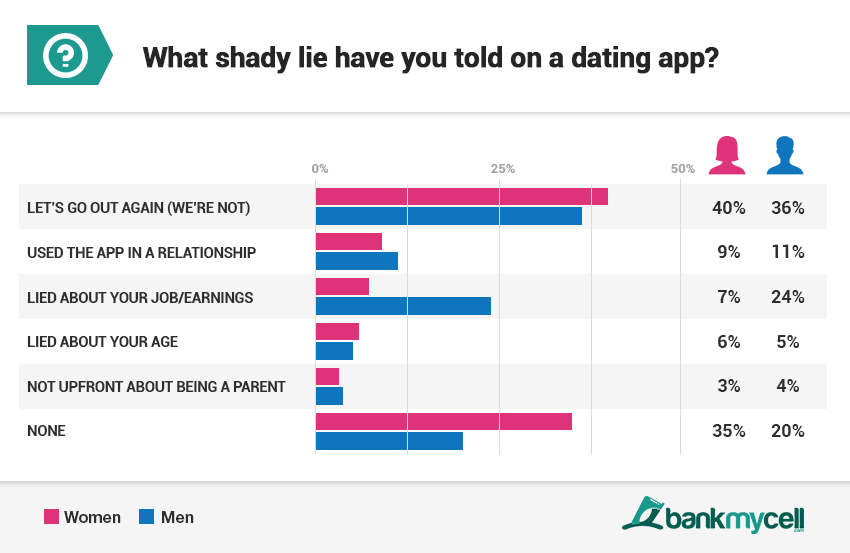 HOW ARE MILLENNIALS LYING TO AVOID DATES?
According to the responses, men are more likely to stick to their date plans with 39% not making excuses, however, when they do, they're using work (28%) and fake plans (26%) as the most common excuse. Virtually 1 in 3 women used the fabrication of diary conflicts as the most popular lie told in our survey. Other common excuses for women are work-related conflicts and having an exhausting day, both collecting 19% of responses.
Key Findings
31% of women

used a false schedule conflict as their most common reason to not meet up with a match, compared with

26% of men

19% of women

used their exhausting day to swerve a date, compared with

5% of men

11% of women

simply dropped a vague 'something's come up' compared with

2% of men

28% of men

have used work-related excuses as their main reason to not meet up with a match, compared with

19% of women

39% of men

have never lied to avoid a date, almost twice as many as

women at 20%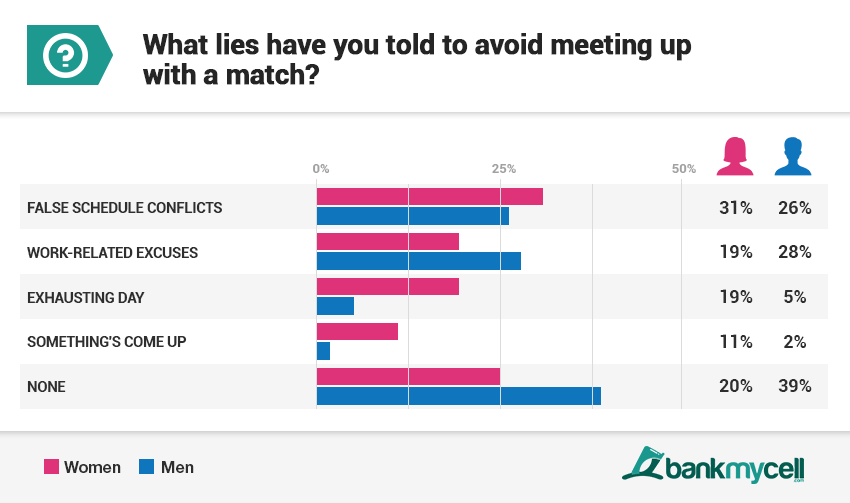 WHAT'S THE FAVOURITE LIE FOR A DELAYED MESSAGE RESPONSE?
The go-to lie for slow replies were quite different for men and women. Out of all the responses, 44% of women chose the phone being on silent and not seeing notifications as their most popular yarn to spin. Again, men utilized work as their primary response, with 35% using it as a scapegoat for their lack of effort in keeping up the conversation on dating apps.
Key Findings
44% of women

use their phones silent mode as their go-to excuse for being tardy on replying, compared to

33% of men

35% of men

use work as their scapegoat for unpunctual replies, compared with

13% of women

1 in 7

of us blame false signal and phone issues as the 'real' reason they have not replied to their match
Less than

1 in 10

of us have not used an excuse when replying late dating apps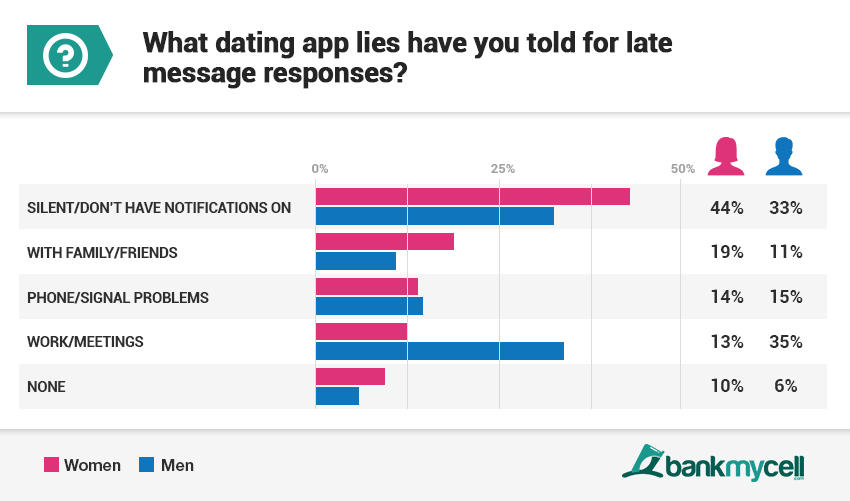 TODAYS PHONE TRADE-IN PRICES
To get an idea of the values you can get when selling your old phone in the US, check out our main website: