WOULD YOU WORK 5 OR 669 DAYS?
HOW MANY WORKING DAYS ARE NEEDED TO AFFORD THIS YEAR'S iPHONES IN YOUR COUNTRY?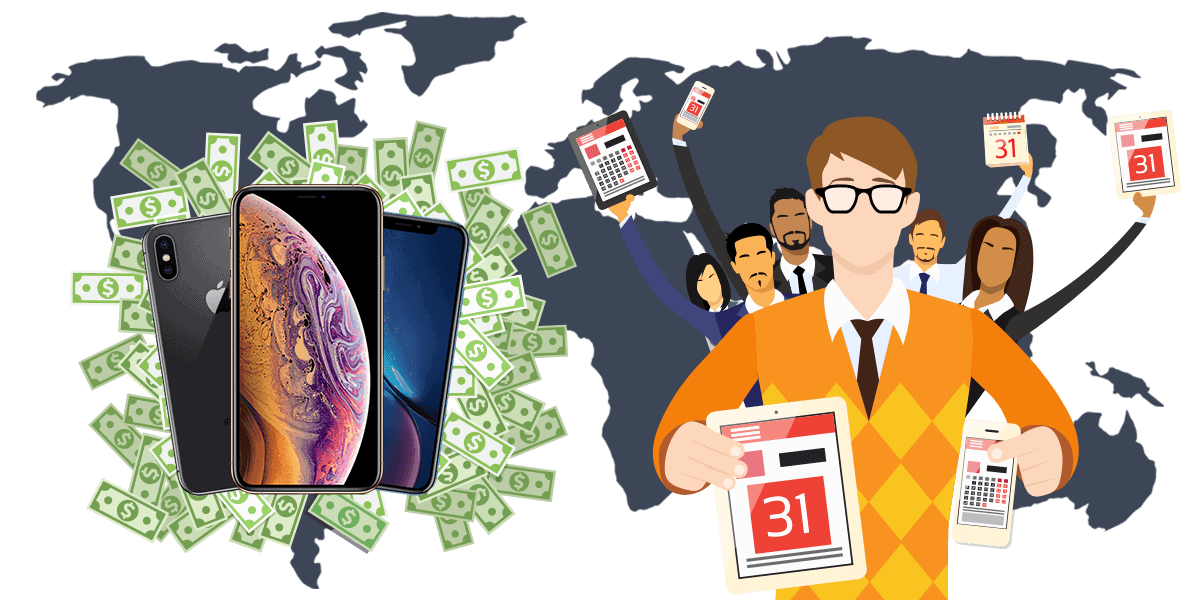 STUDY INTRODUCTION
Apple announced the new iPhones in September and with each pre-order date came a surge of sales from developed nations such as the UAE, Singapore, US and Switzerland where residents may only have to work a handful of days to purchase them, making the new iPhones a reasonably affordable amenity.
However, with smartphone prices hitting astronomical new heights, price-conscious markets around the world are seeing tremendous sales volumes with budget handsets. For example, in countries such as Cuba, India, Ukraine and Russia, cell phones such as the new iPhone XS Max are truly a luxury item.
BUYING A NEW iPHONE?
HOW MANY DAYS WOULD YOU WORK TO GET ONE IN 61 COUNTRIES?
With the iPhone XR dubbed by many of the developed nation's media outlets as the 'budget iPhone of this year', BankMyCell wanted to find out just how 'affordable' the colorful new device is.
We collected the average wage after tax figures from the largest cities in each country (via numbeo) to see how much the average person earns in 2018. Out of all the countries, we shortened the list to regions where the iPhone was available to purchase through in-store and online marketplaces.
As Apple's pricing of the iPhone was different in every country, we collected costs from every region for each model to work out how many working days it would take someone to buy. The pricing below is all for the 64GB storage version of the iPhone XS, XS Max and XR to give the most affordable option.
MOST WORKING DAYS REQUIRED
Cubans would have to work 456.8 days to buy 'the budget' iPhone XR 64GB, having the lowest average salary due to their Government providing housing and food. If the average citizen wanted the iPhone XS Max, they would be looking at almost two years with 669.3 work days needed on their monthly salary of $36.
LEAST WORKING DAYS REQUIRED
Residents of Bermuda had the highest salaries resulting in only 5.6 days needed to buy the most expensive iPhone XS Max 64GB! In as little as 3.8 working days they could get the cheapest option (iPhone XR) with their average monthly salary being $5,500.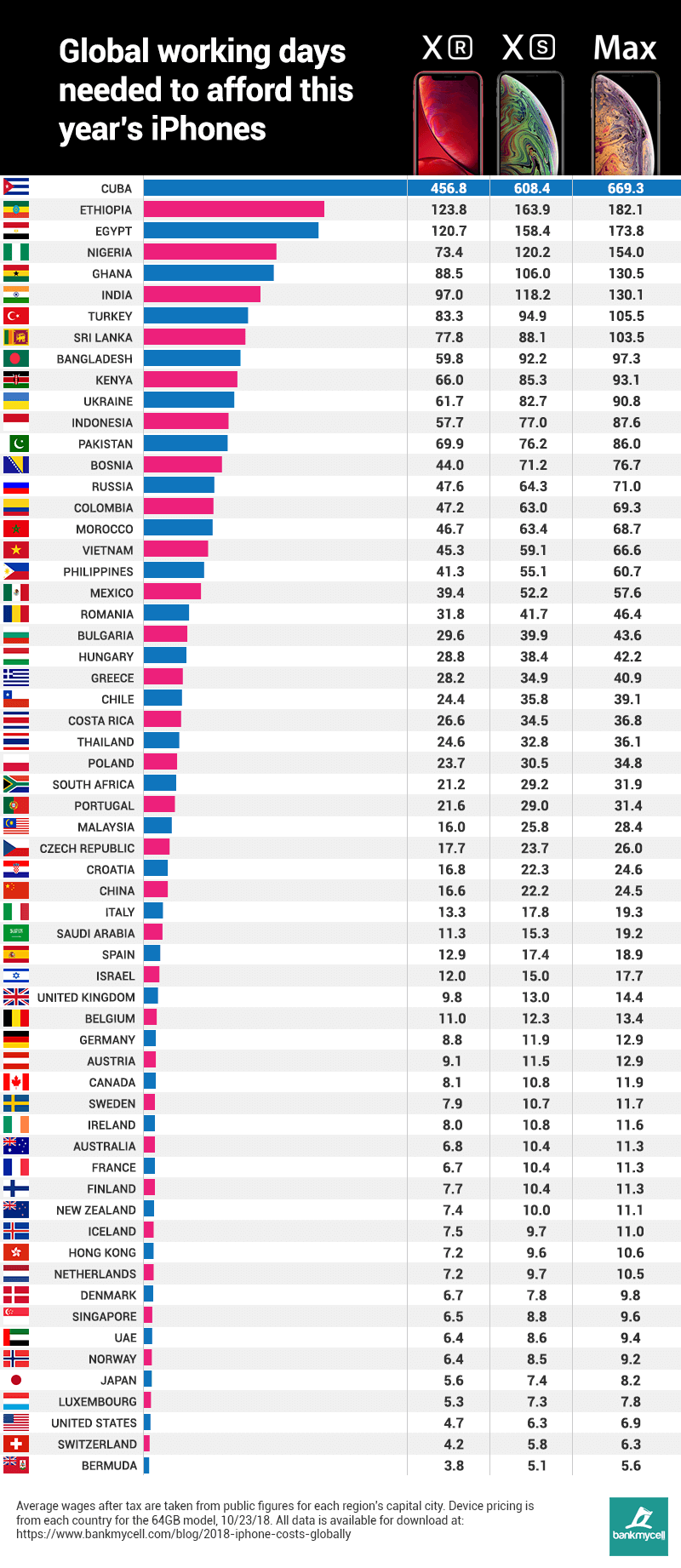 COMPARE iPHONE PRICES AGAINST FOOD, DRINK, RENT AND BILLS
In Bangladesh, you could eat out 841 times at restaurants for the price of an iPhone XS Max, compared with 48 times in Bermuda.
If you like a drink, head to Vietnam instead of buying an iPhone XS Max, you'll be able to get 1,822 domestic 0.5L beers, compared with 124 beers in the UAE.
You'll be able to pay your gas, electricity, water and all other utilities in Ethiopia for 7.7 years, compared with 5 months in Berlin for the price of an iPhone XS Max.
If you want to rent a fancy city center apartment in Gujarat, India, you can get it for almost 17 months for the Price of an iPhone XS Max, compared with 2 weeks in Hong Kong.
CHOOSE YOUR COUNTRY
iPHONE TRADE-IN PRICES
To get an idea of the values you can get when selling your old phone in the US, check out our main website:
STUDY RESOURCES
OUR STUDY METHODOLOGY AND DOWNLOADS
SURVEY DATA COLLECTION
Methodology
Daily wages after tax are taken from 2018 numbeo figures and converted into dollars.
Working days is based on an average of 21.62 working days in a month across all territories.
All iPhone XS/XS Max/XR 64GB model pricing is taken from e-commerce websites or otherwise reputable news websites within their regions.
All iPhone figures have been converted into USD with the current exchange rate on 23rd October 2018 via Google.
Monthly USD after-tax earnings are divided by the monthly wage to give a daily wage value that is then divided into the USD price in each territory.